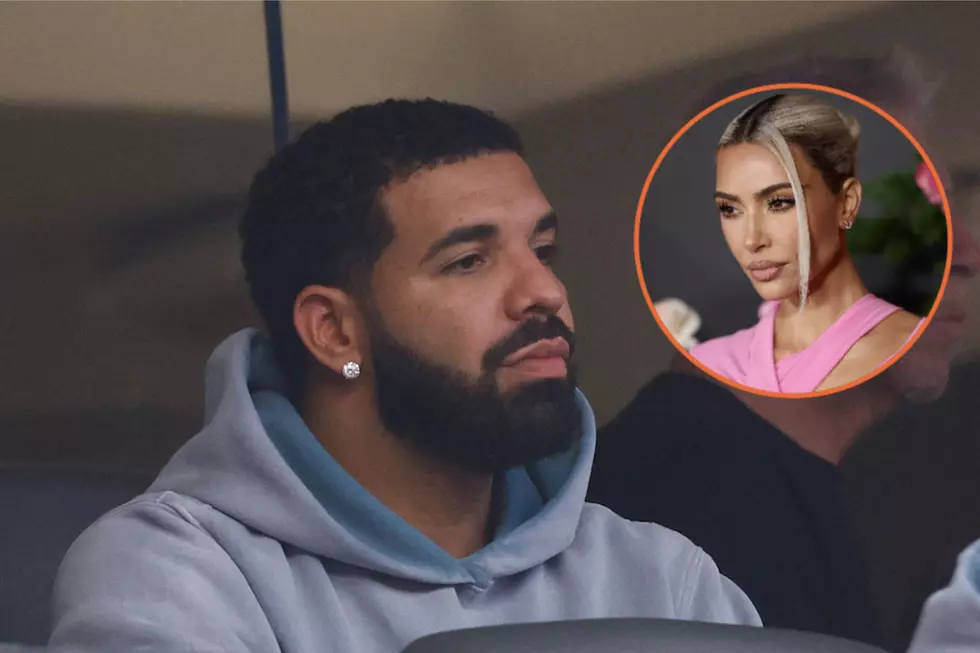 Fans Think Drake Is Stirring Up Controversy With Kim Kardashian Possibly on Cover Art for New Song 'Search & Rescue'
Ronald Martinez/Phillip Faraone/Getty Images (2)
Drake is dropping a new song tonight, but it's the cover art that has everyone chatting on social media today.
On Thursday (April 6), Drake jumped on his Instagram account and posted the cover art for his new single, "Search & Rescue." In the caption, Drizzy wrote in all caps, "SEARCH & RESCUE OUT AT MIDNIGHT ON ALL PLATFORMS."
Drizzy's newest track is likely the same song he premiered last Friday (March 31) during the 100th episode of Sound 42's The Fry Yiy Show on SiriusXM Radio, which was unofficially called "Rescue Me." The track, produced by Yeat's go-to producer BNYZ, contained the vocals from Kanye West's ex-wife Kim Kardashian when she revealed to her mom, Kris Jenner, that she wanted a divorce from Ye on a 2021 episode of Keeping Up with the Kardashians.
But it's the cover art that is raising eyebrows. The image features Drake wearing a motorcycle helmet with just his eyes showing through the viewer. There's also a woman who may or may not be Kim K. She's wearing a motorcycle helmet also with her eyes only showing.
The artwork has sparked speculation from fans that it's Kanye's ex on the cover. Fans think Drake is stirring up controversy with a woman that is possibly Kim or is actually her.
"Drake dropping that Kim K song lmaooo. Which means she gave permission. Kanye losing his mind rn," tweeted one person.
"Is it me or is that Kim Kardashian under the helmet????????????? #Drake," another fan posted.
"If that's Kim K in that pick drake is truly a savage lmao," tweeted a fan.
For the record, Drake's father, Dennis Graham, said Drizzy isn't trolling Kanye West by using Kim Kardashian's voice in his new song.
See Drake's Cover Art for "Search & Rescue" and Fan Reactions Below
See 20 of the Best-Selling Hip-Hop Albums of All Time