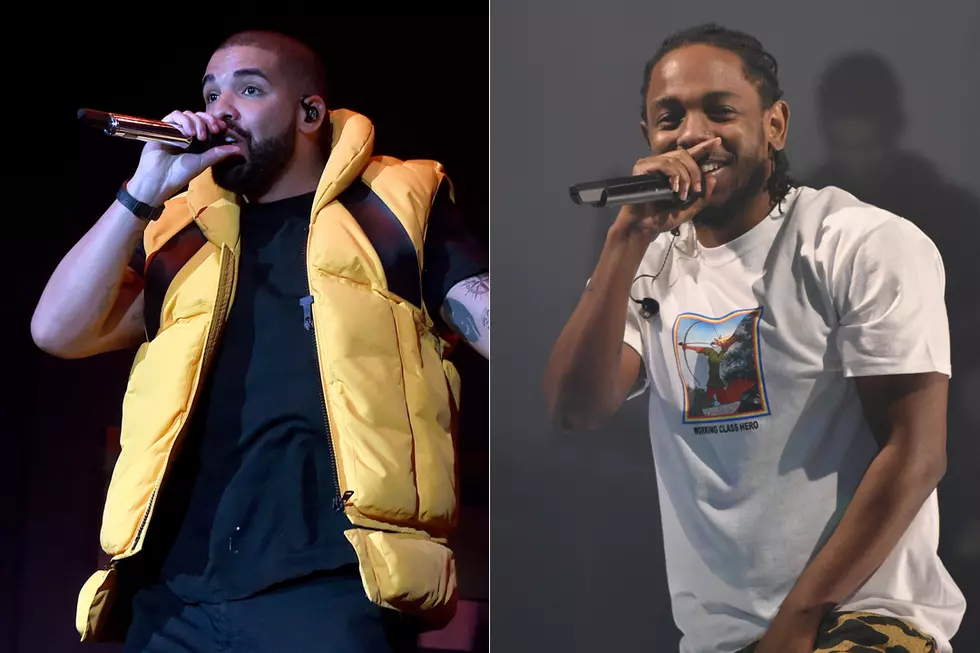 Drake and Kendrick Lamar Among Spotify's Most Streamed Artists of 2017
Kevin Winter / Bryan Bedder, Getty Images (2)
With the year coming to an end, Spotify has revealed its most streamed artists of 2017 and joining the top five are two of hip-hop's biggest names.
While Ed Sheeran tops the list as the most streamed artist of the year, Drake, The Weeknd and Kendrick Lamar come in at No. 2, No. 3 and No. 4, respectively. Drizzy's More Life and Kendrick's DAMN. also placed on Spotify's Top Five Albums list, coming in at No. 2 and No. 3, respectively. Also on the list is The Weeknd's Starboy at No. 4 and Post Malone's debut album, Stoney, at No. 5.
Drake and Kendrick didn't make the Top Five Songs list, which is once again topped by Sheeran, but DJ Khaled did come in at No. 5 with his hit track, "I'm the One" featuring Quavo, Justin Bieber, Lil Wayne and Chance The Rapper.
Hip-hop also has a major presence on the Top Five Breakout Artists list as rappers Lil Pump and Trippie Redd come in at No. 4 and No. 5, respectively, and Migos join the Most Streamed Groups list at No. 5.
As for Drake, he recently found himself on Forbes' highest-paid musicians of 2017 list. While Diddy topped the list, Drizzy came in at No. 3, earning $94 million for the year.
See 21 of Hip-Hop's Biggest First-Week Sales in 2017 (So Far)