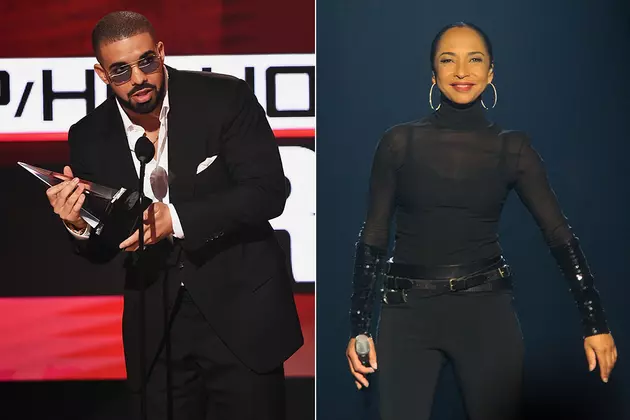 Drake Gets Yet Another Sade Tattoo
Kevin Winter/Ethan Miller, Getty Images
As you may have heard, Drake has a little bit of a thing for R&B legend Sade. Sure, we know the Toronto artist has a thing for plenty of female superstars, but usually, not enough to get their likenesses tatted on his body, let alone twice. Recently, Sade became the only one with that distinction
Recently, Drizzy, who uploaded a touching Instagram post dedicated to Sade and his mother this past March, linked with Belgian tattoo artist Inal Bersekov to get a second tattoo of the UK-based icon inscribed onto his body. He got his first Sade tatt on his ribs a few months ago around the time he met up with her back in March.
Drizzy's new Sade tattoo is actually an addition to his previous one, with the newest illustration appearing just above the old one.
Writing in the post featuring an image of Drizzy's new tatt, Bersekov said, "More life 🌺 More tattoos 💉Was honored to continue this piece based on @sade started by an amazing artist @niki23gtr on @champagnepapi Excited to continue."
Interestingly, Bersekov had recently tatted someone with some dope illustrations of Drizzy and uploaded images of the tatts to his Instagram page. Is this how Drizzy knew to reach out to the artist? Who knows, but we wouldn't be all that surprised.
Peep Drizzy's new, expanded Sade tattoo below. Peep the original below that. Also, if you haven't already, be sure to check out the awesome Sade-Drizzy mashup, More Love.
See Photos of Drake's Different Looks Over the Years