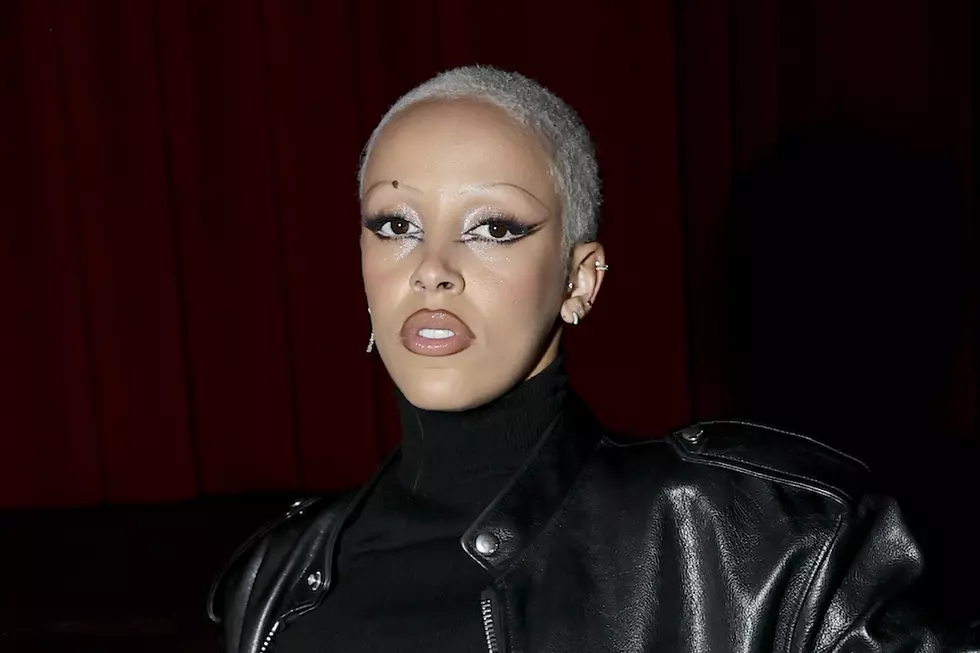 Doja Cat's New Merch Is a Play on People Thinking She Joined the Illuminati and Other Fan Issues
Matt Winkelmeyer/Getty Images
Doja Cat's new merch is a play on people thinking she joined the Illuminati and other fan issues.
Doja Cat Drops Merch and People Think She's Addressing Fan Issues and Illuminati Rumors
On Friday (Sept. 22), Doja Cat dropped Scarlet merch that fans can purchase at her official website, merchdojacat.com. The clothes, which can be seen below, address when Doja Cat was in the hot seat this year for making certain comments.
Some articles of clothing read "Recovering Doja Cat fan," "Haha are we just not gonna talk about the whole 'Kittenz' thing" and "Illuminaughty."
The "Illuminaughty" merch is a play on rumors that started about the rapper joining the Illuminati this past summer. After hearing these fabrications, Doja Cat went on to troll fans with a series of animated photos on Instagram. Prior to that, Doja hopped on X, formerly known as Twitter, in February and typed that she's going to "keep doing deliberate weird ass s**t to make those people uncomfortable."
Meanwhile, the other two sentences refer to when Doja went on X and argued with her fans for using the term "Kittenz" and "Kitten" as their fandom name in July. The California rapper also told her fans that she didn't love them after one person asked if the rapper could say it.
When visiting the merch store, fans can choose from three different "Recovering Doja Cat" short and long sleeve shirts, a "Sk** ******" tee, a "Cash cow" labeled shirt and pair of socks and more.
Fans React to Doja Cat's New Merch
After Doja Cat's merch made its rounds online, fans had some negative views about the attire. A X user who goes by @frybreadw***e typed that Doja's creative approach to her new line of clothes "lame."
"Holy s**t she rlly put sk** ****** on a shirt ?" the user typed in the tweet below. "She's so corny pleeeaassee."
Another user wrote: "Wtf that's so insensitive and gross of her."
Check out Doja Cat's merch and fan reactions below.
See Doja Cat's Scarlet Merch
See Fan Reactions to Doja Cat's New Merch
See Doja Cat Blast Fans for Calling Themselves "Kittenz"