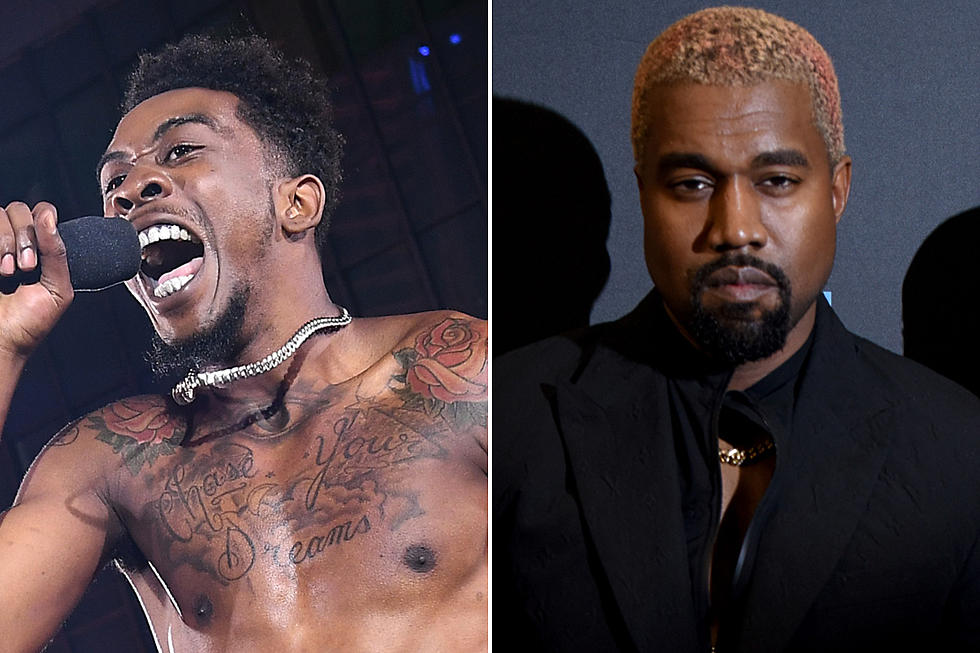 Desiigner "Thotiana (Remix)": Listen to Rapper Call Kanye West Crazy
Paras Griffin / Jenny Anderson , Getty Images (2)
Desiigner still thinks that Kanye West is crazy, and he makes it clear that it's a hill he's willing to die on. Last night (Feb. 19), the G.O.O.D. Music rapper released his own version of Blueface's "Thotiana." Desiigner uses the West Coast rapper's viral tune, which has sparked remixes featuring Nicki Minaj, Cardi B, YG and more, to emphasize his thoughts about his label's founder.
"I like to mix the codeine with the Fanta, huh/I got it going crazy, like Desiigner, huh/Oh god, it goin' crazy, like Kanye, huh/I brought it to my house on a Sunday," Desiigner raps over Scum Beats' instrumental.
The song comes nearly three weeks after the Brooklyn native claimed he revived G.O.O.D. Music, especially after the success of his breakthrough single "Panda." During a Feb. 1 Instagram Live session, Desiigner told his 2.2 million followers about how he really felt about 'Ye and his time working under the imprint.
"Nobody is doing this shit for me, bro. Nobody is doing this shit for me," Desiigner said. "I had signed to Kanye West. The biggest nigga—y'all niggas think he's the genius. Y'all niggas think that that nigga shit. But to me, nigga, that nigga's crazy, nigga. To me, nigga, I've been doing this shit myself."
As of this report, 'Ye has yet to address Desiigner on Twitter. Listen to Desiigner's "Thotiana (Remix)" below.
See Photos of Kanye West's Different Looks Over the Years