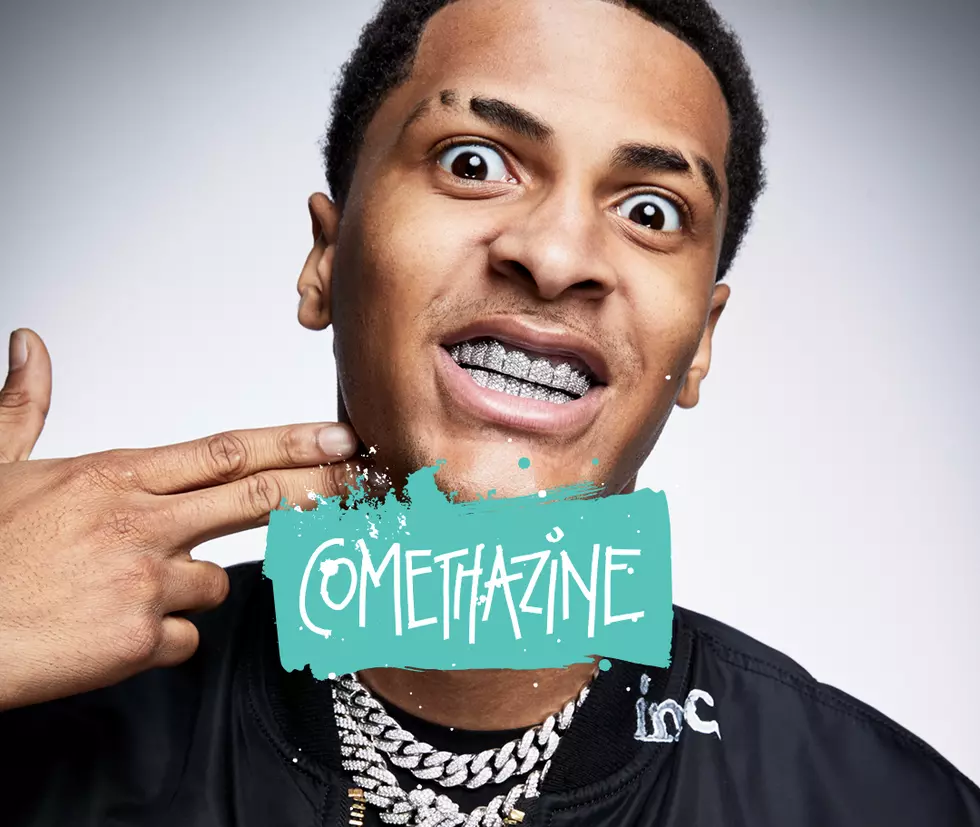 XXL
Gov't Name: Frank Childress
Age: 20
Reppin': East St. Louis, Ill.
Twitter: @comethazine117
Instagram: @comethazine
Notable Releases: Singles: "Walk," "Piped Up," "Bands," "Demar Derozan," "Walk (Remix)" featuring A$AP Rocky; Projects: Bawskee and Bawskee 2
Label: Alamo Records
Currently Working On: Bawskee 3.5 to be released this summer.
Surprised About Who Is Missing: "Lil Baby, but I feel like he too rich."
Influenced by: "That shit change every time, to be honest. I still be being influenced, but just by myself now. It used to be like, uhh, damn, bro. Joey Bada$$, fo' sho. To rap? That was him, bro. I was rapping on some different shit [at the time]."
As a Freshman in High School: "I just didn't go to school and shit. I wasn't popular...but I just wasn't at school, feel me? I really wasn't there for it. I wasn't the most popular kid there, but then again, I wasn't lame neither, but I just wasn't there. I wasn't cool. I didn't fuck with people."
TRUTH ON BEING AN XXL FRESHMAN: "I don't even remember when I was picked. It kinda just happened. [They] told me I had to go to New York, and I was like, 'What for?' 'Cause I didn't have any shows booked in New York.
I was just like, 'Damn.' I couldn't even believe it. I didn't know why I had to do that, so I don't know. I knew I was gonna make Freshman. The first thing that went through my head when I [found out] I was gonna be a Freshman was, What beat are they gonna fucking pick, bro? I love beats, but hey, it's gotta be some fire shit. That was the first thing I thought of. I'm like, Fuck, what beat these niggas gon' throw at me? It don't matter, though, I'ma kill it. I plan on being at the top and being the best freestyler there is on this muthafuckin' list 'cause I'ma actually freestyle.
The XXL Freshman shoot, it's like a press run. It's a big-ass press run with artists walking around with every artist type shit. I only knew Lil Mosey. I just woke up and got my haircut for this shit. The only preparation I did for the XXL Freshman shoot was go and get my haircut, man. We gon' see what happens. Real bosses don't prepare for shit.
I first knew I could be a Freshman in 2017, when I dropped 'Hella Choppers.' The person who shot it told me I was gonna be a XXL Freshman. And he said this year, too. It was 2017 and he said, '2019 you gon' be an XXL Freshman.'
I deserve to be a Freshman because my music—that's what the fans wanted. It wouldn't have been that fire if I wasn't on [the cover]. When I first started paying attention to XXL Freshman, I was probably like 16. I like the one with Lil B. That shit had Diggy Simmons on it. That shit had a lot of good people on it. Diggy was on that shit. I feel like Mac Miller was on that shit. My favorite Freshman class was the shit Danny Brown was on. That shit was tight. I don't even know why I liked that shit, but that shit was tight. I'd just started rapping when I saw my first XXL Freshman class, and to be here is a fucking blessing. I waited for this shit. I knew it would happen. Being a Freshman's gonna give me a lot more opportunities. Now I'ma take 'em and go crazy.
It feels good to be an XXL Freshman. It's where a lot of the greatest rappers was at. A lot of the greatest rappers was XXL Freshmen. It's a big honor."
COMETHAZINE'S 2019 XXL FRESHMAN INTERVIEW
By his own admission, Comethazine's rap career was ignited by little more than curiosity, a $200 mic and the idea that anybody could be a rapper, so he might as well give it a shot. Now, some three years after he first started recording seriously, the East St. Louis, Ill. native is on the brink of legit stardom as a member of the 2019 XXL Freshman Class.
Comethazine's first forays into rap found him attempting to ride the wave of conscious hip-hop—he says he mimicked the style of neo-boom bap stalwarts Joey Bada$$ and the late Capital Steez. However, after those vibes didn't get him the traction he wanted, Co decided to go the so-called ignorant route, and the subsequent results speak for themselves.
For the self-proclaimed "greatest fucking rapper in the world," things started moving really fast with the October 2017 release of "Hella Choppers," a song that helped introduce Comethazine to the music industry at large. About two months later, in December 2017, he dropped "Piped Up," the first song and video he recorded after signing to Alamo Records—and a phrase that has subsequently become his mantra. The video for the latter song has been viewed close to 9 million times on YouTube.
In August 2018, nearly a year after dropping "Piped Up" and signing to Alamo Records, Comethazine, who created his name by fusing the words cocaine and promethazine, consummated his hip-hop rise with Bawskee. Powered by "Walk," his maiden mixtape solidified his brand of high-octane raps centered more on fun than anything else. The comical, Cole Bennett-directed visual for that one has over 43.5 million YouTube views in less than a year.
"'Walk' I would say is the first song that really took off and started helping my career," Co tells XXL. While Comethazine says "Walk" assisted him in getting to where he's at now, he thinks it's the totality of his projects that earned him his fan base.
"When people like my music, they tend to like the whole damn body of work and not just one song," Co discloses. "Feel me, it's a lot of people drop a whole body of work and people only like one song."
With the stylistic malleability to jump from murmuring, Playboi Carti-esque, free-associative flexes to joyful gunplay that evokes images of Tay-K, Comethazine, who dropped off his second project, Bawskee 2, back in January, has an adaptable sound that feels like a checklist for SoundCloud rap hallmarks. That said, the 20-year-old rhymer adds a layer of playful mischief that makes the songs all his own. Now, he's trying to do the same for the rap game.
"What I'm bringing to the game is just a certain sound that's different than everybody else—some shit that everybody can't do. Feel me, everybody tried, but they suck at it," Co tells XXL. "As an artist, I bring a lot of not giving a fuckness."
Check out everything Comethazine's got to say for yourself by peeping his 2019 XXL Freshman interview for yourself up to.
See Comethazine Behind the Scenes at the 2019 XXL Freshman Cover Shoot
Comethazine's 2019 XXL Freshman Freestyle
Most of Comethazine's songs only last about two minutes, but in that time, listeners get to hear plenty of aggressive gunplay courtesy of the East St. Louis, Ill.'s typically frenzied delivery. Co takes the same approach with his 2019 XXL Freshman freestyle.
For this one, the 20-year-old rhymer only raps for about 25 seconds, but it doesn't matter because it's a potent audio snapshot of his style. He even gives some background on how he came to be the way he is.
"Used to be hurt for the cash, now that I'm rich I can sit on my ass/AK-47 mag, switch it from semi to full automatic/I got me a bitch, she the baddest/But she tryna leave me, she don't like my habits," Co spits.
Elsewhere in the verse, Co gets a bit more personal than usual before jumping into some flexes. "Niggas wonder why I'm savage, you ain't never put your buddy in a casket/Came off a clean 50 for a bezel, 80 for the neck and five for the jacket," he continues at another point of his freestyle. Fittingly enough, he closes things off with his signature demented smile.
With millions of YouTube videos and two high-octane projects at his back, Comethazine is doing big things in 2019 and beyond. Speaking with XXL on the day of the Freshman shoot, the Bawskee 2 rapper explained what he brings to the table.
"What I'm bringing to the game is just a certain sound that's different than everybody else—some shit that everybody can't do. Feel me, everybody tried, but they suck at it," Co tells XXL. "As an artist, I bring a lot of not giving a fuckness."
Peep Comethazine's 2019 XXL Freshman freestyle for yourself up top.
TIERRA WHACK, COMETHAZINE AND RODDY RICCH'S 2019 XXL FRESHMAN CYPHER
Charisma, personality, intriguing backstory and interesting antics aside, being able to rap is still an integral part of being rapper. Go figure. Year in and year out, the cypher has been the space where newly-touted XXL Freshmen make their case with bars, alongside their fellow classmates. The cypher with 2019 XXL Freshmen Comethazine, Tierra Whack and Roddy Ricch features three rappers from three different parts of the map putting on for their cities with three distinct styles.
"Claim he gon' get me, claim he gon' rush me/We outside your spot now, nigga, time to get ugly," Co menacingly spits. "Have him shitting in his pants, nigga, pass him a Huggy/Choppa bullets make him dance, look, he hitting his Dougie/Catch him lackin,' do your thing, then clean up the spot/'Cause who gon' leave some evidence?/Nigga, I'm not/I paid $100 for the Forces, now it's blood on the bottom/Fittin' to hit the Foot Locker, bitch, I'm not fittin' to wash 'em."
Next, we take it the West, where California's Roddy Ricch dispenses a smooth-tongued contribution to the cypher where he reps his Compton trenches and toasts to the good life.
"Fuck all that talkin', let's do it/I keep me a ruler/Bitch, I grew up with the shooters," Roddy rhymes. "Slidin' in the back of the rack with the roof up/I got all white diamonds, Ku Klux/My bitch be naggin' too much/Make it rain in Magic too much/I don't wear my Patek too much/I be really, really, really getting pissed off/Wear my Fendi evil eye, my shirt looked pissed off/Yeah, I got expensive habits/Ace of Spades when I'm thirsty/Plug let me get it dirt cheap/We gon' pull up to the club 30 deep."
"The queen of my city, I prove it in this freestyle (Philly)/Mean-mugging all your cheap smiles/You a beach chair, you fold, I'ma beach towel," she spits. "The way I come around, everybody remain the same/You know my name/With a dollar and a dream I change the game/Wait, I beach towel folds too/I beat your ass if you run up on my crew/Like a child at the zoo or a kid a the beach/I keep talking 'bout the beach, but I'm trying to dig deep in the sand/I leave my eyes open when I sleep, I'm a man/W-O at the beginning/Bumping John Lennon in my all white linen suit getting loose."
Watch Comethazine, Tierra Whack and Roddy Ricch's 2019 XXL Freshman cypher above.
TIERRA WHACK, COMETHAZINE AND RODDY RICCH'S 2019 XXL FRESHMAN ROUNDTABLE INTERVIEW
For the XXL Freshmen, it's all about capitalizing on the moment of being crowned a leader of the new school. Some rise to the occasion and catapult themselves into superstardom, while others aren't as successful years down the line and fall to the wayside. Comethazine, Tierra Whack and Roddy Ricch realize their time is now.
After sharing the stage together for their 2019 XXL Freshman cypher, the trio sits down to discuss the seriousness of the situation of landing a spot on the 2019 XXL Freshman cover.
"Growing up, [becoming a Freshman] is definitely one of those things where I'm like, Yo, I know my time is gonna come," Grammy-nominated Philly MC Tierra Whack states. "I didn't say 2017, 2016, I was just like, Whenever they choose me, that's when my time is. That's what I believe. I was like, Yo, I gotta make it one year. It's gonna happen. And it happened, so it's good."
Alamo Records artist Comethazine, who hails from East St. Louis, Ill., was also motivated to get his day in the sun. His Bawskee mixtape series has his name ringing bells and fan base growing stronger by the day.
"[Making the cover is] something I seen and wanted to do, 'cause I knew that's what it would take to be where I wanted to be," he says. "People that was here succeeded at what they did in rap."
The honor is definitely not overlooked by Roddy Ricch, who went from chasing paper on the streets of Compton to working with the likes of Post Malone and Nipsey Hussle in a matter of a few years.
"I'm the first nigga out my projects to even be on a magazine," he reveals. "I was sitting on the boulevard every day. For them to see me there, and to still be able to pull up or be on magazines, do all this type of stuff, it's surreal. But it's motivation. [It's] something that a lot of the younger guys where I'm from can look up to."
Watch Comethazine, Tierra Whack and Roddy Ricch's 2019 XXL Freshman roundtable interview above..