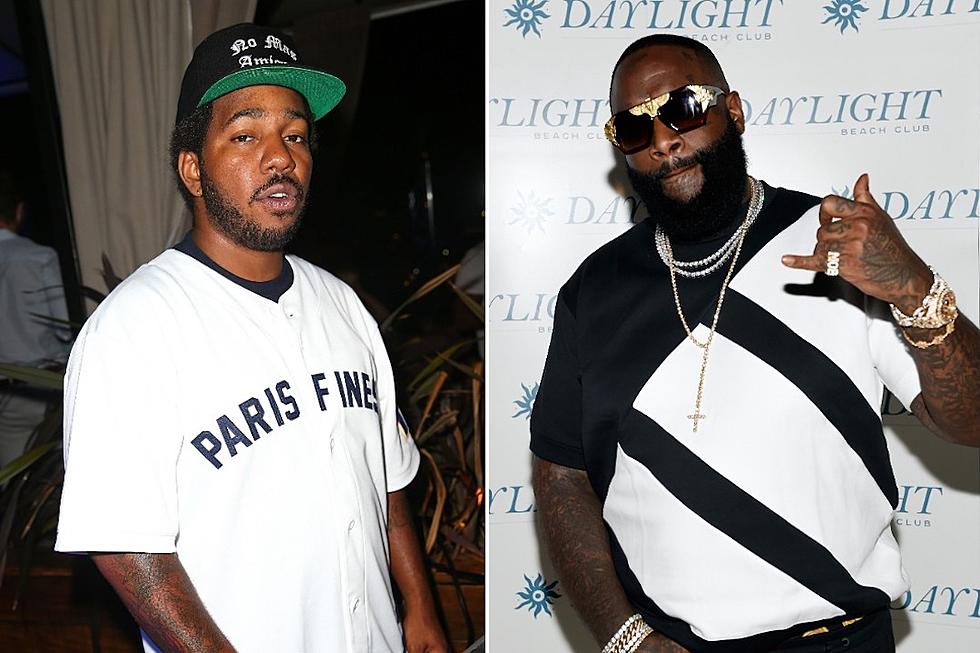 Chuck Inglish Claims Rick Ross Never Paid Him for Stalley's "Party Heart" Beat
Imeh Akpanudosen/David Becker, Getty Images (2)
2018 is already starting off on an intense note in the hip-hop community, and while there are rapper beefs brewing, it looks like producers are also speaking up for themselves. Chuck Inglish is currently calling out Rick Ross, as he claims that the MMG head never paid him for Stalley's "Party Heart" beat from 2012.
Inglish finds Rozay's recent sentiments on Birdman needing to pay producers to be hypocritical, as he says that he "never saw a cent" from his label for "Party Heart," which was on Stalley's Savage Journey to the American Dream mixtape.
"I'm gon keep it a stack," Inglish tweets. "Hard to hear Ross press Birdman about paying producers. When I never saw a cent from them for Party Heart. Just keep it level..none of you niggas pay ur producers."
If you recall, the Miami rapper took shots at Birdman on "Idols Become Rivals" track off of his Rather You Than Me album. He originally sticks up for Lil Wayne against the Cash Money CEO, but also asks if the producers can get paid, as Birdman has been accused of withholding money owed to multiple names on the label.
"I pray you find the kindness in your heart for Wayne," Ross rapped. "His entire life, he gave you what there was to gain/I watched this whole debacle so I'm part to blame/Last request, can all producers please get paid?"
Inglish's tweet comes after producer E. Dan made claimed that Atlantic Records calls albums from their artists "mixtapes" as a way to underpay their producers. TM88 also later said that he "never got paid" for making Lil Uzi Vert's "XO Tour Llif3" instrumental, which became a monumental hit for the rapper on multiple charts.
Check out Chuck Inglish's statements about Rick Ross and MMG not paying him below.
See 50 of the Best Hip-Hop Projects of 2017