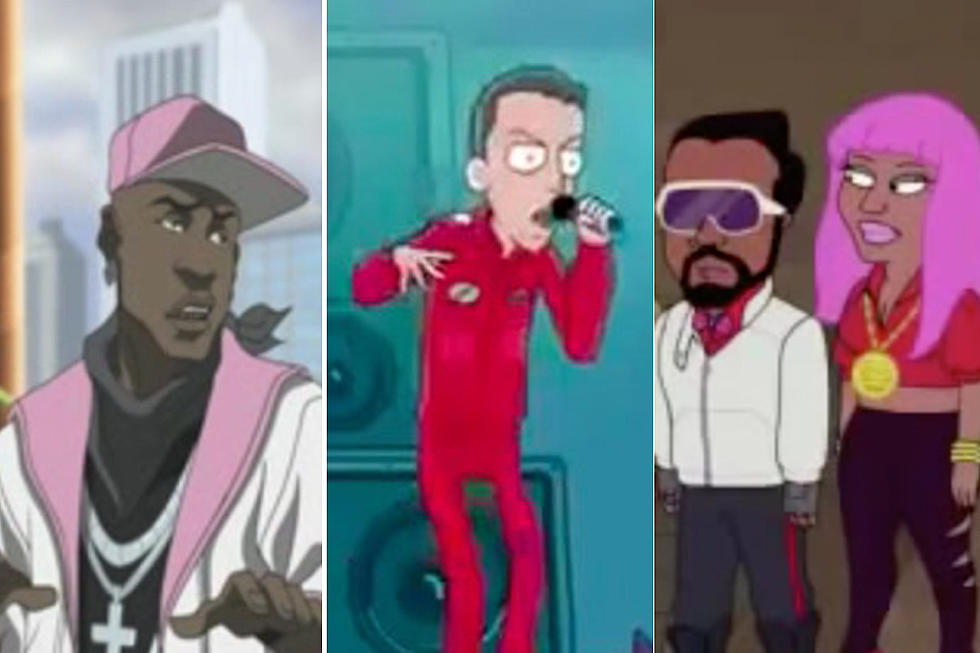 12 Memorable Rapper Appearances on an Animated Television Series
Adult Swim TV (2) / Fox via YouTube
As the popularity of hip-hop steadily continues to grow, so does the number of appearances of rappers on television shows. Animated television over the past decade has grown from just The Simpsons to Family Guy, American Dad and many shows that have created a legit fan base. More and more rappers are popping up on these shows, lending their voice and making guest appearances on popular animated series, providing an interesting twist to the story line.
XXL wants to remember the memorable MC appearances on a animated television series. That's why we've a compiled a list of rappers who guest starred in your favorite animated sitcom because it's really awesome to see how your favorite rapper looks in 2D.
MC Lyte, Tyler, The Creator, Childish Gambino on The Regular Show
Quite Frankly, The Regular Show on Cartoon Network is one of the hidden gems on television right now. The Regular Show, an American animated television series created by J. G. Quintel, follows the lives of a Blue Jay named Mordecai  and a raccoon named Rigby, who find themselves in the most ridiculous situations. For "Rap It Up" Episode 9 in Season 3, magic happens. One character of the show named Pops, a naive, lollipop-shaped friend, gets into a rap battle with the Crew Crew, voiced by MC Lyte, Tyler, The Creator, Childish Gambino.
50 Cent and Cypress Hill on The Simpsons
Here are some stats for you. The Simpsons is the longest-running American sitcom, the longest-running American animated program and the longest-running American primetime, scripted television series. The iconic television series is no stranger to having celebrities guest star on the show. For Season 16, episode 9 "Pranksta Rap," 50 Cent makes an appearance when he meets Bart. Cypress Hill makes there appearance back in 1996 in the 24th episode of season seven. You can watch that clip below.
Kanye West, Nicki Minaj, ?uestlove and will.i.am on The Cleveland Show
Kenny West's Yeezy character first made a appearance as an arch rival to Cleveland Brown Jr., one of the main characters of The Cleveland show. Kenny is the on again-off again boyfriend of Chanel Williams, a girl that Cleveland Jr. likes. They end up in an epic rap battle for her love. They become friends but as we learn in a further episode "Menace II Secret Society," Kenny West, Nicki Minaj, ?uestlove and will.i.am joined the hip hop Illuminati. Watch the rap battle above and the hip-hop Illuminati clip below.
Family Guy is a sitcom created by Seth MacFarlane and is known for its amazing use of cutaways and use of current events and modern cultural icons in there episodes. Here we see during episode 16 of the seventh season, the "Animation Domination" block was co-hosted by an animated version of rapper Eminem and Stewie Griffin.
There has been a plethora of rapper appearances on the hit animated series The Boondocks created by Aaron McGruder, such as Xzibit, Lil Wayne, Snoop Dogg and Ghostface. But one of the most memorable one was Mos Def role as Gangstalicious. Check one of his many appearances above.
Even though he's been touring the country this summer, Maryland rapper Logic made a special guest appearance on the Adult Swim TV show Rick and Morty during its third season. Logic showed up at the end of the episode as the headlining act of an intergalactic music festival. Logic raps over the ending credits of the episode.