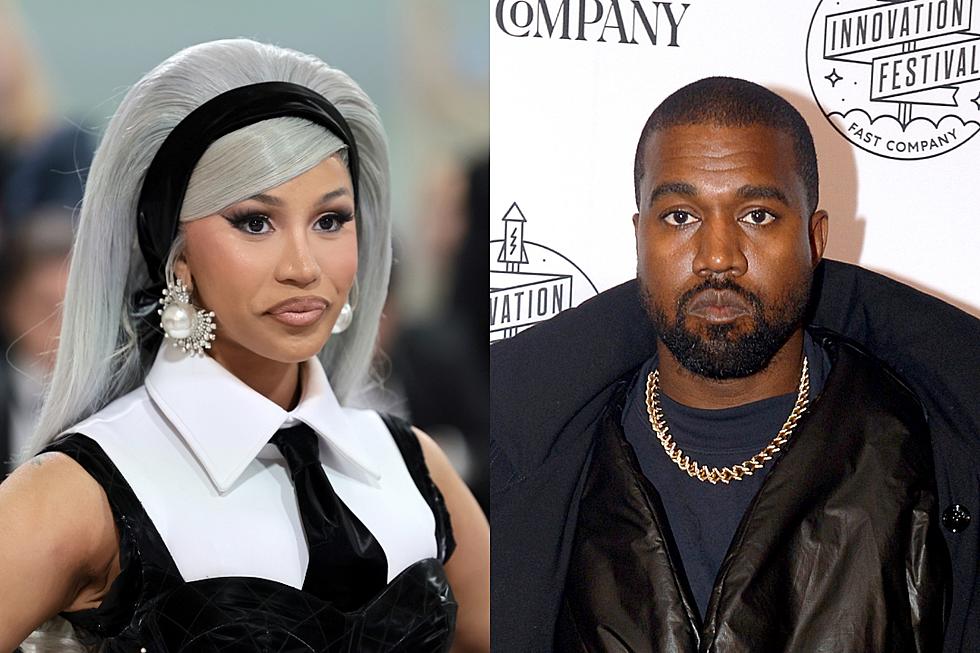 Cardi B Responds to Kanye West Saying She's an Industry Plant in Leaked Video
Jamie McCarthy/ Brad Barket/Getty Images (2)
Cardi B is responding to a leaked video of Kanye West calling her an industry plant.
Cardi B Reacts to Being Called an Industry Plant by Ye
On Sunday (Oct. 1), Cardi B responded on X, formerly known as Twitter, to a viral video of Kanye West going around the internet that shows Ye telling someone on a phone call that Bardi is an industry plant sent by the illuminati to replace Nicki Minaj. The Bronx, N.Y. rapper shared video of a Ye interview with Hollywood Unlocked in January of 2022, which can been seen below. In the clip, Ye praises Cardi.
"I always believed in her, since she was on the show, period" Kanye tells Lee at the 27:37-mark of the interview below. Cardi captioned the post with a heart emoji.
Purported Kanye West Documentary Footage Leaks
On Sunday, leaked documentary footage from 2018 shows Kanye West downplaying Cardi's success by claiming she is an industry plant put in place to replace Nicki Minaj.
"Cardi B is a plant by the illuminati," Kanye casually says in the clip below. "She don't write her own raps. She just there to sound as ignorant as possible. And then makes songs like 'f**k 'em and then get some money,'" Ye adds, referring to Cardi's verse on G-Eazy's "No Limit (Remix)."
He continues: "She literally replaced Nicki Minaj. Purposely, they put her there. And now, she doesn't know what to do. She has no idea what the f**k is going on. She thinks it's just a blessing from the Universe. Ain't no blessing from the f**king Universe."
The entire documentary has since leaked and can be found on Twitter. However, XXL is unable to share due to copyright. Despite his apparent beliefs about Cardi in 2018, Ye collaborated with Offset's wife on the single "Hot S**t" with Lil Durk in 2022.
Check out Kanye West dissing Cardi B and her response below.
See Cardi B's Reaction to Ye Calling Her an Industry Plant
See Rappers' Most Wildest Insults They've Said During Beefs