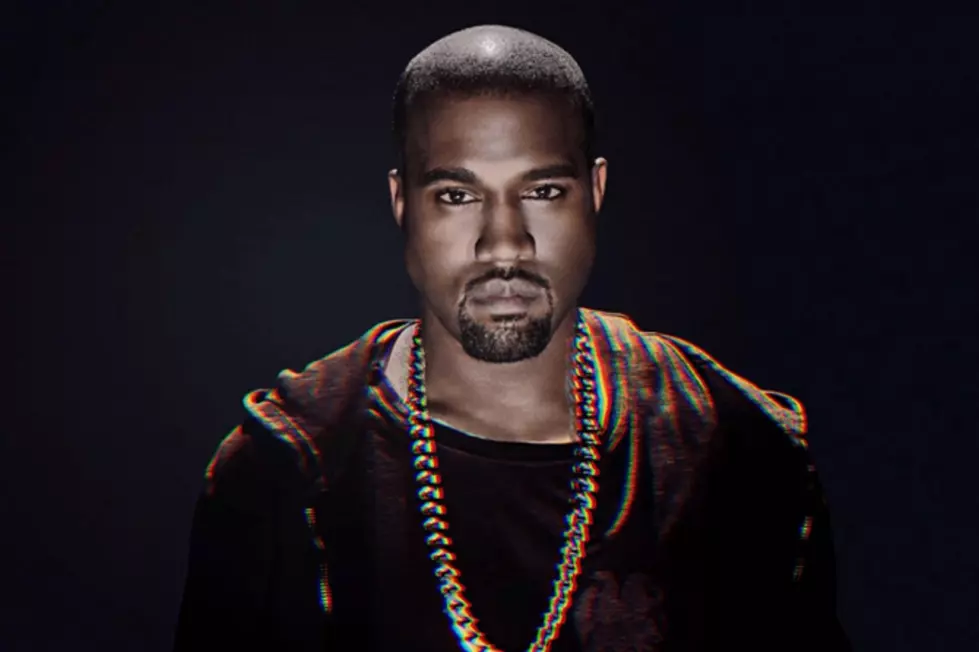 Breaking Down Kanye West's Six Platinum Solo Albums
Last week, we reported that Kanye West's sixth solo album Yeezus was certified platinum, making Yeezy a perfect six for six with platinum solo albums (and seven for seven if you count Watch The Throne), an all-time achievement equivalent to Michael Jordan's legendary championship run in the 1990s with 'Ye's hometown Chicago Bulls. Nearly ten years removed from his classic debut, The College Dropout, Kanye has consistently leaped over creative boundaries without fear to keep his Jordan-esque winning streak alive by curating consecutive classic artistic offerings that reached the platinum plateau.
Yeezy joins Jay Z (Reasonable Doubt, In My Lifetime Vol. 1, Vol. 2... Hard Knock Life, Vol. 3... Life And Times Of S. Carter, The Blueprint, The Blueprint 2: Gift And The Curse), Snoop Dogg (Doggystyle, Tha Doggfather, Da Game Is To Be Sold, Not To Be Told, No Limit Top Dogg, Tha Last Meal, Paid Tha Cost To Be Da Boss) and Nas (Illmatic, It Was Written, I Am..., Nastradamus, Stillmatic, God's Son) as the only rappers to successfully release six platinum albums in the first ten years of their career, but West's recent accomplishments may serve as the most impressive considering he reached the milestone despite dropping his projects during a decade of dramatic decline in album sales.
Through the years, Yeezy has evolved to become one of culture's most influential individuals, with one of the most impressive resumes in hip-hop history. XXL has compiled a guide to Kanye West's evolution from The College Dropout to Yeezus that celebrates his top singles, record sales, classic collaborations, Grammy Awards, outrageous moments, and much more. —Christian Bonoan
Album: The College Dropout
Release Date: February 10, 2004
First Week Sales: 441,000
Major Singles (Billboard Hot 100 peak): "Through The Wire" (No. 15); "Slow Jamz" (No. 1); "All Falls Down" (No. 7); "Jesus Walks" (No. 11); "The New Workout Plan" (N/A)
Platinum Certification Date: April 6, 2004 (8 weeks)
XXL Rating: XXL
Top News Headlines: Kanye West Storms Out of American Music Awards After Losing "Best New Artist" To A Country Singer
Kanye West Starts G.O.O.D. Music label
Biggest Rap Album Competitor: Eminem, Encore
Memorable Remixes/Feature Verses: Mase, "Welcome Back (Remix)"
Classic Collaborations/Production Credits: Dilated Peoples, "This Way"; Dwele, "Hold On"; John Legend, "Used To Love You"; Twista, "Overnight Celebrity"; Slum Village, "Selfish"
Unforgettable Quotes: "You can't take anything away from me if I have that ego. It's part of the whole ambiance, so just enjoy the ride."
"God could send a message in the form of a goat."
"Me breaking my mouth was like a parent hitting a shorty so he knows how to act. God was saying, 'Kanye, I'm about to give you the world. Don't misuse it.'"
"I think there will be one glimmering moment in time where I will be the number one rap artist in the game."
"I'm the rap version of Dave Chappelle. I'm not sayin' I'm nearly as talented as Chappelle when it comes to political and social commentary, but like him, I'm laughing to keep from crying."
Grammy Awards Won: Best Rap Album, Best Rap Song ("Jesus Walks")
Album: Late Registration
Release Date: August 30, 2005
First Week Sales: 860,000
Major Singles: "Diamonds from Sierra Leone" (No. 43); "Gold Digger (No.1); "Heard 'Em Say" (No. 26); "Touch The Sky" (No. 42); "Drive Slow" (N/A)
Platinum Certification Date: September 29, 2005 (4 weeks)
XXL Rating: XXL
Top News Headlines: Kanye Says George Bush Doesn't Care About Black People On A Live Telecast For Hurricane Katrina Relief Funds
Kanye Claims That AIDS Is A "Man-Made Disease"
Biggest Rap Album Competitor: 50 Cent, The Massacre; Common, Be
Memorable Remixes/Feature Verses: Rhymefest, "Brand New"; Common, "They Say"
Classic Collaborations/Production Credits: Game, "Dreams"; Common, Be; Cam'ron, "Down and Out"
Unforgettable Quotes: "I don't even listen to rap. My apartment is too nice to listen to rap in."
"If you have the opportunity to play this game of life you need to appreciate every moment. A lot of people don't appreciate the moment until it's passed."
"George Bush doesn't care about black people."
"Anyone who doesn't give [The College Dropout] a perfect score is lowering the integrity of the magazine."
"Come on now! How could you be me and want to be someone else?"
"Really good people like me are scared of falling off. I'm totally scared of falling off. Just imagine it. Just imagine if I woke up one day and I was whack. What would I do then?"
Grammy Awards Won: Best Rap Album, Best Rap Song ("Diamonds From Sierra Leone"), Best Rap Solo Performance ("Gold Digger")
Album: Graduation
Release Date: September 11, 2007
First Week Sales: 957,000
Major Singles: "Can't Tell Me Nothing" (No. 41); "Stronger" (No. 1); "Good Life" (No. 7); "Flashing Lights" (No. 29); "Homecoming" (No. 69)
Platinum Certification Date: October 18, 2007 (4 weeks)
XXL Rating: XL
Top News Headlines: Kanye Outsells 50 Cent In Light Of Graduation Versus Curtis Bet
Dr. Donda West Passes Away
Biggest Rap Album Competitor: 50 Cent, Curtis; Common, Finding Forever; Nas, Hip-Hop Is Dead
Memorable Remixes/Feature Verses: Rich Boy, "Throw Some D's (Remix)"; Ne-Yo, "Because Of You (Remix)"; CRS, "Us Placers"
Classic Production Credits/Collaborations: Common, "Southside"; DJ Khaled, "Grammy Family"; Common, "The People"; Common, "Drivin' Me Wild"; Game, "Wouldn't Get Far"
Unforgettable Quotes: "If you're driving a car and you're trying to get in another lane, you're looking for your opportunity to get in this lane, right? My goal is to be on the freeway in a fucking plane. In all lanes at all times. The goal is not to cross over, the goal is to try to do the impossible. Like, for me to have a party at the Louis Vuitton store and then get in the car and hear Kay Slay playing 'Can't Tell Me Nothing' was the greatest accomplishment for me. That was like the airplane thing. In all lanes."
"The Bible had, you know, 20, 30, 40, 50 characters in it. You don't think I would be one of the characters of today's modern Bible?"
"I want you to document this right here, what I'm saying right now. I am the number one human being in music. That means any person that's living or breathing is number two. Because I'm number one now... You are in the presence of the champion. Bow in the presence of greatness."
"I'm like a machine. I'm a robot. You cannot offend a robot. Mentally, I'm so focused there's nothing somebody could say or do to me to stop the music, the product that I'm gonna put out."
"I am number one right now. I want you to look at this camera. I have not taken any drugs. I've dranken a little bit but even if I wasn't drinking I would've told you the same thing."
Grammy Awards Won: Best Rap Song ("Good Life"), Best Rap Album, Best Rap Solo Performance ("Stronger")
Album: 808s And Heartbreak
Release Date: November 28, 2008
First Week Sales: 450,145
Major Singles: "Love Lockdown" (No. 3); "Heartless" (No. 2); "Amazing" (No. 81); "Paranoid" (N/A), "See You In My Nightmares" (No. 21)
Platinum Certification Date: January 27, 2009 (8 weeks)
XXL Rating: XL
Top News Headline: Kanye Starts Dating Amber Rose
Kanye Attacks Paparazzi at LAX
Kanye Launches Critically Acclaimed Glow In the Dark Tour
Biggest Rap Album Competitor: Lil Wayne, Tha Carter III; Lupe Fiasco, Lupe Fiasco's The Cool; T.I., Paper Trail
Memorable Remixes/Feature Verses: Estelle, "American Boy"; Lil Wayne, "Lollipop (Remix)"; Young Jeezy, "Put On Remix"; DJ Khaled, "Go Hard"; N.E.R.D., "Everyone Nose"
Classic Production Credits/Collaborations: T.I., "Swagga Like Us"; Lil Wayne, "Let The Beat Build"; Jay Z, "Brooklyn (Go Hard)"
Unforgettable Quotes: "I realize that my place and position in history is that I will go down as the voice of this generation, of this decade, I will be the loudest voice."
"I'm a pop enigma. I live and breathe every element in life. I rock a bespoke suit and I go to Harold's for fried chicken. It's all these things at once, because, as a tastemaker, I find the best of everything. There's certain things that black people are the best at and certain things that white people are the best at. Whatever we as black people are the best at, I'm a go get that. Like, on Christmas I don't want any food that tastes white. And when I go to purchase a house, I don't want my credit to look black."
"If you ask me a question like what is your greatest accomplishment, it should be what I'm about to do."
"I'm like a vessel, and God has chosen me to be the voice and the connector."
Grammy Awards Won: N/A
Album: My Beautiful Dark Twisted Fantasy
Release Date: November 22, 2010
First Week Sales: 496,000
Major Singles: "Power" (No. 22); "Monster" (No. 18); "Runaway" (No. 12); "All of the Lights" (No. 18), "Dark Fantasy" (No. 60)
Platinum Certification Date: January 11, 2011 (6 weeks)
XXL Rating: XXL
Top News Headlines: Kanye West Joins Twitter
Kanye West and Amber Rose Break Up
Kanye West Releases "The Runaway" Short Film
Kanye West Launches G.O.O.D. Fridays
Biggest Rap Album Competitor: Jay Z and Kanye West, Watch The Throne; Nicki Minaj, Pink Friday
Memorable Feature Verses: Swizz Beats, "Start It Up"
Classic Production Credits: Drake, "Show Me A Good Time"; Rick Ross, "Live Fast, Die Young"
Unforgettable Quotes: "I have decided to become the best rapper of all time! I put it on my things to do in this lifetime list!"
"When I visited Wayne at Rikers Island, I had a suit on with some slippers, and the guard said, 'Man, those shoes are amazing.' And I said, 'Yes, they are. I'm Kanye West.'"
"We've come to know celebrities as assholes sometimes. And I'm just the most blaring one, the pinnacle of it."
"I am one with the people, and as I change, the people change with me. I am one of the faces of the zeitgest. I'm one of the few celebrities that are on the same wave of consciousness as all the behind-the-scenes journalists, photographers, stylists, publicists, filmmakers, poets, painters, graphic artists and so on. I am the voice of the dreamers. I am the creative dream come true and I refuse to wake up."
"I'm like a tree, I feed the branches of the people."
"I feel belittled to be classified as just a musician."
"Let me please express how amazingly I rap at this point."
"When I think of competition it's like I try to create against the past. I think about Michelangelo and Picasso, you know, the Pyramids."
Grammy Awards Won: Best Rap Song ("All Of The Lights"), Best Rap/Sung Collaboration ("All Of The Lights"), Best Rap Album
Album: Yeezus
Release Date: June 18,2013
First Week Sales: 327,000
Major Singles: "New Slaves" (No. 56), "Black Skinhead" (No. 69), "Bound 2" (No. 12)
Platinum Certification Date: January 8, 2014 (30 weeks)
XXL Rating: XL
Top News Headlines: Kim Kardashian Gives Birth to North West
Kanye West Proposes to Kim Kardashian
Kanye West Launches Yeezus Tour
Kanye West Uses Guerilla Marketing for Worldwide "New Slaves" Premiere
Biggest Rap Album Competitor: Drake, Nothing Was The Same; J. Cole, Born Sinner; Jay Z, Magna Carta...Holy Grail
Classic Production Credits: Pusha T, My Name Is My Name
Unforgettable Quotes:  "Nobody can tell me where I can and can't go. Man, I'm the number one living and breathing rock star. I am Axl Rose. I am Jim Morrison. I am Jimi Hendrix."
"Even like the Confederate flag, it's not even a statement about racism. It's a statement that you can do what you want. You can take what you want. You can say what you want. Just like when we say the n-word on the radio, but just like that you can take anything. Anything can be yours."
"I'm a creative genius and there's no other way to word it."
"There's so many amazing creative inventors who weren't recognized in their time. And if I've got the voice and I've got the opportunity to turn up in these interviews, I just have to look and say, 'What do I have to lose?'  We only have everything to gain. So don't ever let them make you think for one moment that I'm going insane. Because I sit back and see shit and think 'Am I the only one that's not crazy?'"
"YOU AIN'T GOT THE ANSWERS, SWAY!"
"I am so credible and so influential and so relevant that I will change things."
"I am Warhol! I am the number one most impactful artist of our generation. I am Shakespeare in the flesh. Walt Disney, Nike, Google. Now who's going to be the Medici family and stand up and let me create more?"
Grammy Award Nominations: Best Rap Album, Best Rap Song ("New Slaves")