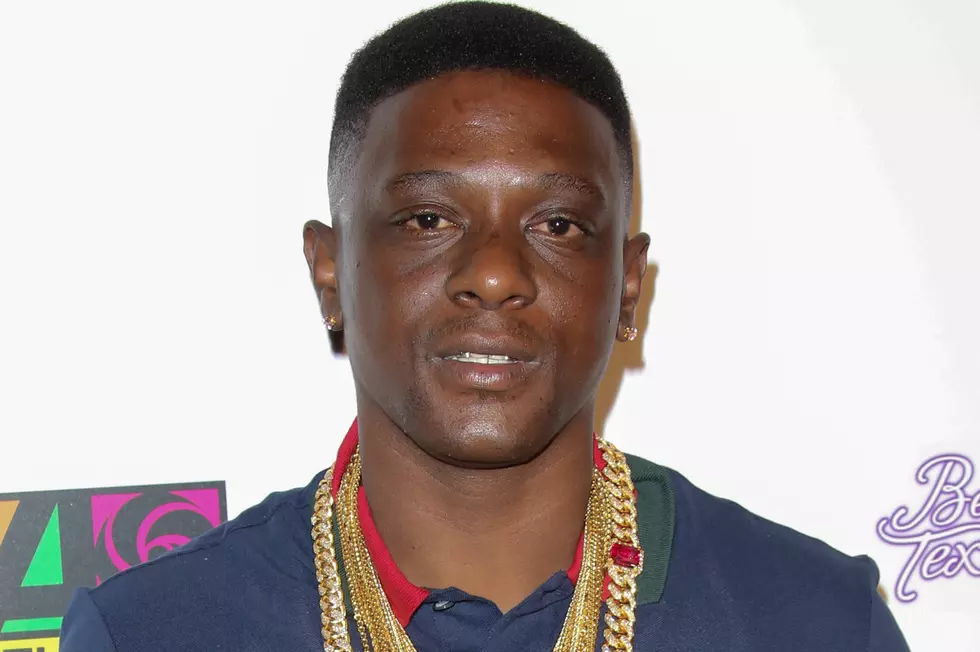 Boosie BadAzz Starts Crying When Webbie Surprises Him for Birthday Party
Paul Archuleta, Getty Images
Boosie BadAzz celebrated his 34th birthday last week (Nov. 14). As a result, close friend and collaborator Webbie threw him a surprise birthday party.
You can view the surprise above via Webbie's official Instagram account. In the brief clip, Boosie walks into a dark room, which suddenly erupts with noise as the lights come on, revealing a bunch of family and friends. Boosie gets emotional and immediately starts crying, while Webbie walks up to him and gives him a hug. You can hear somebody explain, "He ain't never had no party like that." Additionally, Webbie captioned the video, "Surprised my brother yesterday we came a long way ! If you love yo nigga hug yo nigga #DaDumbway."
Obviously, Lil Boosie and Webbie have a long and storied history together. In July 2003, the Baton Rouge artists dropped their first collaboration album, Ghetto Stories. They followed that up with a second joint album called Gangsta Musik, which released in December 2003. Gangsta Musik contains classic records including "Swerve" and "Give Me That" featuring Bun B.
Boosie and Webbie have also worked together more recently. When the former got out of jail in 2014, they got to work, releasing the collaboration "Wartime." There was talk of them releasing Gangsta Musik 2, but that project never officially dropped. In other news, Boosie BadAzz recently appeared on fellow Baton Rouge MC NBA YoungBoy's new mixtape 38 Baby. Boosie Boo delivers a guest verse on track No. 7, "Up In Blood."
Prior to that, Boosie was having some financial issues, and as a result, he went off on Capital One.  "Capital One bank has still refuse to give my muthafuckin money back that THEY let someone steal out my account," Boosie wrote on Instagram. "I've done everything. I have even met with Secret service to no avail.So they sayin I'm jacked . Where is Obama for shit like this . This want us to make our money legal n when u do just that u take it from them n refuse to return it . Fuck the banks I'm advising all my fans do not bank at capital One. Hide your money do not bank at all fuck that if u a hood nigga they go find a way to take it."
20 Rappers Who Released Projects From Jail