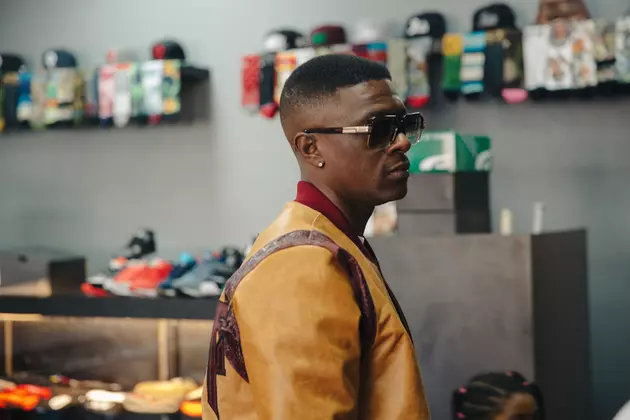 Boosie BadAzz's Brother Arrested for Stealing $361,000 From Rapper's Bank Account
Photo Credit: Diwang Valdez
Boosie BadAzz's brother has been arrested and charged in connection with a theft of $361,000 from the Baton Rouge rapper's bank account.
As previously reported, last July, Boosie claimed someone had taken almost half a million dollars out of his Capital One account. He expressed his frustration over the matter on Instagram. "When this first happen I went to the banks months str8 asking questions, filing reports, meeting with officers etc. n every time I was givin a bunch of lies n bullshit," he wrote. "They was very unprofessional n ignorant towards me when I was just tryin to get my legally earned money back.i waited on calls from investigators n got not one dam call.This is the worst bank in the world do not bank with these people. A year passed n I was told I was denied on getting my money back. Then when my attorneys tried to get this matter in court they said it was to late to have a civil case n get my money back. basically they r saying (In street terms) fuck u we jacked u out a half -a million dollars n that is total disrespect," he added.
A few months passed, and Boosie still didn't have his money, and he was still pissed, once again calling out Capital One. "Capital One bank has still refuse to give my muthafuckin money back that THEY let someone steal out my account," Boosie wrote on Instagram. "Fuck the banks I'm advising all my fans do not bank at capital One. Hide your money do not bank at all fuck that if u a hood nigga they go find a way to take it."
Now it appears the cops have gotten to the root of the situation, arresting Taquari Hatch, Boosie's brother, and charging him with the massive theft, reports TMZ. According to a police report obtained by the site, cops say Taquari transferred money from Boosie's account to over a dozen people who then forked over the cash to him. The doc even states that Taquari tried to pretend he was Boosie while calling the bank's customer service line, but it didn't work and the fraud department was put on notice.
Taquari was arrested last week and booked on identity theft and other fraud charges.
See 22 Hip-Hop-Related Police Raids