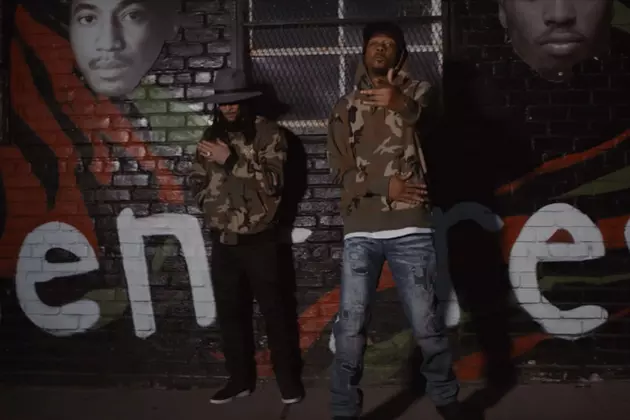 Bone Thugs and Uncle Murda Pay Tribute to Fallen Rappers in "Change the Story" Video
BoneThugsHarmonnyVEVO via YouTube
In the past two years, hip-hop has lost Phife Dawg, Sean Price and now Prodigy, all legends in the game whose lives were undeniably taken from us too soon. Shortly after news of their deaths, tributes in the form of murals were made for most of them, and now, Bone Thugs have dedicated the video for their grief-filled track "Change the Story" to hip-hop's fallen game-changers.
Krayzie Bone and Bizzy Bone link up with Uncle Murda in both Queens and Brooklyn to pay respect to The Notorious B.I.G., Sean Price, Phife Dawg and Jam Master Jay at murals created in their respective hometowns. Flashes of the images appear as Krayzie spits, "Now your name highlights the wall/There they reach rest in peace yes deceased/I can't believe you're really here no more/Because in my mind, at any second you'll come through the door/It's all in my mind/I see you waiting on this merry go/'Cause I know in time I'll meet you, greet you in the physical."
The visual also shares a story of a young man who gets caught up in a drug deal gone bad, and shows what would have happened had the story changed and he stayed home with his mother.
"This is one of those songs that's close to my heart," says Bizzy in regards to the track off him and Krayzie's New Waves album. "How many of us wonder, what it would be like if the story changed and we could have a loved one back, if only the circumstances had been different? It meant a lot for us to recognize some of the great fallen soldiers of hip hop history who left us too soon. I could feel their energy as we filmed in front of those murals."
The last thing we see in "Change the Story" is a photo of Prodigy, whose death on June 20 rocked the rap world and still has some in disbelief. The video was filmed prior to the mural created for him in Queens, which has since been removed after being defaced twice in one week.
Watch the touching tribute from Bone Thugs below.
See 20 of Your Favorite Rappers Naming Their Favorite Rappers