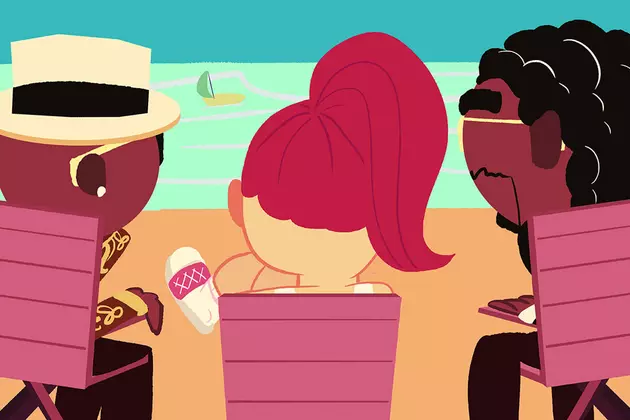 Bhad Bhabie "Gucci Flip Flops (Remix)" Featuring Snoop Dogg and Plies: Listen to New Song
Bhad Bhabie
When it came time for a remix of her hit single, "Gucci Flip Flops," Bhad Bhabie linked up with hip-hop legend Snoop Dogg and Plies. Today (Oct. 2), the Atlantic Records signee debuts the remix of the track, which initially featured Lil Yachty.
Bhad Bhabie begins with the same in-your-face lyrics from the original song. "Gucci flip flops, fuck it, hit your bitch in my socks," she delivers over the engrossing beat.
Plies, featured on the first verse, makes a food to money comparison. "You a Whopper Jr.," he raps. "I'm a Whopper, I got extra cheese."
Snoop Dogg then takes it home with the finish. "Bhad, Bhad, Bhad, to the bone is what these bitches is/Text back 187 that's what the business is," he raps over the 30 Roc & Cheeze Beatz-produced beat.
Bhad Bhabie shared her excitement over the collaboration on Instagram. "Honored to have 2 fucking legends on the Gucci Flip Flops REMIX @plies @snoopdogg love y'all #gucciflipflops REMIX OUT NOW ‼️FULL SONG LINK IN BIO," she captioned her video post.
In addition to linking with Bhad Bhabie on the "Gucci Flip Flops (Remix)," Snoop's also been making headlines for other reasons this week. Recently, he expressed his anger over Kanye West supporting President Trump, "Make ya music great again nigga," said the "Young, Wild and Free" MC. However, he has found it in his heart to let bygones be bygones. The Long Beach, Calif. native shared an Instagram video of the Yhandi artist walking around the streets with his MAGA hat on and a shirt featuring Snoop's face. "Forgiveness is everything," Snoop captioned the post.
Aside from the release of her latest single, Bhabie's debut mixtape, 15, featured some of hip-hop's greatest including YG, Lil Yatchy, Asian Doll, Lil Baby, City Girls and Ty Dolla $ign. The "Cash Me Outside" artist has released other buzzing singles such as "Trust Me" with Ty Dolla $ign and one of the most popular "Hi Bich."
The 15-year-old artist will not be slowing down anytime soon. She'll join Lil Yatchy's The Disrespect Tour, which will start on Oct. 24 in Baltimore. The tour is scheduled to hit New Orleans, Memphis, Cleveland, Pittsburgh and more.
Listen to Bhad Bhabie's "Gucci Flip Flops (Remix)" below.
See 26 Rappers Who've Turned Their Love for Weed Into a Business