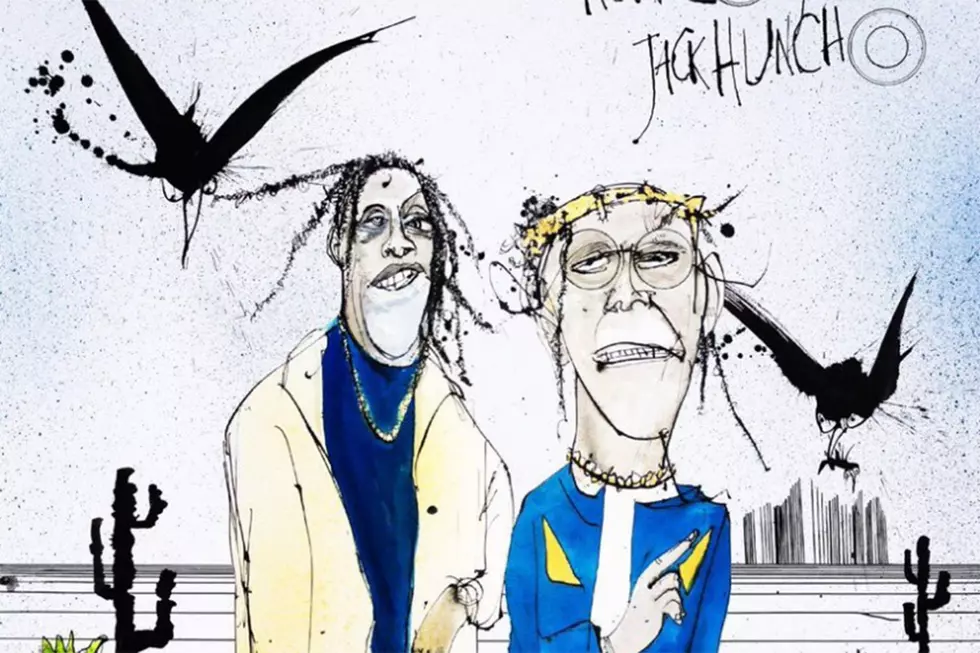 20 of the Best Lyrics From Travis Scott and Quavo's 'Huncho Jack, Jack Huncho' Album
Quality Control
Hip-hop may be a culture largely predicated on competition and dominated with alpha males, but collaboration is a cornerstone of the craft. It's responsible for some of the genre's greatest musical moments—from one-off song pairings to full-length albums. And this year has especially seen an uptick in the latter (Slime Season, Without Warning, Double or Nothing), often with exciting results.
The latest example of this trend is Huncho Jack, Jack Huncho, a project that pairs rapper/producer Travis Scott with Migos member Quavo over a baker's dozen of tracks. Having intersected musically several times over the course of their careers, it was only right for them to team up for a complete project, an idea they first entertained in 2016. They came through to close 2017 with a bang, dropping an LP that includes feature appearances by Offset and Takeoff, but is mostly commanded by Quavo and La Flame.
After giving Huncho Jack, Jack Huncho a few spins, XXL pulled 20 lyrics from the project that caught our attention.
"Modern Slavery"

Travis Scott and Quavo

"All these damn chains, modern slavery/But this ain't 1800 so they pay me/Uh, yuh, shaking my demons off/Dippin' my dreams in sauce/Never been food for sharks/Wrist like fins on dolphins" —Quavo

"Modern Slavery"

Travis Scott and Quavo

"Who did you thought you was/Get em knocked off for dubs/Sit in the trap with bugs/Walk in the lab with scrubs/Niggas tried to count us out/Fuck you thought this was/Up like a coffee mug/Save your salt for slugs" —Quavo

"Black & Chinese"

Travis Scott and Quavo

"Yeah, machine ran, the codes on scan/She pop the bands, she addicted to scams/Runnin' through the cold and sunny, but I ain't gon' tell, nigga/All this water they collecting in the well, nigga/All these bales that we laying on that scale, nigga/All my niggas they free outta jail we on the way up, nigga/Still a true player, fuck on your bitch and I lay up" —Quavo

"Eye 2 Eye"

Travis Scott and Quavo Featuring Takeoff

"Eye to eye/Choose to Dubai/I could see that they jealous, don't know why/Is it 'cause we lit at 4 a.m. at the spot?/Put that on your tongue, wait for the swag to unlock/If you searching, coming for us, over the border/We import 'em, just don't record us" —Travis Scott

"Eye 2 Eye"

Travis Scott and Quavo Featuring Takeoff

"I got Patek Philippe/And I bought a skeleton/I'm a deadly weapon/I'm about to go off in a second/Moving bricks and medicine/She like to fly, pelican/Touch the sky, heavenly/Designer belt from the Netherlands" —Quavo

"Motorcycle Patches"

Travis Scott and Quavo

"She gon' make that ass dribble, playin' basket/Don't call it cuffin', nigga, I ain't passin'/Niggas pourin' fours, poppin' seals like caskets/Nawfside hot boy, I bought a dragon/I get it, you grill, VIP, spread the bills/M's the deal, spinnin' the fortune wheel/4 by 4, skrrting all the wheels" —Quavo

"Motorcycle Patches"

Travis Scott and Quavo

"Motorcycle patches on my jacket/Rip all the money out the plastic/Put it on her tongue and now she dancin'/Gave her everything, now whatchu' asking/Flip, make it flip, do gymnastics/Popped up a bean like a talent/Eat up all the green, taste just like salad/40 on my hip like it's new fashion" —Travis Scott

"Huncho Jack"

Travis Scott and Quavo

"It's 5 a.m. lookin' like noon/I took her right out of saloon/Put five in the back, I got room/Can't fit no more chicks, ain't got room/Yeah, new crib, I'll put that on the moon/Upstairs and we blowin' up fumes/Don't panic, can't have no more seizures/Fuck it, I'm cashin' my leisure" —Travis Scott

"Huncho Jack"

Travis Scott and Quavo

"Huncho, flood my AP/Make these hoes wanna take me/The gun off safety/Shoot a fuck nigga like K.D., yeah/She hit brazy, yeah/Made my left eye lazy, yeah/Goin' up lately, yeah/Dock in the back Old Navy, yeah" —Quavo and Travis Scott

"Saint"

Travis Scott and Quavo

"I might charge you fifty thousand for the sauce/Ace Ventura, Marino, I play with dolphins/Count up the deads, no coffin/Pullin' out that fire out that arson/A lot of jelly on this PJ, made it say 4K/You niggas 'round runnin' down my juice, I ran it back, O.J./Rubber bands make 'em twerk, diamonds make 'em twerk/I done lived every Sunday like you goin' to church" —Quavo and Travis Scott

"Go"

Travis Scott and Quavo

"Jumped out the coupe with the black insides, you would think I'm racist/Smokin' cookie in Atlanta everywhere, you would think it's recreation/You already know we made it/We ain't even gotta say shit/Some of the traps were licks/Some of the traps were vacant" —Quavo

"Dubai Shit"

Travis Scott and Quavo Featuring Offset

"Trampoline, Michael Jordan dreams/Half a bale in that vacuum clean/Abu Dhabi on them Jet Skis/Want straight cash, no checks, please/Shoot out that coupe, what you gon' do?/I'm handin' out allowances to all my goons/In Dubai, I'm smokin' cookie in the hotel rooms/Got me paranoid, think it's an Esco move" —Quavo

"Dubai Shit"

Travis Scott and Quavo Featuring Offset

"Fish bowl, Super Bowl/I played with Montana and Rice before/Huncho not tellin' no lie/Oh, it's so hot in Dubai/I see your soul in your eyes/I let the opium dry/Good drank mixed with antidote/I put her on Molly, Cac' put her on snow" —Quavo and Offset

"Saint Laurent Mask"

Travis Scott and Quavo

"She want me to get her a bag, a house, maybe a Beamer/I might say some shit out of my mouth but still won't leave her/I might say some shit out of my mouth, call my paralegal/I did done some shit in my life right in that Regal/Go Mel Gibson, Danny Glover, that shit lethal/Can't live backwards, live life, that shit evil" —Quavo & Travis Scott

"Saint Laurent Mask"

Travis Scott and Quavo

"Ain't giving out no freebee's/Swipe with the digital cece/Come get high, my Tipi/Take that bar, no 3G/Live fast, live life easy, yeah/Put a drop in my sweet tea/X-rated, no PG/Your ex-nigga on creepy" —Travis Scott

"Moon Rock"

Travis Scott and Quavo

"Don't want them to try me/They wanna slide in my IV/Ran 12 red lights, 12 behind me/Paparazzi flashes wanna deprive me/Hypnotized, I cannot let it blindside me, no/I'ma live and die by my Migos/Why I'm startin' to dance, what in the hell did you hand me?/Took all of my niggas off Xans, put all of my bitches on Plan B" —Travis Scott

"How U Feel"

Travis Scott and Quavo

"Used to trap dem Knicks, now I got them P's/Stand on my two feet, run from the police/Nigga, this the streets, you know you can bleed/Gotta pay your dues unless pay your fees/Walk in my place, feel outer space/International tastes, I like all races/Click after click, bit and she slick/She gon' get this dick, go back to choppin' a brick" —Quavo

"How U Feel"

Travis Scott and Quavo

"Speed through the light, yeah, pop one while I drive, yah/Cougar, 45, fucked her 'til she died/My way outlandish/We walk on marble, not granite/You see the stars and the planets/Diamonds shining, give me damage/Yeah, make it clap at will/That's how you feel/Oh, for real/Feel how you feel, yeah" —Travis Scott

"Where U From"

Travis Scott and Quavo

"I just left the jeweler, now my diamonds dancin'/She takin' all this cocaine, call her Marilyn Manson/Got the fire on the waves/Walk in the buildin', fire in the place/Every time I buy a brand new piece, I buy a brand new K/Turned myself into a young beast, yeah I remember this day" —Quavo

"Best Man"

Travis Scott and Quavo

"Best man had been my brother, took the fire, took the cover, uh/Can't tell us apart, but different fathers, different mothers/We got caught smokin' weed, we tried to hide the shit/But we like Swizz and DMX, we ruff ride the shit/I bumped the Ye and Screw tapes, you bumped the Nas and shit/We was both presidents, fuck the politics/We took two bright Lambs on a speed chase/It's like a thousand on the dash on the freeway" —Travis Scott