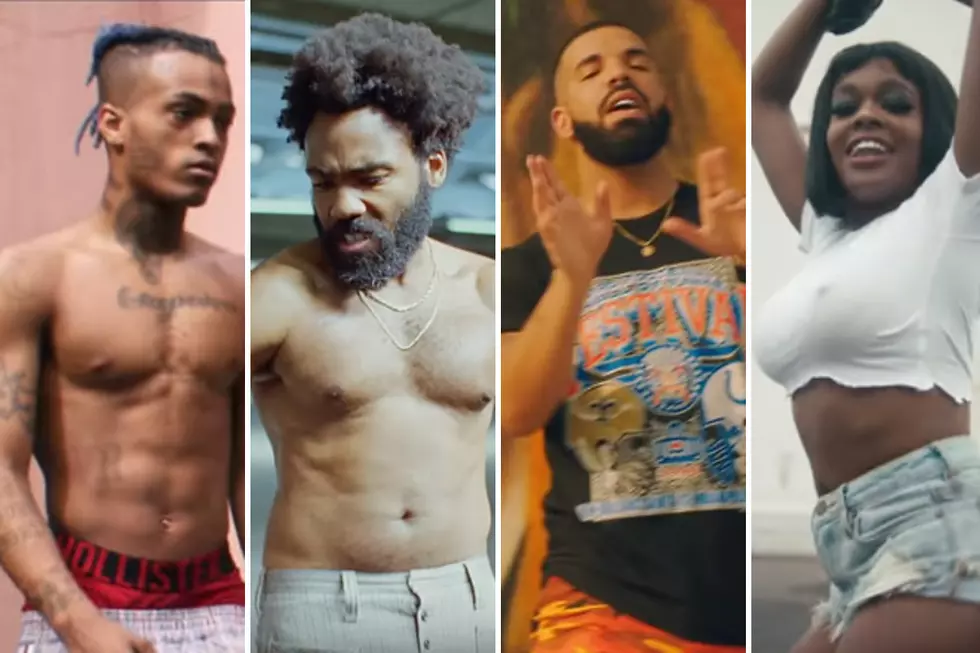 55 of the Best Hip-Hop Videos of 2018 (So Far)
xxxtentacion/Donald Glover/Drake/Azealia Banks via YouTube (4)
This has officially been the year of the hip-hop stunt. Jay-Z and Beyoncé shut down Paris' world-renowned Louvre museum, Chris Brown and Lil Dicky switched bodies, and at the top of the year, Drake spent $996,631.90 on unsuspecting Miami citizens. The best part about these instances? They're all on video.
Rappers put a lot of thought and effort into their visuals in 2018. Aubrey and the three Migos donned afros and pastel slacks for the culture in their Soul Train-inspired "Walk It Talk It" video. Actor-singer Jamie Foxx even guest stars, channeling the dance show's legendary host, the late Don Cornelius, it in the most hilarious way possible.
Foxx isn't the only celebrity who was down for a rap cameo this year. 2018 XXL Freshman Lil Pump somehow got actor Charlie Sheen to appear in his video for "Drug Addicts," while Offset and Metro Boomin's "Ric Flair Drip" starred the namesake wrestling legend in the flesh. J. Cole even tapped a straight-faced Kevin Hart for his "Kevin's Heart" visual, a standout track off his certified-gold LP, KOD.
When Travis Scott wasn't killing off blood-thirsty zombies with Trippie Redd in "Dark Night Dummo," he was being portrayed as the Lord and Savior in his latest vid "Stop Trying to Be to God," one of the deeper cuts off of his critically acclaimed album, Astroworld. Notably, the mother of his child and reality star Kylie Jenner portrays an angel in the theatrical flick as Kid Cudi and Steve Wonder's respective hmms and instrumentals trail in the background.
Childish Gambino's "This Is America" is one of this year's most watched hip-hop videos. In it, Donald Glover mimics dance moves from BlocBoy JB and others as he vividly depicts the perilous state of the country today. The bold, groundbreaking music video has been viewed more than 368 million times—it's a highly-recommended watch.
One of the more enigmatic videos to drop this year came from XXXTentacion days after his passing. Throughout the course of the "Sad!" visual, X fights the troubled version of himself after attending his own funeral. The 2017 XXL Freshman's loved ones believe he was on the verge of turning his life around when he was gunned down in Deerfield Beach, Fla., on June 18. The posthumous, six-minute visual has raked in more than 80 million views since it's initial upload on June 28.
Several of hip-hop's finest artists have dropped videos that have already shaped the legacy of this year's jam-packed music cycle. Take a look at some stellar visuals from J.I.D, Anderson .Paak, Tierra Whack and more below.
"All the Stars"

Kendrick Lamar and SZA

"Anna Wintour"

Azealia Banks

"A$AP Forever"

A$AP Rocky Featuring Moby

"Boca Raton"

Bas Featuring A$AP Ferg

"Boom!"

Lil Yachty Featuring Ugly God

"Caterpillar"

Royce 5'9" Featuring Eminem and King Green

"Clout Cobain"

Denzel Curry

"Dark Knight Dummo"

Trippie Redd Featuring Travis Scott

"Django Jane"

Janelle Monáe

"DoIHaveTheSause?"

Ski Mask The Slump God

"Everyday"

Logic and Marshmello

"Fefe"

6ix9ine, Nicki Minaj and Murda Beatz

"Freaky Friday"

Lil Dicky Featuring Chris Brown

"Gucci Flip Flops"

Bhad Bhabie Featuring Lil Yachty

"Handgun"

YG Featuring A$AP Rocky

"I'll Take Your Man"

City Girls

"I Don't Die"

Joyner Lucas and Chris Brown

"I Like It"

Cardi B Featuring Bad Bunny and J Balvin

"King's Dead"

Jay Rock, Kendrick Lamar, Future and James Blake

"No Wave"

Idk and Denzel Curry

"Playinwitme"

Kyle Featuring Kehlani

"Powerglide"

Rae Sremmurd Featuring Juicy J

"Proud"

2 Chainz Featuring YG and Offset

"Ric Flair Drip"

Offset and Metro Boomin

"Rock 'N' Roll"

Taylor Bennett Featuring Zxxk

"See You Again"

Tyler, The Creator

"Stop Trying to Be God"

Travis Scott Featuring Kid Cudi, Stevie Wonder, James Blake and Philip Bailey

"Taste"

Tyga Featuring Offset

"This Is America"

Childish Gambino

"Walk It Talk It"

Migos Featuring Drake

"Vacation"

Flatbush Zombies Featuring Joey Bada$$

"Whack World"

Tierra Whack