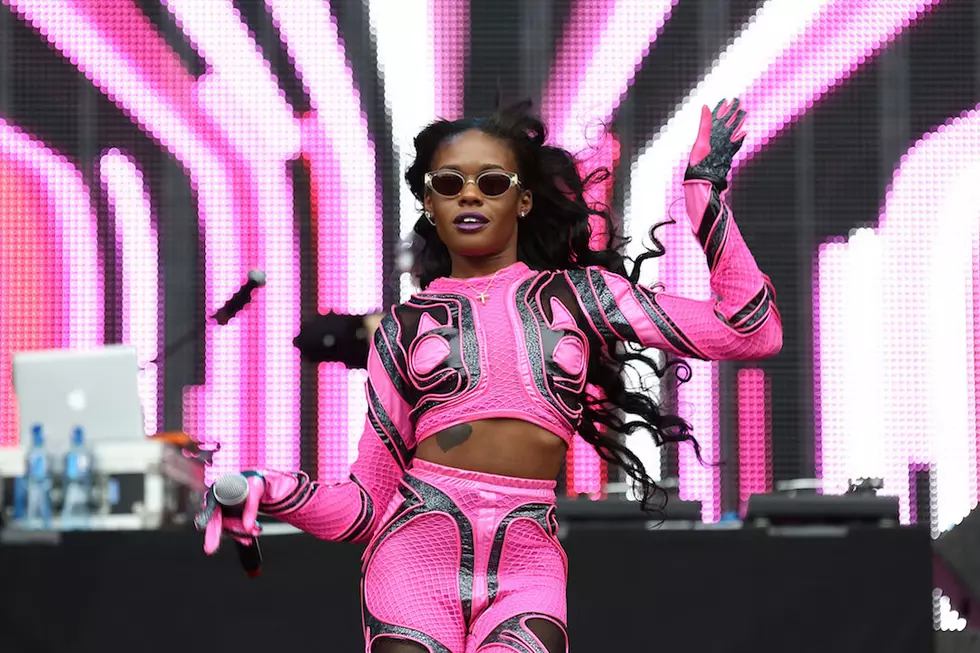 Azealia Banks Releases 'Slay-Z' Mixtape
Tim P. Whitby, Getty Images
Update (March 25): Azealia once again took to Twitter late last night to reveal the artwork to Slay-Z, which features a topless Banks posing for the camera. Check out the censored and uncensored versions of the cover below.
Original Story: If you had Azealia Banks being gone from Twitter for just three weeks in the office pool, you win. The Harlem rapper made her return to the social networking service today (March 24) to release a new mixtape titled Slay-Z. The new project's release was apparently prompted by Banks' engineer leaking songs from the tape.
"Hey guys, so I recently fired my engineer because every time I came to the studio he was under the influence and he's spitefully leaking Slay-Z, but guess what?!" she wrote in a since deleted tweet. "YOU GUYS GET SLAY-Z NOWWWWWW YAAAAAAAY!"
Azealia Banks quickly delivered on her promise as she posted a WeTransfer link to the mixtape. Download the eight track project via this link. Banks also posted the tracklisting, which you can see below.
It is unclear if Azealia Banks is back on Twitter for good or if this return was simply done to release the Slay-Z mixtape. The Broke With Expensive Taste rapper posted a lengthy rant earlier this month explaining why she quit using Twitter.
"Ok, today, I'm finally making the decision to eject from social media," Banks wrote. American media culture is honestly so fucking disgusting and junky. And complaining about it is not going to change it. Reading shit, seeing stupid ass articles and dumb bitches/bros has just really filled me up with a lot of bad feelings. It's been a great couple of years, sharing opinions and having conversations, but I think I will be so much happier just not looking at this."
Despite her absence on Twitter, Azealia Banks still managed to throw shots at the likes of Iggy Azalea and Rihanna via Instagram.
1. "Riot"
2. "Skylar Diggins"
3. "Big Talk"
4. "Can't Do It Like Me"
5. "The Big Big Beat"
6. "Used To Being Alone"
7. "QOC"
8. "Along The Coast"
See 20 Great Albums From Female Rappers Over the Years