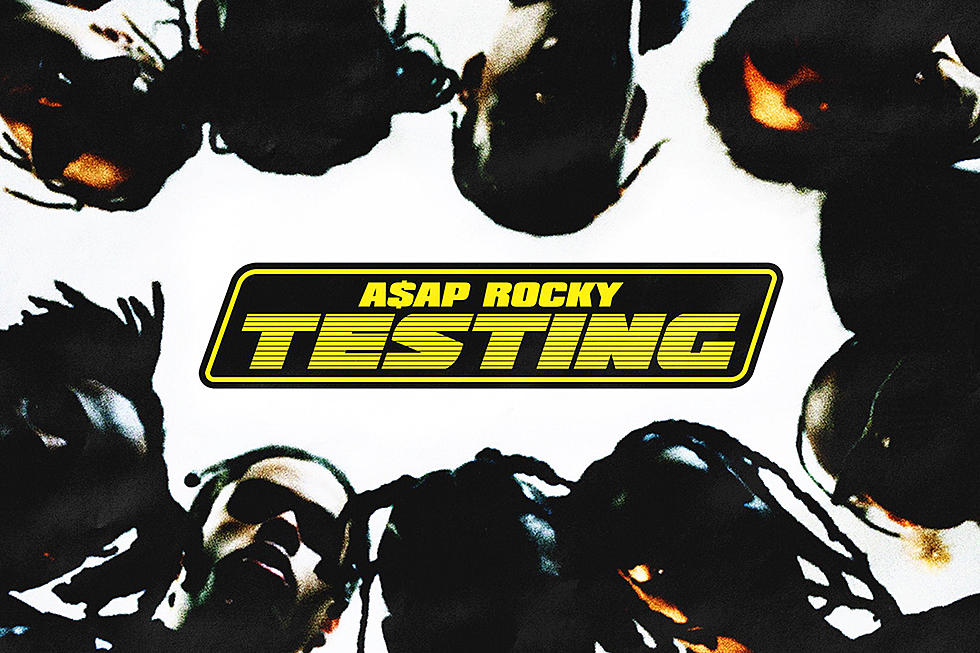 ASAP Rocky Shares 'Testing' Album Featuring Playboi Carti, Frank Ocean and More
RCA Records
The Harlem rhymer announced the follow-up to 2015's At. Long. Last. ASAP in February, during a show in Berlin. "A lotta y'all don't know but, the only reason I came to Belin is to finish my album that I just finished," he told the crowd while onstage.
The de facto A$AP Mob leader is definitely trying out new waves on the 15-song LP, which features Playboi Carti, Frank Ocean, Skepta, French Montana, Kodak Black, Kid Cudi and more, and additional vocals from the likes of Diddy, Snoop Dogg and BlocBoy JB. The production credits on the project are stacked, with names like frequent collaborator Hector Delgado as well as Rico Love, Skepta, Clams Casino, Dean Blunt and Dev Hynes, among others. Juicy J serves as executive producer.
In conjunction with the album, Rocky released a new app, which gives fans a unique viewing and listening experience for the musical offering.
Listen to A$AP Rocky's Testing album A.S.A.P. below.
A$AP Rocky's Testing Album Tracklist
1. "Distorted Records" (Produced by Hector Delgado, A$AP Rocky, Mario Loving and Nesbitt Wesonga)
2. "ASAP Forever" featuring Kid Cudi and Moby (Produced by Hector Delgado and A$AP Rocky)
3. "Tony Tone" (Produced by FnZ, Hector Delgado and A$AP Rocky, Supporting Vocals by Puff Daddy)
4. "Fukk Sleep" featuring FKA Twigs
5. "Praise The Lord (Da Shine)" featuring Skepta (Produced by Skepta)
6. "Drop$" featuring Kodak Black (Produced by Boys Noize, Supporting Vocals by Dean Blunt)
7. "Buckshots" featuring Playboi Carti and Smooky Margielaa (Produced by Kelvin Krash, Supporting Vocals by Kelvin Krash)
8. "Gunz N Butta" (Produced by Hector Delgado, A$AP Rocky, Mario Loving and Nesbitt Wesonga, Additional Production by Boys Noize, Supporting Vocals by Juicy J)
9. "Brotha Man" featuring French Montana and Frank Ocean (Produced by Rico Love and D-Town The Great, Supporting Vocals by Snoop Dogg)
10. "OG Beeper" (Produced by Hector Delgado, A$AP Rocky, Mario Loving and Nesbitt Wesonga, Additional Production by Boys Noize, Supporting Vocals by BlocBoy JB)
11. "Kid$ Turned Out Fine" (Produced by CharlieMumbles and Estiee, Additional Production by Hector Delgado and A$AP Rocky)
12. "Hun43rd" featuring Dev Hynes (Produced by Devonte Hynes)
13. "Changing" (Produced by Jim Jonsin, FnZ, Hector Delgado and Flacko, Additional Production by Jerry "tizhimself" Powell and Khalil)
14. "Black Tux" (Produced by Clams Casino and Tank God, Additional Production by Hector Delgado, Flacko and Krash)
15. "Purity" featuring Frank Ocean and Lauryn Hill (Produced by Dean Blunt, FnZ, Hector Delgado and A$AP Rocky)
See New Music Releases for May 2018