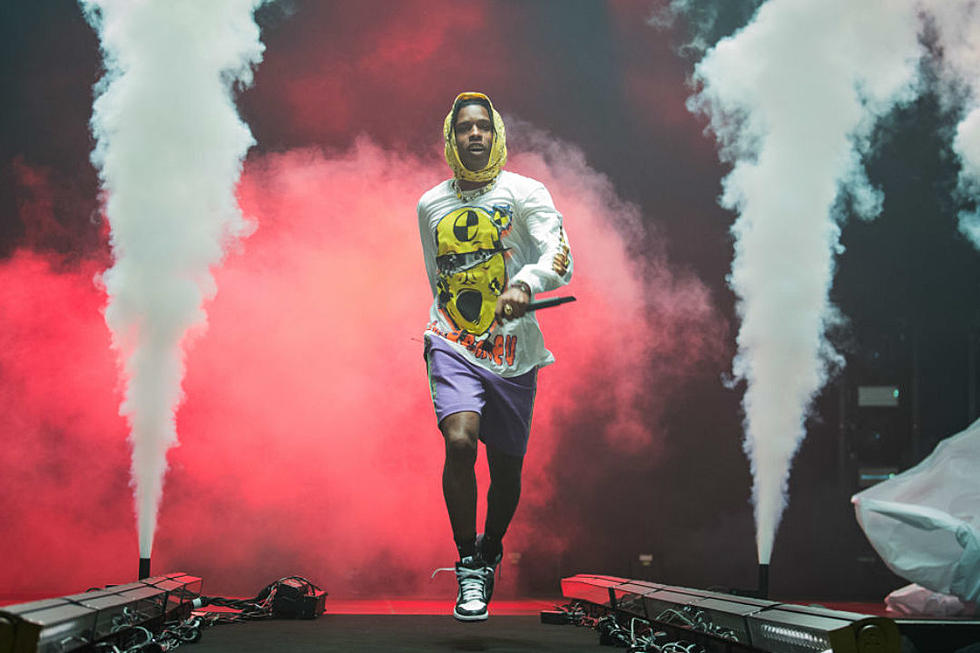 ASAP Rocky Releases First Song "Babushka Boi" Since Sweden Arrest: Listen
David Wolff, Getty Images
The track and video for the new release was first teased on Monday (Aug. 26).
"Why does this Black boy wear a babushka?" a line reads when the preview starts, in reference to the head garment Flacko is frequently seen sporting, which is traditionally worn by Russian women. The clip shows Rocky tap dancing in a zoot suit while A$AP Mob members dressed up as strange looking characters mull over the rapper's decision to wear the odd head piece.
Two days later, Rocky dropped the song and video for fans. The single is produced by Boys Noize and Hector Delgado and is the type of upbeat banger that we've become accustomed to from Rocky.
"Uh, they call me F-L-A-C-K-O and don't play, no, 'bout my papes/Baked potato on that Draco, new bandana on my face," he raps. "Ain't no stains up on my drapes, squeaky clean, fuck you say?/Peep them teeth, no dentures please, princess cut, no dentist please/Say cheese for the cameras (Ayy), eight G's for the dancers (Ayy)/Benjis in the safe (Ayy, that's right), Bentleys for the phantoms (Uh)."
The Nadia Lee Cohen-directed visual is a wild one and has a Dick Tracy vibe, with A$AP Rocky and a crew of screwfaced bandits robbing a bank and being pursued by the police. Rocky is definitely back in music mode.
Watch the new video for A$AP Rocky's new "Babushka Boi" song below.
See Photos of Every XXL Freshman Ever Inducted Into the Freshman Class Over the Years