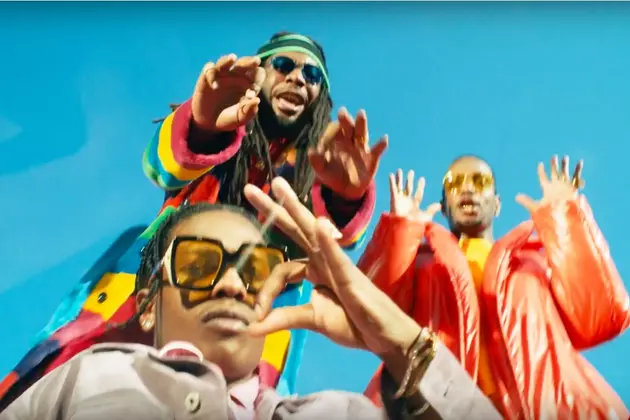 ASAP Rocky and Juicy J Join D.R.A.M. for "Gilligan" Video
DRAM via YouTube
The Nadia Lee Cohen-directed visual begins with a classical-looking, "all-American" nuclear family watching Gilligan, which in this video is a cartoon following the exploits of cartoon characters D.R.A.M., Juicy J and Rocky. In the clip, we hear a theme song closely resembling the one for Gilligan's Island before seeing a cloud-surrounded butt clapping to send down a lightning bolt to the three rappers' ship, stranding them on an island.
From there, the family's program switches to the weather, where D.R.A.M. is the weatherman. A bit later, we get to see Juicy in the parking lot of a supermarket, surrounded by a bunch of women exhibiting the sort of overly chipper demeanors you could expect to see in 1960s TV. With his magical gaze, he's able to strip away cloth from the women's outfits to create makeshift thongs. Gotta love Juicy.
The track itself felt like one of the more slept-on bangers from the last few months. The beat is hypnotic, the flows are sick and Rocky turns in a stellar guest verse. Add a clever video, and you're looking at something dope.
D.R.A.M. hasn't dropped too much new music in 2017, besides a couple tracks like "The Uber Song" and "Group Thang (Demo)," but he is touring with YG for Kendrick Lamar's DAMN. tour, so he's definitely doing big things.
Watch D.R.A.M.'s new video for "Gilligan" below.
See New Music Releases for August 2017