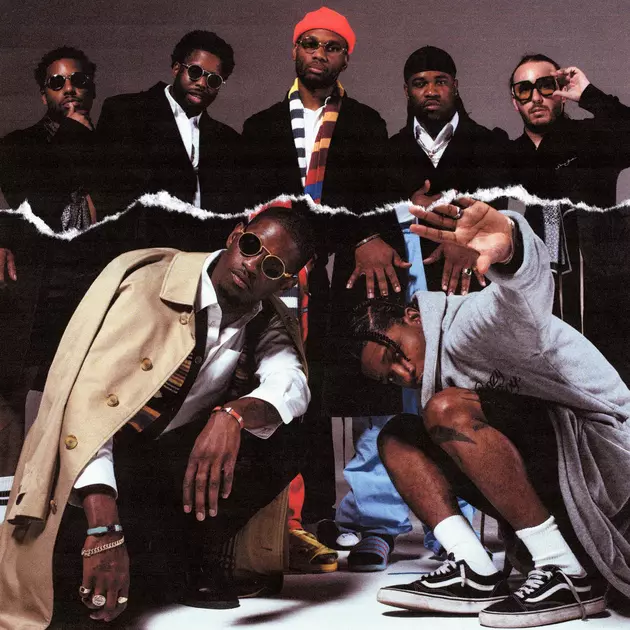 A Conversation With ASAP Mob
Alexander Bortz
Inside Platinum Sound Recording Studios there's roughly 30 music industry folks drinking Brooklyn Lagers and eating an assortment of deli meats and mini sandwiches. As a bevy of weed smoke fills up the air, A$AP Ant a.k.a YG Addie, J. Scott, A$AP Lou, Key!, A$AP Ferg and A$AP Rocky are seen relaxing on the couch as onlookers surround them. The scene is the definition of cozy; from tracksuit shorts to baggy T-shirts, A$AP Mob are chilling like they're in their own living room. Rocky introduces what's to come and begins to play the first fours songs of Cozy Tapes, Vol. 2: Too Cozy.  While the project can be heard throughout the room, Rocky gets his Spike Jonze on, walking around the room filming the listeners with a handheld camcorder. There are smiles and shoulder rolls everywhere until the music pauses. The Mob want to wait for A$AP Nast to arrive.
Rap fans have been waiting for Cozy Tapes, Vol. 2 since it was teased just a few months after Cozy Tapes: Vol. 1 dropped last October. The time between the two installments is less that a year apart, making it cear that the Mob are sitting on a ton of new music. In a blink of an eye, Vol. 2 was already on consumers' phones and laptops.
The second installment of the Cozy Tapes series includes features from everyone in the A$AP Mob and AWGE collective. A$AP Twelvyy, A$AP Ferg, A$AP Rocky, A$AP Ant, A$AP Nast and A$AP TyY are on the tape plus new affiliated members Playboi Carti, Key! and Smooky Margielaa—a charismatic 15-year-old rapper from the Bronx. Other guest appearances are Chief Keef, Lil Yachty, Gucci Mane, Schoolboy Q, Joey Bada$$ and Pro Era, Flatbush Zombies, Jaden Smith, Quavo, and Frank Ocean. Vol. 2, Too Cozy is a friends-only project.
Since the first installment of the Cozy Tapes, several Mob members have dropped their own projects including Twelvyy's long-awaited 12 and Ferg's Still Striving mixtape, a year after his second album, Always Strive and Prosper. Now that Vol. 2 is here, things are only going to get busier while other members patiently wait for their turn to drop their solo work.
During the Cozy Tapes, Vol. 2: Too Cozy listening session, XXL sat down with the members of the Mob to learn more about Smooky Margielaa, discuss who had the best verse on the Vol. 2, what projects are coming out next and the real definition of cozy.
XXL: What's A$AP Mob's relationship with Smooky Margielaa, who's featured on Cozy Tapes, Vol. 2: Too Cozy?

A$AP Ant: "Black Card," "Black Card"
A$AP Ferg: That's the little bro, man. He's next up.
A$AP Rocky: He's definitely next up.
Ant: It was definitely last year around this time.
Ant: Yea, Twelvyy had the show in summer in the Bronx. Everybody was in New York for the Panorama Festival.
A$AP Lou: Yeah, that was like a month ago. So yeah, it was around this time.
Ant: We met him then and he was going crazy. I guess that was God telling is to pull up and stay because usually we probably leave after Twelvyy performs but we just stayed, cooling. We kicking it in the hood and he performed. I think God does everything for special reasons you know what I'm saying. Facts.
Rocky: Nah, but shorty had wild charisma. He got into the club. He wasn't supposed to be in there [laughs]. I saw him in the club. I didn't even know him. He just said, "Yo, my nigga, my name ring bells."
Ferg: Fifteen years old riding around in a Bentley.
Rocky: He said, "Go up to the bouncers and ask them my name [laughs]."
How long did it take you to make Vol. 2, Too Cozy? It felt like it came out really quick following Vol. 1.
Ant: About a year, right?
Rocky: Probably like a year.
Y'all started recording after or during Vol. 1?
Rocky: It was right after.
Rocky: 'Cause the thing is we got tons of songs. It's just compiling the right ones at the right time. It's not just about putting out songs. We want to put out significant music.
Who would you say has the best verse on the tape?
Everybody: Addie got some of the best verses on the tape.
Ant: They gassing me, man. I love y'all, man.
J. Scott: I fuck with "Feels So Good."
Rocky: I ain't going to hold you but I fucks with his verse on "Get the Bag." [Raps] "Gucci, that Prada, that Fendi/Ice Cube, all about the Benjis."
Ant: When I'm with my brothers on tour, I just be in the studio and just working. It's like practice. Just like LeBron, after the finals is over he still in the gym.
Ferg: And Addie switching the flow up.
Ant: It's about testing, being around Flacko and watch how he's moving in the studio. Watch how Ferg be in the studio. He's hopping right in and putting down 50 minutes a fire.
Production is insane, a lot of heavy bass and southern influence; definitely feel Three 6 Mafia vibes coming from Vol. 2. What did you want to resonate with this project?
Rocky: The vibe was just showing the unity, what we got and the brotherhood. We just wanted to display that with our music. What you want to see in a band, what you want to see in a group, that feeling you got when you listened to G-Unit, Dipset, Wu-Tang Clan, that's what you're getting right now.
Ferg: And it's genuine. We were vibing way before the music. We get in there and we're like, "Aight y'all, it's time to make some music [laughs]. We be having too much fun. And it shows in the music.
Rocky: Key! and Smooky are up next. Do you mean out of just the Mob?
Everybody who's part of A$AP Mob/AWGE umbrella?
Rocky: Oh, okay, out of the Mob, it's definitely Addie and A$AP Nast next. Ferg got new album about to drop. Still Striving was just a mixtape. My album is about to drop ASAP.
Damn, so Key!, Smooky, Nast. Ant, new Ferg album, new Flacko album. When are all of these projects coming out?
Key! It's been a minute since a solo project from you.
Key!: I'm trying to drop Live Slow, Die Old before we all go on tour in September.
Anyone else a part of the family that's dropping a project soon?
Key!: My son Chase is about to drops a mixtape [laughs].
Cozy is the term that everyone uses now. What's the true definition of cozy?
Rocky: First of all, our generation's [definition] of cozy was re-invented.
Rocky: Yup, on a bus in 2011. I don't remember the state but it was during the Drake tour. There's photo evidence and you know who came up with the concept of cozy. J. Scott and A$AP Yams. That's the truth. Twelvyy was up front too. I got all the cozy tracksuits.
J. Scott: "Then the Miami trip was the second part of cozy. Yams was in the strip club looking crazy [laughs]. That's when I was like, "My mans Yams is too cozy in the club." Yams really started that shit, the cozy term. We had a whole bunch of lingo he started.
Rocky: When you cozy that means you're valid.
Ferg: It's like your mind state not what you're wearing.
Rocky: When you're cozy, you're like, I got on capris short pants, tracksuit short pants. Nigga, I'm cozy.
Ferg: I got sweater socks. These joints fire.
Rocky: They don't even make these.
Ferg: I knew you would appreciate them.
J. Scott: Yeah, I'm a sock connoisseur. I respect the coziness, my brother.
Perfect segue to the next question. If Yams was alive, what would be his favorite song off Vol. 2?
Lou: That's a good question.
Ant: Shit, I really don't know.
Ferg: Yams is so hard. He's so random sometimes.
Ant: I remember Yams was on BET and they asked about Japan and he was like, "I don't even know for real." He probably say all the tracks, honestly.
Here Are the Best Projects Released From 104 Past and Present XXL Freshmen