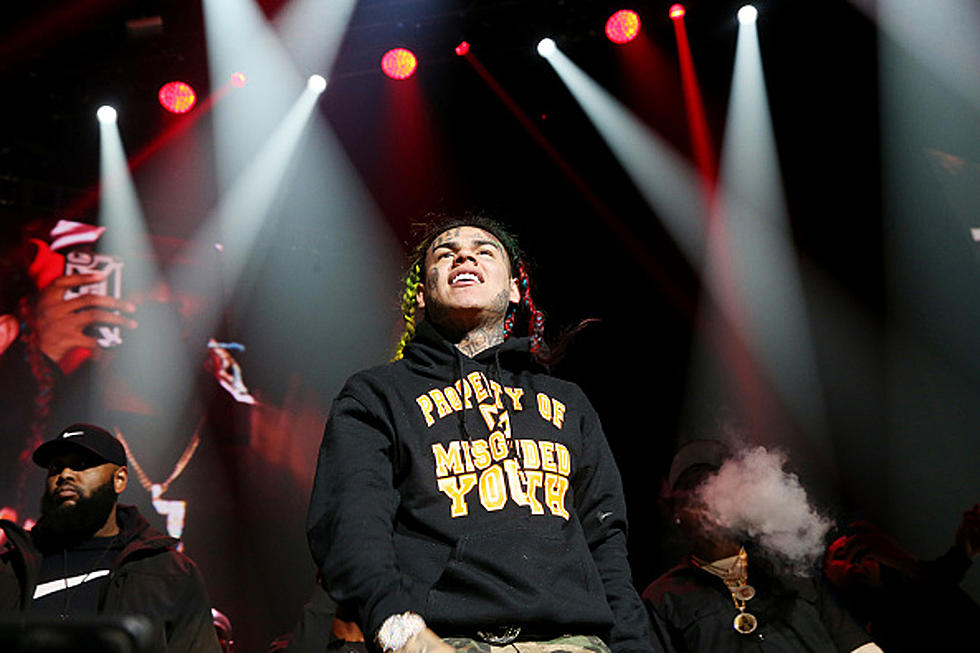 Surveillance Video Captures Gunmen Firing at 6ix9ine Video Shoot
Bennett Raglin, Getty Images
6ix9ine's hectic existence featured another heart-pumping moment when the rapper's video shoot with Kanye West and Nicki Minaj in Beverly Hills, Calif. was shot up by unknown assailants on Thursday (Nov. 8). Now video of the shooting has surfaced.
The Cali video shoot was taking place at an $80 million mansion that 6ix and his team had tricked out to match his swag, with rainbow-colored windows and a multi-colored indoor spa. On Friday (Nov. 10), TMZ released photos of the posh digs that show bullet holes marking one area of the home. Another photo shows a cracked window that was hit by a bullet. On Saturday (Nov. 11), the site got its hands on surveillance video of the incident. In the black and white footage, a car is seen rolling up to the outside of the residence. Multiple individuals get out of the vehicle. After scoping out the scene, they all appear to fire over a dozen shots before fleeing.
As previously reported, the shooting startled those who were on hand. No one was injured during the incident. Kanye West was present and left immediately after shots were fired. Nicki had not arrived on the scene yet when everything went down. According to the celebrity gossip site, some of the bullets hit the master bedroom that was to be used as Nicki's dressing room. Tekashi was allegedly supposed to use the room but plans were made at the last minute for Nicki take that space. Following the gunfire, the video shoot was shut down.
6ix's current nemesis YG had a good laugh at news that the "Gummo" artist had an issue in his home state.
Check out video of the shooting and pictures of the bullet-riddled mansion on TMZ and below.
See Photos of 6ix9ine on the Red Carpet and More