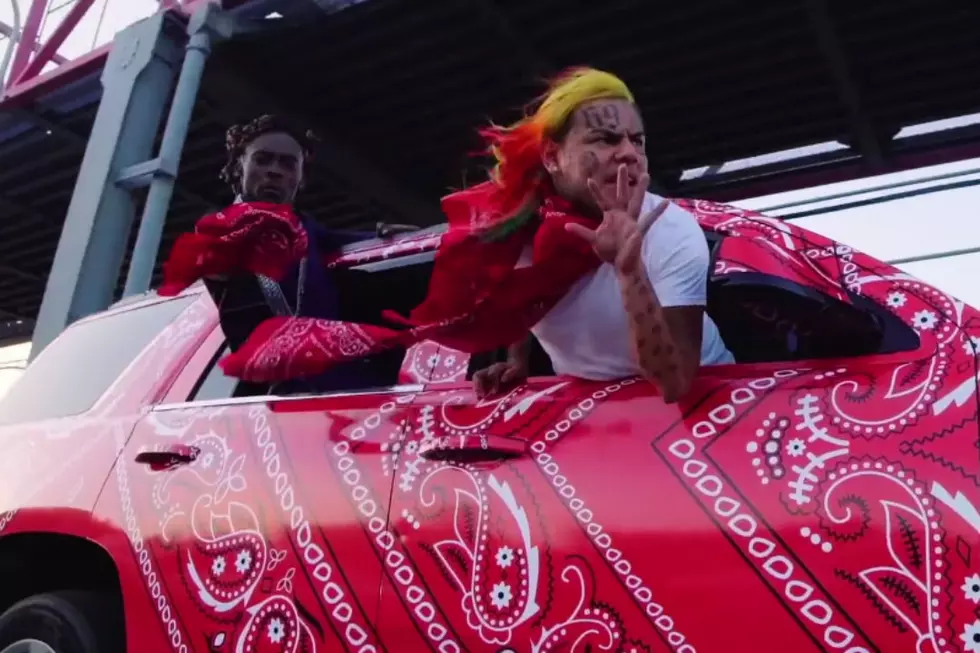 6ix9ine Rides Around in Bandana-Wrapped SUV in "Tati" Video Featuring DJ SpinKing
WorldStarHipHop via YouTube
Hate it or love it, 6ix9ine doesn't appear to be going anywhere anytime soon. He continues to apply pressure on the industry dropping the video for the new track, "Tati," featuring DJ SpinKing, on Sunday (May 27).
There's familiar themes in 6ix9ine's videos: a mob of dudes in red on a street corner mugging, dancing, a few women sprinkled here and there and at some point police show up. We get much of the same on this video, which was filmed and edited by Trife Drew. One new aspect to the visual is 6ix riding around in a can't-miss, red bandana-wrapped SUV. As usual, the Brooklyn rapper is turnt up to the max. "Pour a semi, pull up to the cribby, uh/Licky-licky, licky on my blicky, uh/Take a flicky, make a movie with me, uh/Take a flicky, make em real trippy, uh," he raps on the chorus of the Boi-1da, DJ SpinKing and CuBeatz-produced track.
"All them stories—niggas did not touch no fucking police man," 6ix explained in an Instagram video. "Them niggas is fucking corrupt, them niggas beat the shit out of me. Know what I'm saying? That's regular shit. That's regular shit that happen in Brooklyn every single day bro, corrupt ass cops."
Watch 6ix9ine and DJ SpinKing's new "Tati" video below.
See 46 Hip-Hop Artists Who've Gone Gold in 2018