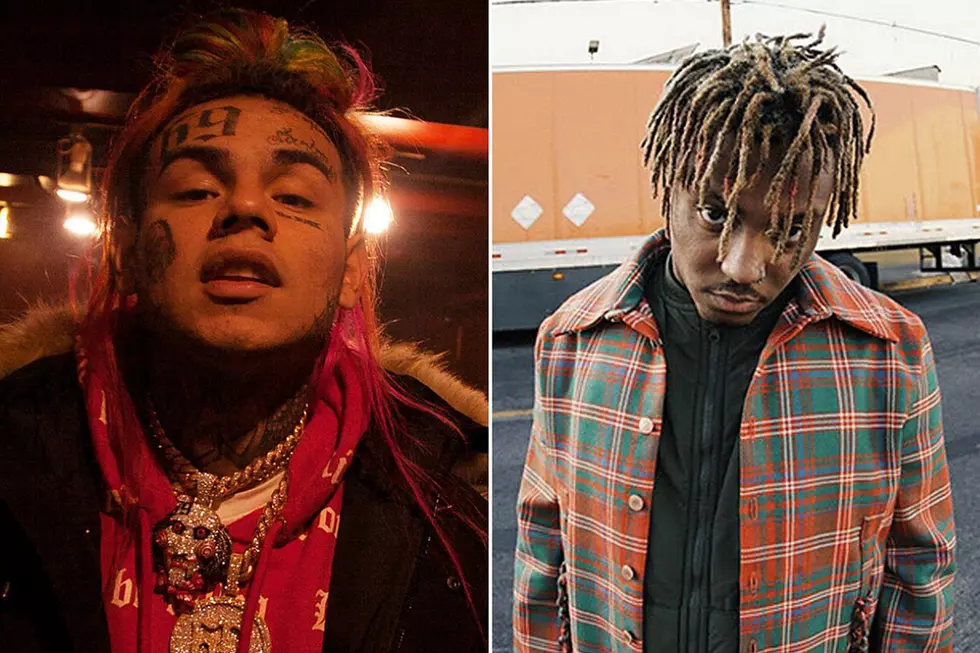 6ix9ine Insists He's Trying to Stay Away From Beef After Juice Wrld Diss
Johnny Nunez, Getty Images / ASAP Nast
Just a few days after Juice Wrld led a London crowd in a "fuck 6ix9ine" chant, 6ix9ine says he's now trying to stay away from any beef with the "All Girls are the Same" rapper.
In a video posted on social media on Thursday (June 28), a smiling 6ix9ine says he's not going to address "any of the bullshit that's going on" and is only focused on having fun and positive vibes. "I don't even wanna beef with nobody," he says. "I've been doing so good. I'm on a world tour, thanks to God."
But while the "Gummo" rapper may be looking to stay out of a full-blown feud, that didn't stop him from taking a couple jabs at Juice Wrld. "All my shows sold out. Not doing 200-capacity rooms like you do," 6ix9ine continues. "So please, just have fun, get your name, do not diss me for some clout. You know how this goes. The moment I start responding to people it's like, 'Tekashi always beefin.'"
The rapper then went on to make a reference to Juice Wrld's hit song, "Lucid Dreams," saying, "Just go find the fuckin' shadows in your room. Go, 'cause you do not want to beef with me, trust me. I will find the girl that broke your heart and instead of fucking her shadows in my room, I will have her pussy juice all over my shit and I will post that shit. So please, just have fun."
6ix9ine also poked fun at Juice Wrld in a separate video that was posted on Thursday, portraying the rapper as nerd who loses his girlfriend to another man. Later in the video, 6ix9ine sits on the floor crying as he notice shadows of two people having sex while "Lucid Dreams" plays in the background.
"LMAOOOOOO I COULDNT HOLD IT ‼️‼️‼️‼️ WHY BEEF WITH ME ⁉️⁉️⁉️⁉️⁉️ EMO ASS NIGGA TROLLING IS LIFE 😂💕," 6ix9ine wrote in the caption.
Check out 6ix9ine's videos below.
See New Music Releases for June 2018