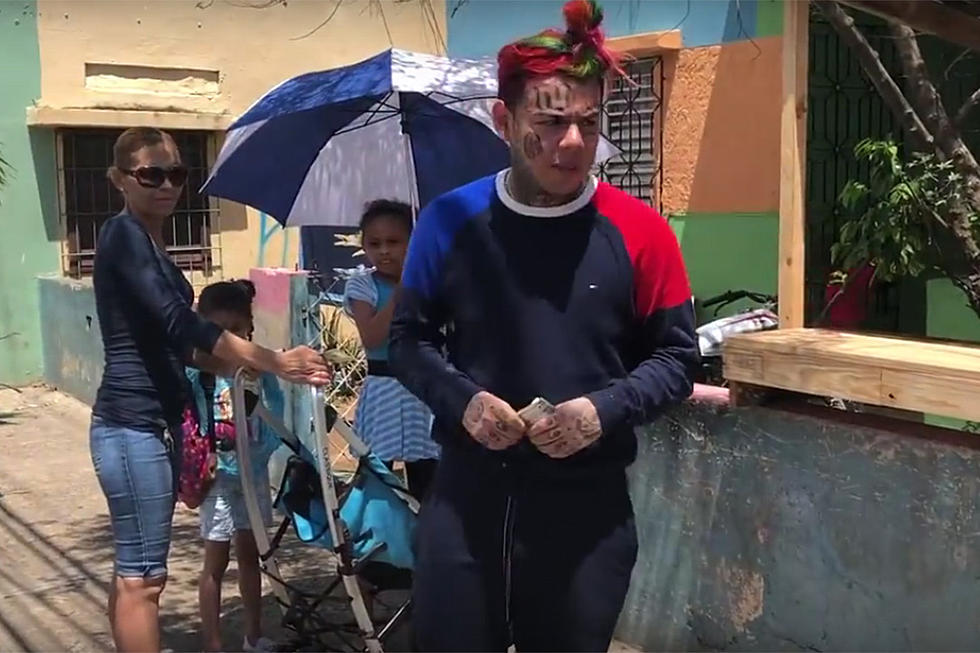 6ix9ine Hands Out Money in the Dominican Republic in New "Gotti" Video
WORLDSTARHIPHOP via YouTube
After teasing the visuals last week, 6ix9ine has finally dropped his latest video for "Gotti."
Like the preview showed, the Cole Bennett-directed video kicks off with 6ix9ine turning up in a pool, surrounded by beautiful women. While chilling in the water with the women, the rapper's face appears on the body of a woman, complete with his signature tattoos.
Midway through the visuals, the "Gotti" video changes from scenes of partying to clips of 6ix9ine handing out money to the people in the Dominican Republic. The "Gummo" rapper puts smiles on the faces of young and old as he hands out $100 bills and Dominican pesos.
6ix9ine had previously teased the charitable act in March, telling his Instagram followers that he was in the Dominican Republic working on the visuals for "GED." On Instagram he wrote, "I always thought I knew what was the meaning of being poor til I got to D.R. and it showed me and gave me a realization of what being poor really was."
While "Gotti" serves as 6ix9ine's latest single, there may not be any more new music from the rapper in the future. Earlier this month, 6ix9ine claimed he would be quitting rap this year. Posting a photo of himself on Instagram, the rapper wrote, "Waiting for someone to rob me. ..Ima quit rapping this year. I accomplished everything I dreamed of in 5 months."
Watch the new "Gotti" video below.
See New Music Releases for April 2018