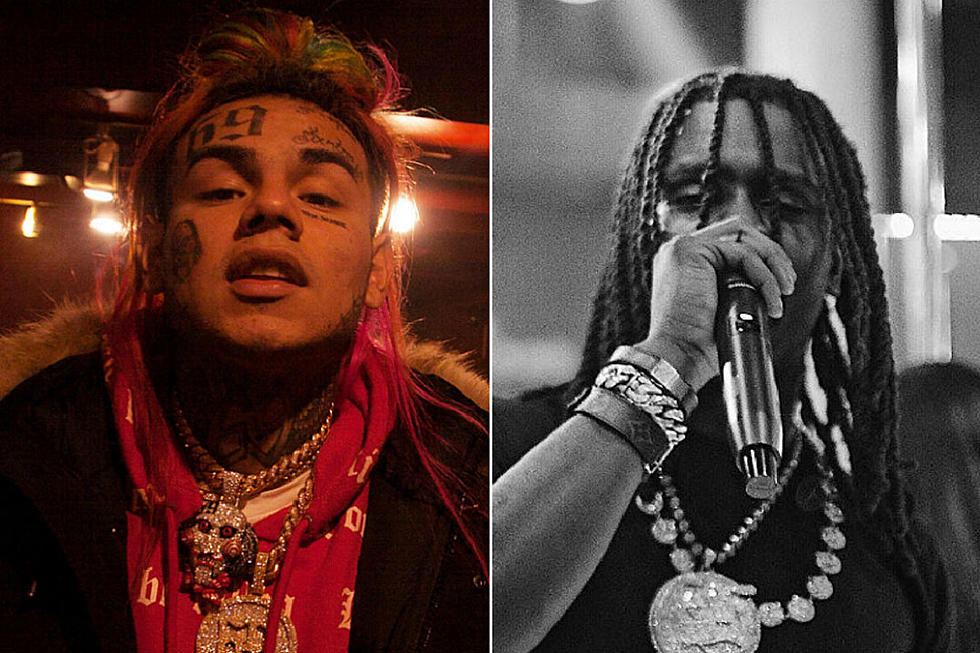 6ix9ine Claims Chief Keef Was Shot at Because He Promotes Violence
Johnny Nunez, Getty Images / Benny Flash
Speaking with the folks at TMZ, the rapper, who many people believe to be responsible for the attack, seemingly resumes his Keef-trolling when he suggests that it was the Chicago rapper's background as a "gangsta rapper" that led folks to send literal shots his way.
"I guess Chief Keef—you know, he's a gangsta rapper. He promotes violence," Tekashi says in the video. "I guess he has a lot of beef in these streets. I don't know who's he beefing with that wants to hurt him, but, it's definitely not me. I'm actually a fan."
6ix9ine's latest comments arrive just a few days after he uploaded videos of himself claiming he wasn't scared of Chief Keef and Lil Reese, whom he appeared to begin feuding with after his GBE associate Tadoe was accused of beating Cuban Doll. Last month, Cuban Doll, who has been reported to be in a relationship with Tadoe, uploaded a video of herself implying that Tadoe was responsible for the bruises she laid bare in the social media post.
Though Cuban Doll appears to be on bad terms with Tadoe, she snatches her dog away from 6ix9ine the moment he begins talking about Keef. "Nobody give a fuck about what y'all niggas did three years ago, I don't think y'all understand what I was talking about in my last video," the Brooklyn artist said in this particular clip. "What y'all did four years ago, three years ago, live in y'all raps, y'all don't do. I know that personally."
Elsewhere in his short convo with the celebrity news site, 6ix9ine shoots down what he believes are misconceptions that his fans don't appreciate the rowdiness of his shows. He also implies that his concerts are the opposite of someone like J. Cole's.
"My fans love craziness," 6ix9ine says in the video. "They don't wanna come to a J. Cole show, know what I'm saying?"
Check out 6ix9ine's latest comments about Keef for yourself below.
Check Out the 2018 Hip-Hop Music Festivals You Need to See