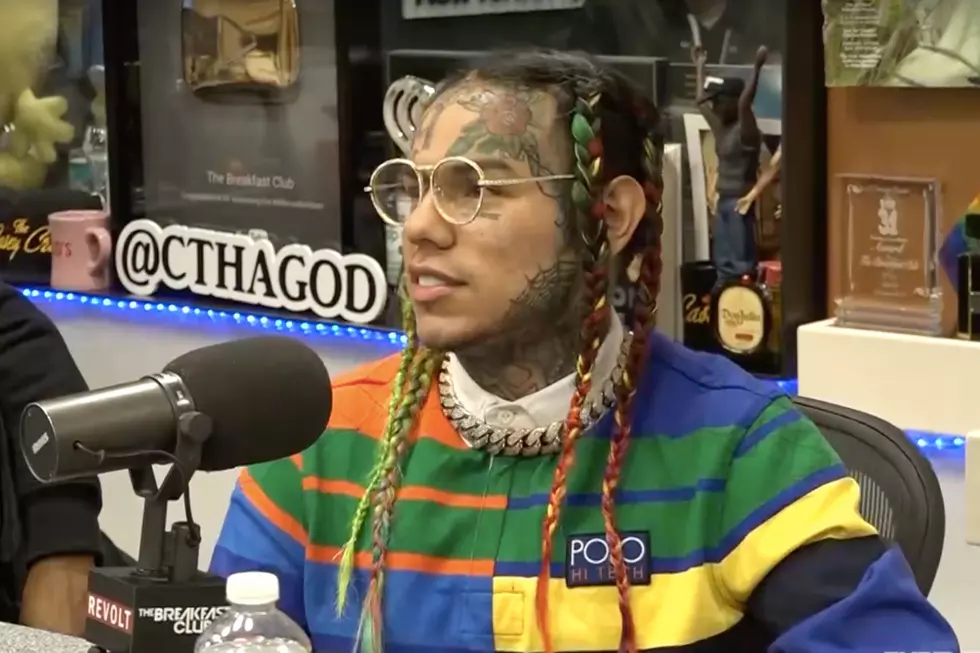 The Breakfast Club Will No Longer Allow 6ix9ine on the Show
Breakfast Club Power 105.1 FM via YouTube
If 6ix9ine does get release, there's one place he won't be invited for an interview — Power 105.1's The Breakfast Club. On Tuesday (Dec. 17), Breakfast Club co-hosts DJ Envy and Charlamagne tha God revealed that they both received separate offers to interview Tekashi when he's released from prison, but they are apprehensive about interviewing the embattled rapper.
"I feel like he used his gang affiliation to benefit himself," Envy explained. "You decided to tell on everyone that you was just riding on. You turned on everybody. You get released and now you're rewarded for it? I just don't necessarily think it's a message that I want to do. I don't want to promote to kids that you go wild and do some stupid ish and you just go tell on the people you've done and all of a sudden you come out and can put out records and it's all cool."
Charlamagne had a different viewpoint. The radio personality and author doesn't see any educational value in talking with 6ix9ine. "When we sit down with someone, it has to entertain or educate or possibly both," he said. "Would it be entertaining? I'm sure it would be. But I think it could absolutely send the wrong message. There's a lot of miseducation in that 6ix9ine situation."
Playing the devil's advocate, Breakfast Club co-host Angela Yee brought up the idea of giving 6ix9ine a platform to speak about his legal situation and possibly hear his redemption story. Charlamagne then added that Tekashi should redeem himself before he steps back into the spotlight.
"That young man has a target on his back right now and I'm sure there's people who want to kill him," he said."He needs to come home and figure out his life. He needs to figure out who he is as a man before he jumps back into the character of 6ix9ine. Daniel Hernandez [6ix9ine's real name] has to do some soul searching before he gets back into the character of 6ix9ine. Until he does that, I don't think I want any parts of that."
Listen to The Breakfast Club discuss whether or not they should interview 6ix9ine after he's released from prison below.
See 22 Hip-Hop-Related Police Raids