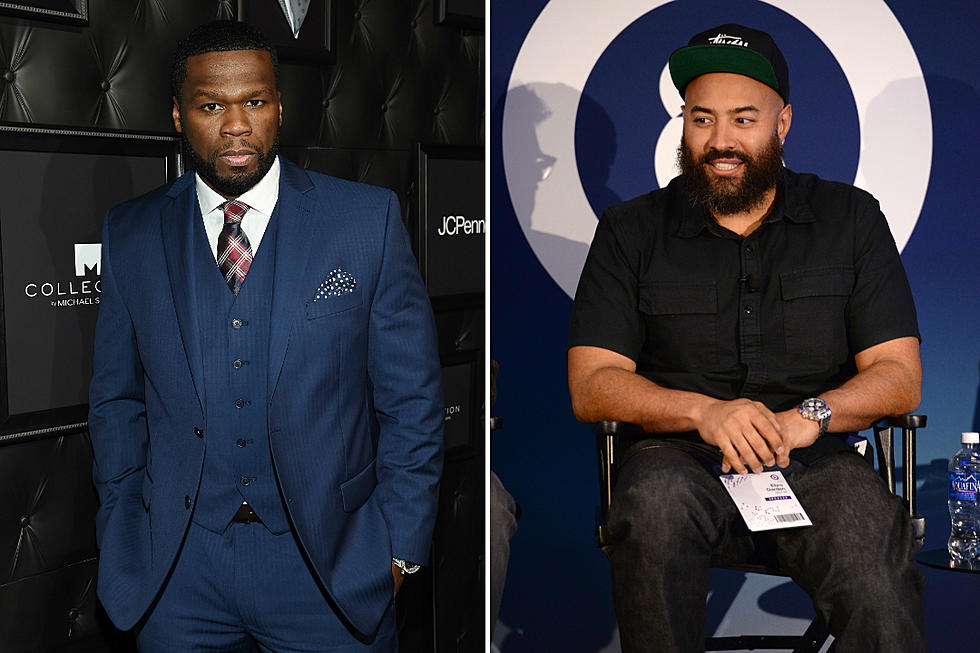 50 Cent Calls Out Hot 97's Ebro Darden for Not Playing New York Rap on the Radio Station
Dimitrios Kambouris/ Mike Pont, Getty Images
For years now, New York's hip-hop radio station's hosts, DJs and program directors have been criticized for not playing enough music from hometown artists and embracing southern rap on the airwaves. Even though the dynamic of breaking a new artist has changed thanks to the internet, radio still plays a huge factor in getting an artist exposure and record labels still dump big money into radio promotion budgets.
Earlier today (Feb. 26), 50 Cent went after Hot 97's former program director and current morning show host Ebro Darden after Darden said that the beef between 50 Cent and Ja Rule was responsible for the breakdown and division of New York hip-hop and, in turn, the reason why New York artists don't get played on local radio.
"[50 Cent]'s beef with Ja Rule and that whole thing divided New York in a way that crippled New York forever, and we're just starting to get back," Ebro apparently said on air.
Fif responded with an Instagram post that included a picture of Darden and a caption that read, "This guy said I destroyed New York HipHop (sic) because I didn't work with New York artists, to cover up the program director that wouldn't play there (sic) records. SMH."
Catching wind of the post, Ebro responded with an Instagram post of his own, writing, "You wanna do this 50 Cent?! Always supported you and NY artists...Ask Olivia, Rotimi, Lloyd, [Tony] Yayo, [Young] Buck. Guess it's not enough? Or you trying to distract people from ya personal problems today? Love you bro. Be well and come by anytime."
Always ready to engage in a war of words on social media, the G-Unit general responded with, "I say your response, truth is you wouldn't know a hit if it hit your ass in the head. Radio is all messed up. New artists have to break online. I know you can't see it but you don't mean shit anymore. Buy (sic) the time you support records there (sic) already working fool. Name one new artist or song out of New York you broke? Lol you should be ashamed of yourself."
Responding once more to Fifty, Ebro tried to explain that it's a new era. "That's not what your team tells me when they ask us to play your music," he wrote. "Same way your music broke in the streets, then radio is the same way the internet works now. Don't worry I'll still let the team here shout ya Vodka too! Come by soon...Oh and thanks for the promo."
One look at Hot 97's current playlist can back up 50 Cent's claims. Of the 20 songs listed, only three (Fetty Wap's "Again," A$AP Ferg's "New Level," and French Montana's "Moses") are from local artists and two of those three feature out of town artists.
On the other hand, it's a radio station's job to make money and keep people tuned in by playing what the majority want to hear. As long as New York City rappers exist, there will always be a rift between the artists and the major hip-hop stations in the city.
Read the back and forth between 50 and Ebro below.
See 40 Hip-Hop Albums Turning 20 in 2016