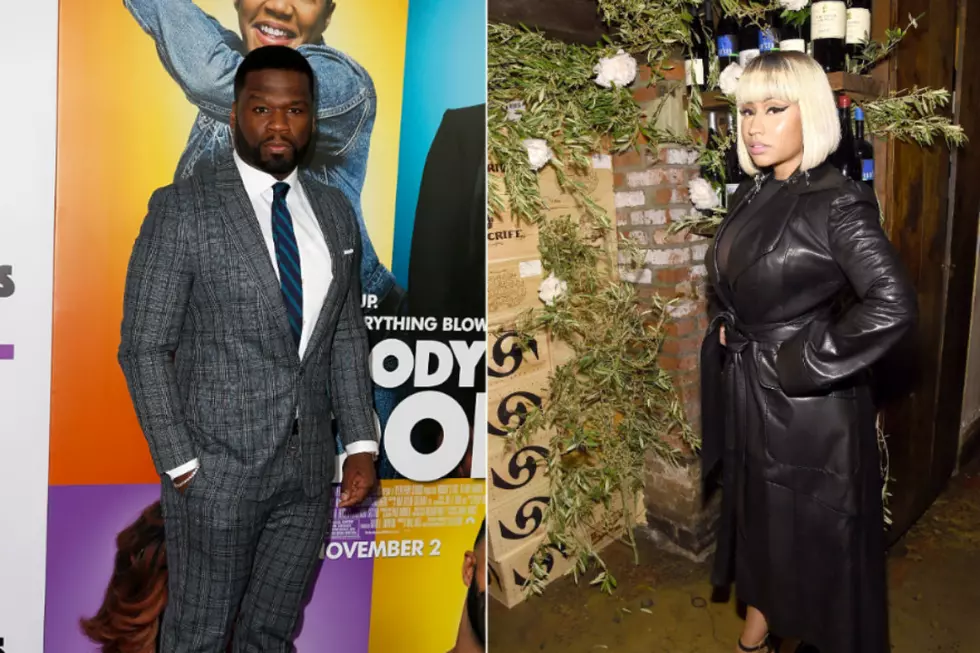 50 Cent Supports Nicki Minaj in Argument With Steve Madden Over Botched Deal
Dominik Bindl / Jamie McCarthy, Getty Images (2)
In case you missed it, Nicki has been on the warpath this week, going back and forth with Cardi B. On Tuesday, she claimed to have been offered a deal from Steve Madden before Bardi, which the company refuted. Fellow Queens rapper 50 gave a big boost to Nicki's story's credibility on social media by bringing up an older article of Madden talking about botching a deal he wanted to do with Nicki. The article had resurfaced on Twitter earlier in the day, and Fif was clearly paying attention.
"I guess he forgot he spoke on this already smh liar," 50 captioned a quote from the designer talking about how he fudged a deal with Nicki and opted to go with Iggy Azalea for a campaign. "I was gonna do a collaboration with Nicki and we got in a fight the first minute we met," the quote reads.
Madden added, "It was a mistake. I made a mistake and I wish I could go back and work with Nicki instead of Iggy."
Iggy also co-signed the statement, captioning the quote, "This is facts."
Madden has since changed the tune tweeting, ".@NICKIMINAJ is an incredibly talented artist but we couldn't work together cuz the timing wasn't right. @iamcardib came on the scene and I had a fantastic collaboration with her, and she is also an amazing talent. I love...."
Based on a tweet she posted late yesterday, it doesn't look like Nicki is trying to hear it. "Eat a dick nigga. You lied on me cuz it was the trendy thing 2do!" she wrote on Twitter. "Ain't nobody buyin that clown shit. We couldn't work together cuz I said the shoes were ugly. You see how when you do clownery it comes back to bite? WE NOT BUYING IT!!!!!! Respond to 50 instead of picking on women."
See how the drama played out below.
Watch Nicki Minaj address Steve Madden in the tweet gallery below. See 50 Cent and Iggy Azalea's reactions to the situation beneath the gallery.
See Nicki Minaj Fire Back at Steve Madden on Twitter
See Photos of Nicki Minaj's Different Looks Over the Years