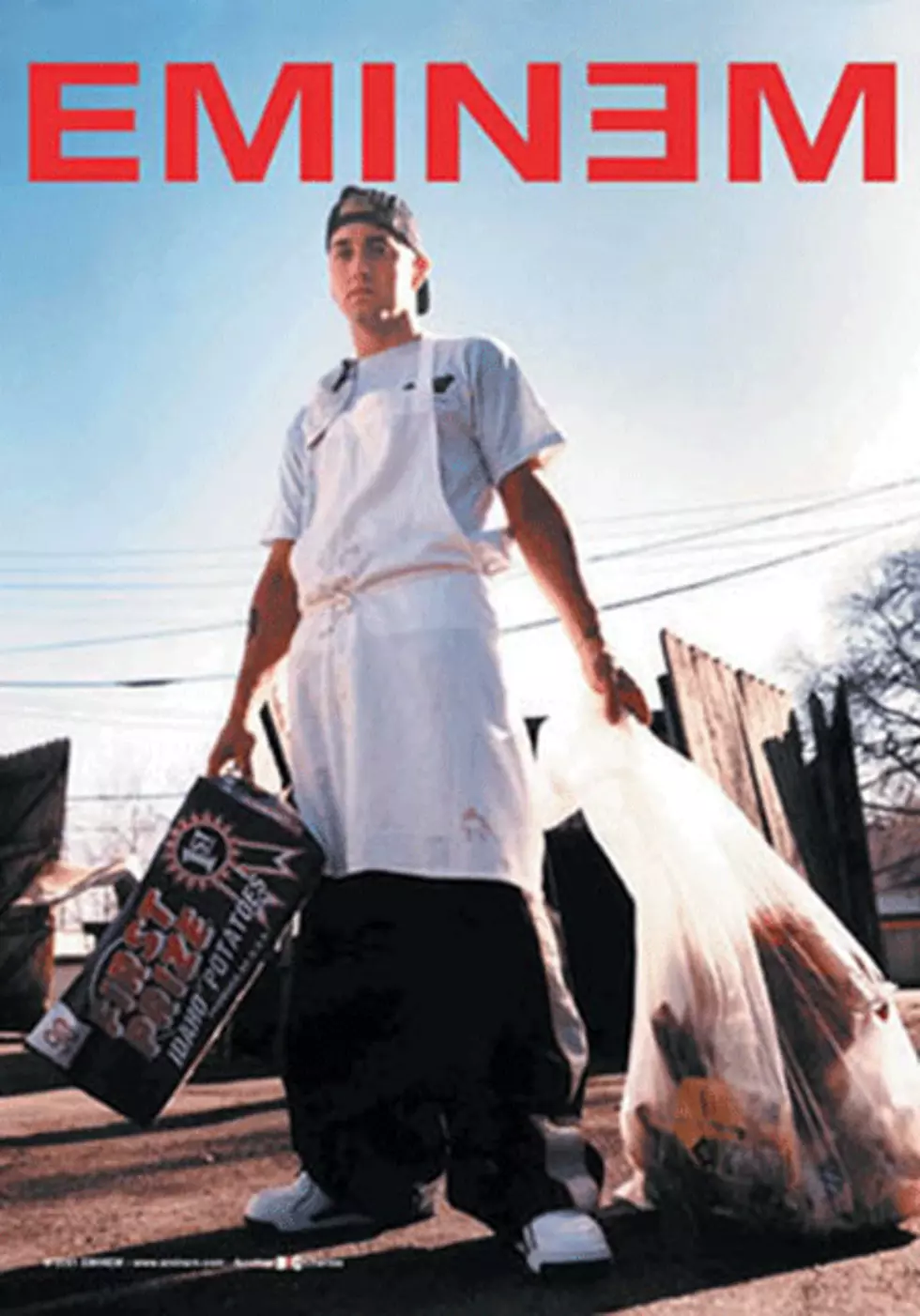 15 Rappers That Put In Work – XXL's 9-to-5 Anthems
The first Monday in September is a time to reflect on the strength of American labor, but for most folks Labor Day symbolizes the end of the summer and a day to get our last barbeque in. For rappers, of course, it's a time to party. Just check the amount of shows and club dates going down in your city this weekend. Still, through the years quite a few artists have reflected on their laborious days and delivered songs that the every day Joe can relate to.
So while, everybody else took the day off, XXLMag.com put in work and listed 15 noted hip-hop songs that centered on the spirit of Labor Day. Don't quit your day job!
Before his swagger was on a 100,000 trillion, the Louis Vuitton Don was folding khakis at the Gap. On "Spaceships," a soulful standout from his 2004 debut LP, The College Dropout, 'Ye recalls his work-a-day blues in the beginning of his first verse: "If my manager insults me again/I will be assaulting him…" Since then Kanye has upgraded, now he has himself a good ass job.
Cam returned from his rap hiatus early last year with this depressing tune about the downfalls of holding a steady J-O-B. Seems like Killa weighed his options before returning to the rap game: "Lunch break, gimme a break, a damn half-an-hour." Nah, in actuality this wasn't Cam's story, he was inspired by a "female" that he knows and flipped the concept so the rest of us working stiffs can relate.
While most artists dedicate a song or two to there past lines of employment, Cons dedicated his entire 2007 album, Don't Quit Your Day Job, to his decision to skip the 9-to-5 route to pursue his dreams of becoming an MC. On "Job Song," he talks about having to return to the world of employment in order to pay his long list of bills.
Long before his problems with drugs, baby mamas and of course, stardom, Em's angst-filled rhymes were fueled by his crappy day job as heard on this cut off 1999's The Slim Shady LP. "I deserve respect but I work and sweat for this worthless check." We feel ya, Marshall.
Canibus "Shove This Jay-Oh-Bee"
This fun, old-school inspired track—fittingly featured on the Office Space soundtrack—finds 'Bis giving listeners an instructional guide to telling off their boss. "Put your middle finger up slowly/Put it close enough to his face, so he can examine it closely." Wonder if Wyclef inspired this?
De La Soul "Bitties in the BK Lounge"
Flippin' burgers isn't the move, especially when you have to deal with rude ass customers. In the second act off this track from the Long Island trio's second album De La Soul is Dead, Posdnous stands behind the counter and plays the dozens with Soshuana, a smart mouthed honey who teases him with lines like, "Well, you're a family man, I shouldn't be surprised/Since your sister's flippin' burgers and your mother's frying fries." Low blow.
Blu & Exile "Blu Collar Worker"
Some women are just high maintenance, not the ideal situation for broke and aspiring rappers. Cali wordsmith Blu details the struggles trying to maintain his relationship, while balancing his bank account. He pleads on the hook, "Please don't take it personal/But I gotta go and work some more/And I know deep down it hurts your soul, but I'm a blu collar worker, girl."
Seemingly, in an effort to pick up some waitresses while on tour, indie rap superstar Slug wrote a theme for the working girls to deal with all the slobs they're forced to serve daily. Nice job.
M-1 and stic.man prove that hustlin' is work, too. On the last verse to this track, stic spits about stealing money out the cash register and jacking merchandise from the stock room. "I'm not the one to kiss ass for the top position/I take mine off the top like a politician." Looks like, crime does pay.
Slick Rick "The Moment I Feared"
"Well, I'm sitting on my lunch break grinning my teeth/It's the last day of the week, boy, what a relief," is how Slick Rick the Ruler starts this track off of his 1988 debut, The Great Adventures of Slick Rick. The storyteller then proceeds to smoke a spliff, get high and return to work. Seems like a good day, right? Wrong, when Ricky D gets out of work, he goes to the club and gets robbed for his chains. Wondered if he called out sick on Monday.
Now the Biz doesn't chronicle his own working days on this 1988 classic, but he does blow up the spots of crooner TJ Swann and his DJ Cut Master Cool V. After they became famous their lives got a little easier, but before making hit records Swann was clowned by a possible love interest when she told him, "Nigga, please you work for UPS." Cool V, who was denied employment at a local record shop, eventually turned the tables and later refused the same job. Damn, it feels good to see people up on it.
Channeling his frustration with punching the clock, underground Long Island rapper, Louis Logic, fantasized about going berserk on his boss and co-workers on this cut off his 2003 album Sin-A-Matic. [Note to UPS: do not hire this man.]
Mr. Lif "Live From the Plantation"
The political Bean Town MC compares office work to modern day slavery. Hmm, picking cotton or watching YouTube, which would you chose?
Devin the Dude "What a Job"
You think being a rapper is all fun and games? Think again. On this 2007 track Devin the Dude gathered Snoop Dogg and Andre 3000 to wax poetic about their MC careers. Well, maybe it's hard to relate to major label dwellers like Snoop and 3 Stacks, but Devin, who has been independent most of his career, puts things in an everyman perspective when he dedicates his rhyme to, "All the independents, a few major labels/The big studios who still give niggas favors."
Prince Paul feat. Breezly Bruin & Queen Heroine "The Other Line"
On this highly conceptual track off of Prince Paul's story album A Prince Among Thieves, MC Breezly Bruin gets a job for a big-time drug dealer, but in order to get busy in the streets he has to call out of his low-paying 9-to-5. Not knowing what to say to his boss, Breeze convinces his girl Queen Heroine to call-out sick for him.