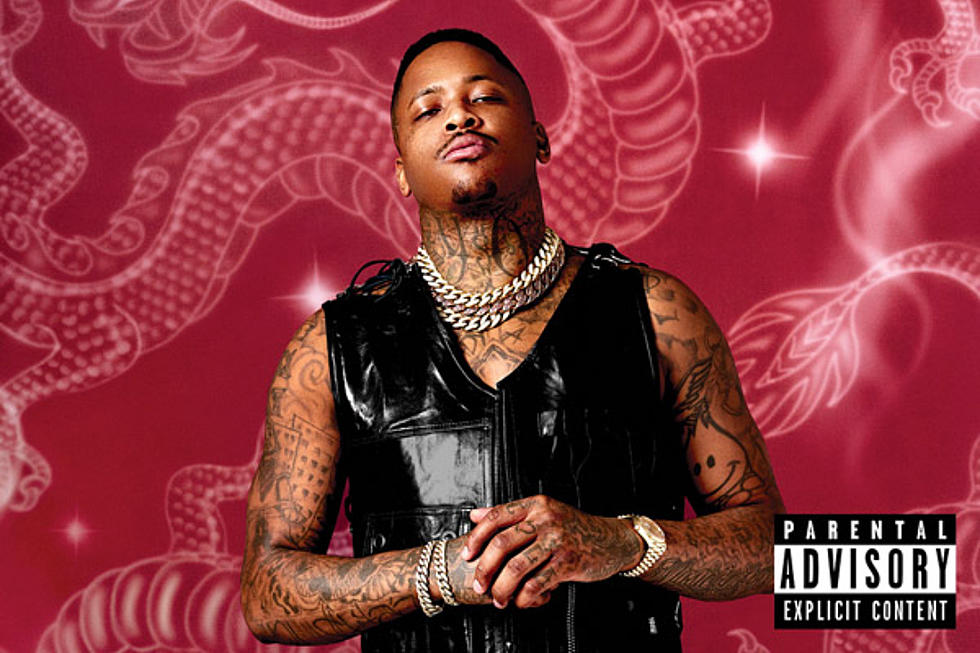 YG Revisits His Roots on 'Stay Dangerous' Album
Def Jam Recordings
YG and Mustard still have that spark. The Cali rapper and producer tandem made their entrance on the hip-hop map at the top of this decade, and as both have ascended into stardom, their chemistry has translated into chart success. Mustard produced the bulk of YG's studio debut My Krazy Life, including hit singles "My Nigga," "Who You Love?" and "Left, Right."
The duo had a bit of a falling out around the end of 2014, and while YG's 2016 sophomore album Still Brazy does not contain any Mustard beats, the two have made amends and joined forces once again for Stay Dangerous, their biggest joint effort since My Krazy Life. Mustard serves as one of the album's executive producers—he's credited on 10 of the album's 15 tracks, showcasing a renewed chemistry with his partner-in-rhyme. YG's tough-talking swagger and urgent flow mesh effortlessly over Mustard's minimal synth lines, 808 kicks, hand-claps and signature "hey" chants.
Perhaps it's the music that drives the direction of YG's lyrics away from the overtly political tone of Still Brazy cuts like "FDT," "Blacks & Browns" and "Police Get Away Wit Murder." There's significantly less of that on Stay Dangerous. On "10 Times," YG incorporates lines like, "Fuck the D.A., fuck the P.O., fuck the president, fuck the po-po/They follow me, wanna keep me me close, try to hold me back, let me go," but those sentiments are more scattered and loosely concentrated here. Instead of the broader scope on Still Brazy, YG returns to rhyming about gang life ("Suu Whoop"), encounters with women ("Pussy, Money, Fame") and street violence ("Handgun").
While it's disappointing to hear YG's content revert, he still sounds good rapping—the guy has undeniable charisma and wit. His response when asked about his daughter? "Yeah, I'm a gangbangin'-ass dad," he rhymes on "Suu Whoop." He interpolates goofy one-hit wonder duo Right Said Fred's 1991 song "Too Sexy" for "Too Cocky," proclaiming, "I'm too cocky for my shirt/I'm too cocky off two Percs/I'm too cocky, I know my worth." You can hear the smirk on his face as he raps, and it's nice to hear him having fun on the track.
YG gets more personal towards the end of the project. On "Deeper Than Rap," he reflects on the consequences of his fame, how he's tired of doing things for others while they do nothing for him in return and how he barely gets to see his daughter due to career. "They told me to talk to a therapist and I did/But that don't change the crazy shit I do, did and live," he raps, momentarily letting his guard down.
Mustard's beats don't break new ground with this project, but Stay Dangerous features some of his more impressive production of late. The xylophone line that serves as the backbone of the feature-heavy "Big Bank" is a certified earworm and "Suu Whoop" has a frantic, percussive beat that underlines YG's raps perfectly as he calls out fake Bloods. "Slay" toys with soul samples and Auto-Tune. But Mustard isn't the only producer that gets results here. From the brooding trap of TM88 and MP808's "Handgun" beat to the glimmering synths and booming bass of Mike WiLL Made-It's "666," YG attacks every beat.
YG and Mustard bring in plenty of other stars to the mix. The aforementioned "Big Bank" is one of the biggest gatherings of rap talent this year, with guest features from Big Sean, 2 Chainz and an especially game Nicki Minaj. YoungBoy Never Broke Again kills it on "666." On "Slay," Quavo sounds a lot more confident with the track's Auto-Tune gloss than YG does. "Power" features frequent collaborator Ty Dolla $ign and its strong West Coast vibes are perfect to play in the whip.
Stay Dangerous doesn't quite feel like the grand statement of Still Brazy or My Krazy Life. It's a slight step back from a rapper who is capable of much greater. While the brief glimpses of his personal life aren't quite enough to elevate the project, it's worthwhile to hear him breezing over Mustard beats once again.
Here's the Ultimate Guide to Rappers With Acronyms in Their Name