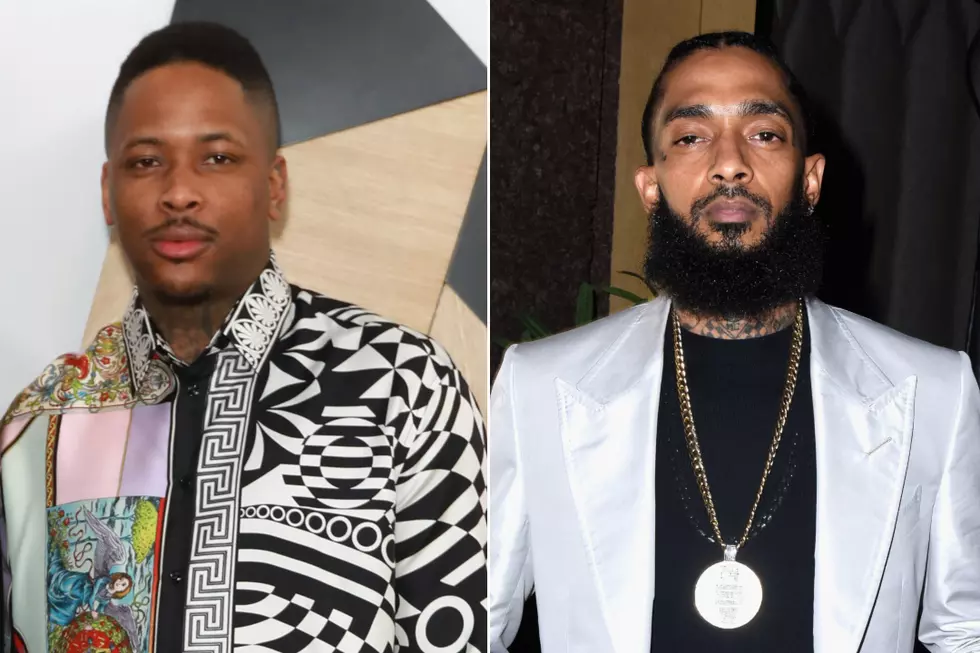 YG Delays Album After Nipsey Hussle's Death
JC Olivera / Vivien Killilea , Getty Images (2)
YG was gearing up to drop a surprise album before the tragic death of Nipsey Hussle. Now he's holding off on dropping the project out of respect for Nip's family and fans.
In a tweet he posted Wednesday (April 3), the Compton rapper revealed that his plans to release a new body of work this month will be put on hold amid the untimely passing of his friend. YG didn't confirm any of the project's details, but he did state that it would arrive in May.
"I was dropping a Surprise album April 12th But man. Now that we gotta deal with Big bro goin to heaven I will not drop the album this month. Pushing it to May, Sorry! LONG LIVE @NipseyHussle my brother from the other color!," YG said in his tweet.
The news comes shortly after YG admitted that he and Nipsey Hussle were working on a collaborative project before he was murdered. In an Instagram post, YG wrote a lengthy caption eulogizing Nip. In it, he revealed the plans he'd made with the late Victory Lap rapper.
"I'm lost homie. We had so much shit in the works," YG wrote in his caption. "TV shows that was being written, A album "2 OF AMERIKKKAZ MOST WANTED" that we tried to work on twice but it never got done, If niggaz know NIP then Niggaz know bro got his own recording process. He rather start doin musik at 10am."
Check out YG's tweet about his surprise album below.
See Photos of Nipsey Hussle's Different Looks Over the Years