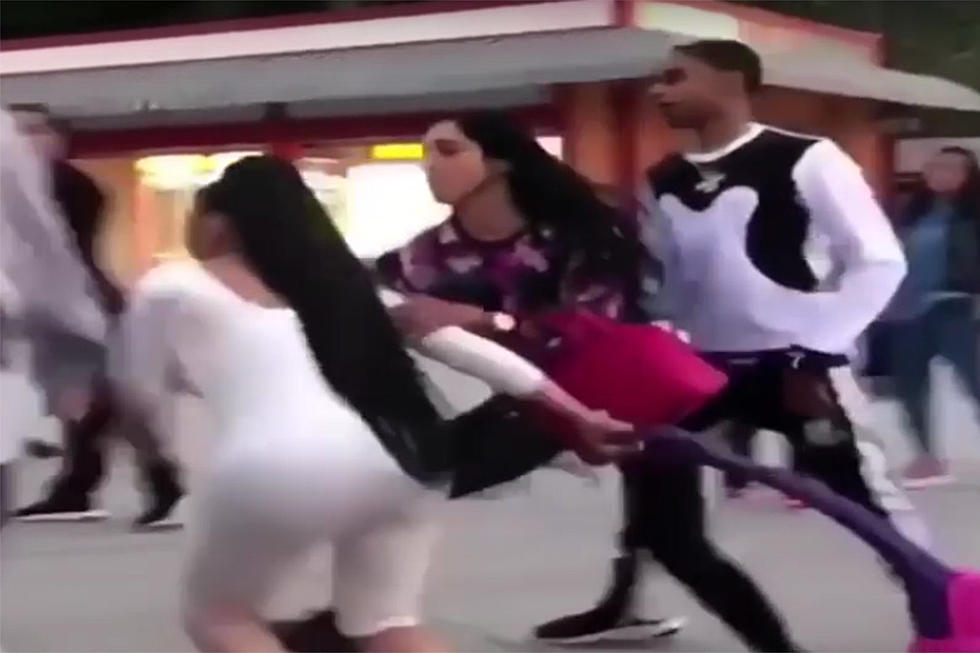 YBN Almighty Jay Tries to Prevent Blac Chyna From Fighting at Six Flags Amusement Park
thevoice4dappl TV via YouTube
An Easter celebration descended into chaos at a Los Angeles Six Flags for Blac Chyna and her family when she attempted to fight a woman at the amusement park. It has now been revealed that in addition to trying to approach Chyna's daughter Dream, she also called the model a "hood rat," which was the breaking point.
According to TMZ, sources close to Chyna said that she became aggravated when the unknown woman tried to touch her kids, and when she added the "hood rat" comment Chyna went for her while a nanny took Dream and King Cairo to safety.
Check out the video of the altercation below.
Amusement parks are supposed to be family-friendly places but an Easter trip to Six Flags Magic Mountain on Sunday (April 1) for YBN Almighty Jay and Blac Chyna was anything but. In footage captured at the park in California, YBN Almighty can be seen trying to hold Blac Chyna back as she tried to fight with an unidentified person.
Multiple videos show Chyna swinging and throwing a child's push-car as YBN Almighty Jay and security attempted to restrain the model. The two were reportedly at a Six Flags park with Chyna's children, Dream and King Cairo, when the incident went down. While it's uncertain who Chyna was trying to fight, in an Instagram Story post, Chyna claims someone tried to touch her child.
"Being famous is hard enough dealing with scrutiny but when someone feels comfortable to come and touch your child it's a whole other story," Chyna wrote. "I do not condone violence nor am I a violent person but shout out to all of the amazing mothers out there that will protect their children at all cost. Love, King and Dreams mommy."
The fight at Magic Mountain is just the latest controversy for Blac Chyna. Last month, Rich The Kid's wife accused Chyna of sleeping with the rapper and claimed her relationship with YBN Almighty Jay is just a front. "Oh and @blacchyna been getting fucked by rich too @ybnalmightyjay was just the cover up," she wrote on a now-deleted Instagram post.
Check out Blac Chyna's Instagram post and videos of the fight below.
Check Out the 2018 Hip-Hop Music Festivals You Need to See