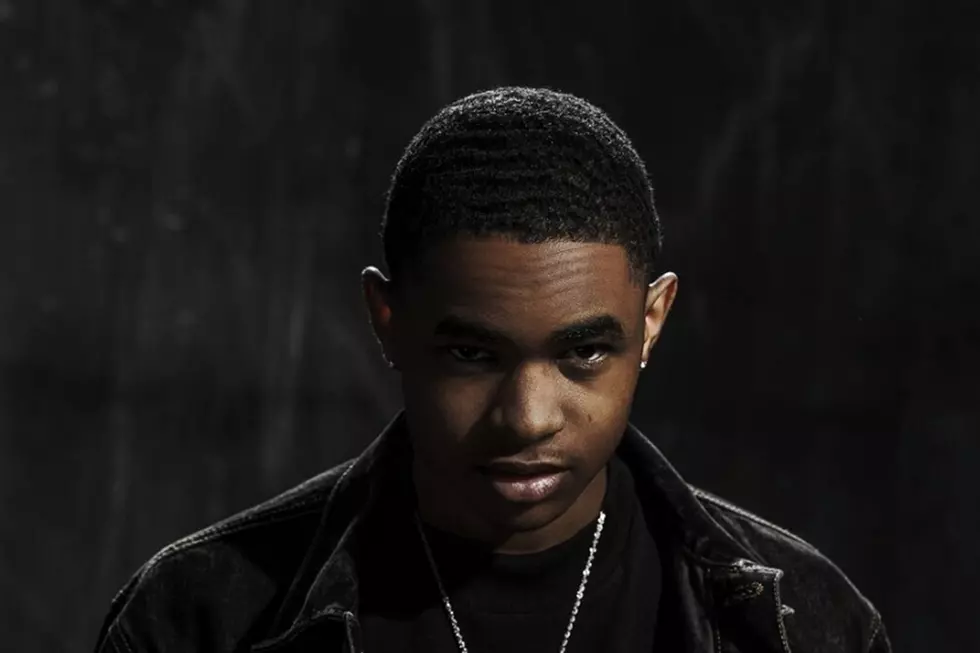 The Break Presents: YBN Almighty Jay
Derek Contreras
YBN Almighty Jay and YBN Nahmir have been friends for five years now, but they didn't meet in person until this past October. That first meeting was just two months after the release of Nahmir's "Rubbin Off the Paint" video and one month before Jay's "Chopsticks" went viral and the YBN takeover began.
Really, though, the rise of YBN began when Jay and Nahmir first encountered each other playing Xbox Live back in 2012. Nahmir, who hails from Birmingham, Ala., was 11 at the time; Jay was 12. Using the Blue Yeti microphone his mother had bought him for Christmas, Jay began recording his first tracks around that time. Armed with a Rock Band mic, Nahmir did the same.
From the outside looking in, the idea that hip-hop's next premier dynamic duo is comprised of two artists who'd previously only connected through Xbox Live might've seemed ridiculous. To YBN Almighty Jay, though, that success was always a part of the plan.
"We been had it in mind, like, 'Yo, we gon' be them niggas,'" 18-year-old Almighty Jay tells XXL. "We been knew that shit. Nahmir shot the video, 'Rubbin Off the Paint,' I did 'Chopsticks,' and, shit, we was up from there."
For Jay, "up" means becoming a bona fide rap star in only six months and dating model Blac Chyna—the latter has inadvertently helped him to become a regular on The Shade Room. To date, the aforementioned "Chopsticks" has been streamed more than 20 million times on SoundCloud and YouTube. As his as-yet-untitled collaborative mixtape with Nahmir approaches its release, Jay is looking to continue heading skyward.
Get to know YBN Almighty Jay in the latest edition of XXL's The Break.
Hometown: Galveston County, Texas
I grew up listening to: "Chief Keef, Chris Brown, Weezy—the legends of my time. Everybody who paved the way for our generation. Soulja Boy. Soulja's cool. He be tripping, but he's the first one to really break the internet with this hip-hop shit. That's big. Making a million off ringtones."
My style's been compared to: "Nobody. I never really hear nobody compare me to nobody. We sound like our own artists. Me and Nahmir are our own artists. Me and Nahmir got our own distinct sound. I've never been compared to no other artists."
Most people don't know: "I'm that nigga. Niggas be thinking like, 'Nah, he pretending to be that nigga.' No, I'm that nigga. Niggas don't know I like fucking old people though. Not old, but I like fucking milfs. I love that shit."
My standout records: "'Chopsticks,' of course. 'Two Tone Drip' gonna drop real soon. 'No Hook,' 'Takin Off' is fire."
My standout moments: "The [dating] Blac Chyna shit. I think that's the most standout. Everyone notices that."
My goal in hip-hop is: "I wanna be a legend when it's all said and done. I got 'legend' tattooed behind my ear, 'cause I know that's what I'm gonna be. I want everyone to remember me for something in hip-hop. You know how you got your Lil Waynes, your Snoop Doggs, your Eminems and Dr. Dres. Legends, know what I'm saying? I wanna be remembered like that."
I'm going to be the next: "It's your boy YBN Almighty Jay and I'm going to be the next Hugh Hefner—gang shit."
Check Out the 2018 Hip-Hop Music Festivals You Need to See