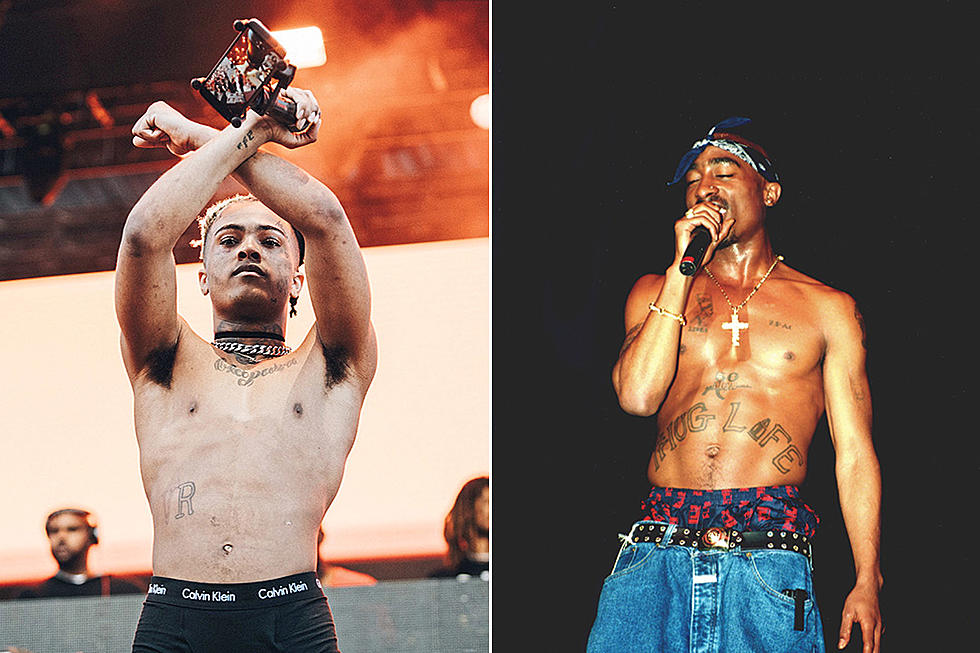 Is XXXTentacion the New Tupac Shakur?
Jerry Carnation / Raymond Boyd, Getty Images
What's The Difference?
The tragic murder of XXXTentacion has left many questions, few answers and one persistent comparison: Was the lawless superstar with a cult-like fan base really this generation's Tupac Shakur?
Words: Julian Kimble
Editor's Note: This story originally appeared in the Fall 2018 issue of XXL Magazine, on stands now.
On Sept. 7, 1996, a white Cadillac pulled up beside the black 1996 BMW 750iL carrying Tupac Shakur and Death Row Records head Marion "Suge" Knight at the intersection of East Flamingo Road and Koval Lane in Las Vegas. Fourteen shots were fired into the BMW; four of them struck Tupac while a bullet fragment hit Knight's head. He and Tupac, who watched Mike Tyson knock out Bruce Seldon in under two minutes at the MGM Grand earlier that evening, were taken to University Medical Center of Southern Nevada. Knight was released the following day, but Tupac succumbed to his wounds on Sept. 13. He was 25 years old. The news traveled by radio and television, shaking the hip-hop community to its core. 'Pac's untimely death, which occurred amid a sensationalized bicoastal feud that he was at the center of, factors heavily into what rapidly became an outsized legacy that has placed him in conversations regarding the greatest rappers and cemented him as one of the most influential pop culture figures of all time.
On June 18, 2018, XXXTentacion arrived at Riva Motorsports in Deerfield Beach, Fla. Two men soon exited a dark SUV and followed him into the dealership, where one reportedly purchased a black neoprene mask from the parts department. According to The New York Times, the two men then exited the store and returned to their SUV. When XXXTentacion tried to depart the dealership, the dark SUV blocked the path of his black BMW i8. Two masked assailants allegedly exited their vehicle and attempted to rob the rapper, who was shot in the neck during a brief struggle. XXXTentacion was rushed to Broward Health North in critical condition and pronounced dead shortly after. He was 20 years old. News of XXXTentacion's death spread rapidly via social media—along with disturbing footage of his body tastelessly captured at the scene of his murder. Through his death, hip-hop lost one of its most troublesome figures: one who was immensely popular and equally divisive.
As a society, we're conditioned to make comparisons regardless of their accuracy. They're often made out of convenience—or laziness—and purely for the sake of argument. But after XXXTentacion's premature death at the peak of a brief, extremely controversial career, frequent comparisons to Tupac became inevitable. 'Pac is arguably hip-hop's most canonized martyr—one who echoed a generation's passion and frustration, but one whose contradictions created detractors who are nearly as loud as his many ardent supporters. XXXTentacion, in a very short amount of time, became the paragon of SoundCloud-born rap and disturbed youth at its most violent and self-destructive. Although they represented two different generations, some of the voices willing to enshrine XXXTentacion as his era's Tupac actually hail from Tupac's generation.
In an interview with AllHipHop.com held shortly after XXXTentacion's death, Damon Dash said the young rapper is "definitely going to be looked at from this 15 to 25-year-old generation as Tupac and Biggie." There are parallels that, at the very least, make the argument easy fodder for podcasts, Twitter spats and Reddit threads. Both had cult-like followings and both lived and died in chaos. But, beyond their turbulent existences and exaltation as generational figures, 'Pac and XXX are bound by an apparent need to position one as an evolution of the other. It's likely that the conversation about whether or not XXXTentacion is his generation's Tupac will persist as more time passes but here's another question worth consideration: Is the comparison accurate or do people just want it to be?
The surface-level similarities between Tupac and XXXTentacion make it somewhat understandable. For starters, there was a shared volatility between them. Both were very notable for their I-don't-give-a-fuck attitudes. Take a look back at the unforgettable footage of Tupac (who announced as much on his 1991 debut, 2pacalypse Now), with a bandana tied around his head and clad in a Detroit Red Wings jersey, spitting at reporters after exiting the Supreme Court building in New York City in July 1994. When he had a vendetta, he got extremely disrespectful: See his scathing Bad Boy polemic "Hit 'Em Up" and its accompanying video, as well as the other instances in which he alluded to sleeping with friend-turned-foe The Notorious B.I.G.'s then-wife, Faith Evans.
XXX on the other hand, operated with complete impetuousness. He fought fans. His willingness to say anything to anyone resulted in him disrespecting Drake and Drizzy's mother after accusing the OVO boss of biting his "Look at Me!" flow. Adam "Adam22" Grandmaison, who hosted XXXTentacion's most notable interview (where XXX detailed his lengthy rap sheet and claimed to have viciously beaten his gay cellmate) on his No Jumper podcast in April 2016 (some nine months before "Look At Me!" took off) and managed him at one time, agrees with the comparison. His reason? XXXTentacion and Tupac's similarly unstable nature.
"I feel like Tupac is remembered in particular because he was extremely emotional to the point of it maybe not being a good thing," Adam22 says. "He had a crazy past in terms of criminal history, he infamously shot at the cops, he was known for making a lot of emotional, erratic decisions. That is a part of what is instrumental in making X's music so enticing: It was coming from somebody who wasn't really on stable emotional ground."
'Pac and XXX were undeniably reckless at times, which frequently landed them afoul of the law. There was Tupac's April 1993 arrest for trying to hit rapper Chauncey Wynn with a baseball bat during a concert at Michigan State University. There was the aforementioned October 1993 incident in which 'Pac was charged for shooting two off-duty police officers in Atlanta. In March 1994, he was convicted for his role in the assault of director Allen Hughes in Los Angeles the previous year following his firing from 1993's Menace ll Society. As for XXXTentacion, he was charged with home invasion, robbery, aggravated battery and possession of a firearm in November 2015. And like Tupac, his most infamous run-in with the law involved serious crimes against a woman.
Tupac spent eight months in jail in 1995, after being convicted the previous fall for sexually abusing a woman in November 1993. He was acquitted of the sodomy charge and although he apologized to the victim during his sentencing, he maintained his innocence. XXX spent seven months in jail after being arrested in October 2016 and was charged with false imprisonment, witness tampering and aggravated battery of his ex-girlfriend. He was impenitent when speaking of the incident, stridently proclaiming his innocence and going as far as to call his accuser a liar. There was strong evidence against XXXTentacion in the case, but the charges were formally dropped in August due to his death. Where 'Pac's legacy and the time that's passed since his conviction have largely shielded him from more harsh criticism, XXXTentacion's rise coincided with the accusations made against him, in spite of his dismissive attitude towards them. The abuse charges will stay with him even in death because negativity was many people's point of entry to his music. Still, neither situation did too much damage to either of the two artists' popularity.
In fact, the controversy only brought them more attention. Back in 1995, Tupac became the first artist to have an album debut atop the Billboard 200 chart while imprisoned. The album, Me Against the World, was 'Pac's first to reach No. 1 and it remained in that spot for four consecutive weeks—his longest stint there. By the time XXX's "Look at Me!" peaked at No. 34 on the Billboard Hot 100 chart last April, the rapper was just being released from jail. Five months later, his debut album, 17, debuted at No. 2 on the Billboard 200 while its follow-up, ?, debuted at No. 1 this past March. The news surrounding him, as disturbing as it was, seemed to bolster his profile.
Both were also aware of their influence. Interviews sparked something inside of Tupac, who used his time in front of the camera to show how bright he was and display a willingness to speak up for his community—Black youth, in particular. As a sign of the times, XXXTentacion used social media platforms like Instagram to speak directly to fans who hung onto his every word. This is why producer Nick Mira, who worked on X's "Fuck Love," vouches for the comparison despite being aware of its difficulty considering that he didn't live through the Tupac era.
"If people wanna say X is like Tupac, it's not an unfair comparison because X's impact on the youth today—his influence was just so strong," Mira says. "And then, as you saw later in his career, he was using his ability to push a positive message. He was doing it for the good of the youth and the good of the world and all that. He wasn't just like, making a bunch of bad influential choices. He was actually doing the right thing. So many kids looked up to him."
XXXTentacion's ability to connect with his generation emotionally became even more evident following his death. "I think of little Disney stars like Skai Jackson who was completely crushed when he passed," Adam22 says. "I saw [teen pop star] Billie Eilish talking about him in an interview the other day. There are all these people who are almost tangentially associated with hip-hop [who thought] his music was so good, so impactful, so emotional. I think he was able to touch a lot of people who might not have necessarily felt the impact of hip-hop otherwise." Tupac also possessed an uncanny ability to touch people on a visceral level, even if they were outside of the typical hip-hop sphere. It was unexpected but fitting when "Dear Mama" played in the HBO thriller Sharp Objects this summer.
Still, the differences between 'Pac and XXXTentacion are too strong to ignore, making the comparison fold under scrutiny. For what it's worth, XXX rejected the comparison, bristling at the mere mention of it during a conversation with DJ Akademiks earlier this year. "I'm better than Tupac, bro," he said, visibly annoyed. "Please don't compare me to him. Please don't. Tupac can't make rock music. Tupac couldn't do that. Tupac didn't do that. Tupac was a dancer and a poet and a rapper."
One fundamental difference between XXX and Tupac is that the latter was a pure hip-hop artist. Save for occasional R&B collaborations, he didn't venture into other genres. Conversely, XXXTentacion's sound was more ambitious. In addition to more traditional hip-hop records, he made moody, down-tempo R&B songs. He experimented with rock music, wanted to work with more artists outside of hip-hop and didn't like to be boxed into the title of rapper. This allowed XXX to connect with an audience beyond hip-hop but while he went wider than 'Pac, he didn't go as deep. Much of that has to do with Tupac being further in his career than X was at the time of his death, therefore granting him the time to make more music. Tupac released five albums before his death and one more, The Don Killuminati: The 7 Day Theory, followed shortly after. He had enough music in the vault to make six more posthumous albums. "Changes," which appears on his Greatest Hits album, became a hit two years after his death. The sheer volume of his work and its lifespan after his death is a significant aspect of his legacy. The same can't be said of XXXTentacion—at least not yet.
"[XXXTentacion's] catalog alone cannot meet one of such depths as Tupac," says Ron Mills, program director of Hip-Hop Nation on Sirius XM's Shade45. And beyond that, XXX's defining records like "Sad!," "Changes," "Jocelyn Flores" or "Look at Me!" don't hold the same cultural weight on a purely historic level as "Brenda's Got a Baby," "Keep Ya Head Up," "Dear Mama" or even "Hit 'Em Up." Again, not enough time has passed since XXXTentacion's death for his music to have the same impact, but also as popular as XXX was, the negativity surrounding him restricted his commercial and radio support. He just didn't impact popular culture in the same way that 'Pac did, a reality that also manifested outside of music.
Tupac's acting career ran concurrently with his music career. Juice, the role that legitimized him on the big screen, came out just months after 2pacalypse Now. His role as Bishop is exemplary of power-drunk, detached sociopathy. His other notable roles (Lucky in 1993's Poetic Justice; Birdie in 1994's Above the Rim; even Piccolo in a 1993 episode of A Different World) exposed him to a larger audience. Acting in tandem with his music elevated his presence within popular culture. That elevated platform amplified his beliefs.
Throughout his career, Tupac was extremely vocal about socio-political issues and the conditions of Black America, a credit to his family's Black Panther Party legacy. It shines through in so many of his most memorable interviews: the 1992 interview with BET where he spoke on police brutality, the 1992 interview with MTV News where he discussed Donald Trump and greed, the 1994 interview with MTV News where he describes how frustration from lack of access mounts over time. While XXXTentacion got behind philanthropic efforts—he held a charity concert in honor of the victims of a shooting that took place at Marjory Stoneman Douglas High School in Parkland, Fla. this past February—he never quite became the voice of a cause. It's an element that's crucial to 'Pac's legacy, making comparisons to XXX feel like a false equivalence. So why force it?
Clickbait is still a go-to move, so bold statements and any subsequent arguments tend to garner a large share of attention. Comparing anyone to a legend—especially a flawed, yet beloved one—is sure to elicit reactions. Whether it's a headline about a new artist being anointed the modern version of Tupac or another artist born after he died showing little interest in him, invoking Tupac is sounding an alarm. But there's no need to do that when attempting to describe or aggrandize XXX, as the immense popularity, polarity and early death make him singular—not a 'Pac equivalent. There won't be another Tupac Shakur just like there won't be another XXXTentacion.
"X was a really fucked-up person and there's a lot of people who probably should have qualms about cosigning his existence," Adam22 says. "But now that he's gone, his existence is representative of teenage depression and kids who are going through shit. I feel like he, in some way, will be a figurehead for that generation."
While XXXTentacion may become that, it doesn't make him an heir or answer to Tupac. It puts him in a class by himself—talent, nefarious reputation and all. "Let's just call him the modern-day XXXTentacion," Mills says.
Tupac and XXXTentacion seemed to sense their early demises and became highly combustible figures during their short lives, but they aren't one in the same. If XXX could see the clear differences and call them out, petulance considered, why can't others?
See Behind-the-Scenes Photos of XXXTentacion at the 2017 XXL Freshman Shoot