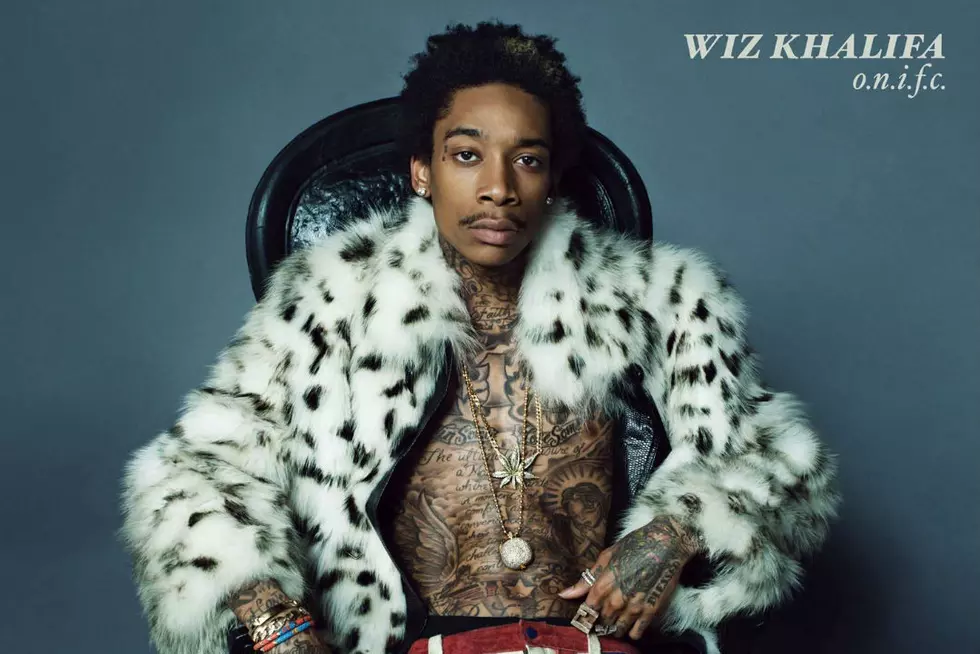 Wiz Khalifa Drops 'O.N.I.F.C.' Album – Today in Hip-Hop
Atlantic/Rostrum
On this day, Dec. 4, in hip-hop history...
2012: After having its release date pushed back twice in the same year, Wiz Khalifa finally dropped his fourth studio album, O.N.I.F.C., on December 4, 2012 through Atlantic and Rostrum Records.
O.N.I.F.C. proved to be an important album in the Pittsburgh MC's catalog, especially to Wiz himself. Not only did this project have to follow up his incredibly successful Rolling Papers album, but Wiz also had to live up to the bold statements he publicly made about the LP. "It's really like the highest level of what people expect from me," he said of O.N.I.F.C prior to its release. "This album is really gonna portray all of that in the best way possible ..." Even the album's title, O.N.I.F.C., which stands for "Only N---a In First Class" and pays homage to Prodigy of Mobb Deep's solo classic, H.N.I.C., " is representative of exactly where the 2010 member of the XXL Freshman class envisioned his place in Hip-Hop at the time.
The leader of the Taylor Gang released two major singles off of O.N.I.F.C., both of which saw a ton of mainstream success. The first was the Benny Blanco-produced "Work Hard, Play Hard," which dropped early in the spring of 2012, reached number 17 on the Billboard Hot 100 chart and was accompanied by a music video that featured Wiz wearing clothes that paid tribute to rock star Jimi Hendrix. An official remix to "Work Hard, Play Hard" was released in August of that year and featured acclaimed verses from both Young Jeezy and Lil Wayne. Reportedly, the remix was also supposed to feature Drake, but according to Wiz, Champagne Papi didn't submit his verse in time for the release. The album's second single, "Remember You," featured The Weeknd, peaked at number 15 on the Billboard Hot R&B/Hip-Hop Songs chart and was nominated for Best Rap/Sung Collaboration at the 56th Annual Grammy Awards.
Outside of the two monster singles, the LP was stacked with features and production from some of the game's biggest names. The most notable contributions were from artists like 2 Chainz, Pharrell Williams, Juicy J and Cam'ron. Among all of the names that were a part of O.N.I.F.C., Wiz says that working with Killa Cam specifically was a huge moment in his career, noting that the Dipset MC is one of his biggest influences.
When the cover art for O.N.I.F.C. was revealed in August of 2012, it was met with a bit of hate from a select few, and Wiz felt the need to defend his eccentric wardrobe and the statement it made at the time. "Iss About Taking Risks So The People Who Believe What We Believe In Can Feel Free The Cover Art Should Give You Confidence And Let You Know You Can Fully Be Yourself In Front Of People No Matter What They Say Or Think," the Pittsburgh spitter tweeted. "You Dont Have To Hide That Shit. Let It Out!!! Thass What The Artwork Really Represents. And If Your Still Scared, I'll Do It For You. Lets All Grow Together!!!"
Despite being met with mixed reviews upon its release, O.N.I.F.C. was certainly a commercial success, reaching number 1 on the Billboard Top R&B/Hip-Hop Albums chart and being certified platinum by the RIAA.
Wiz Khalifa's fourth LP was a very personal project for the acclaimed Pittsburgh rapper, and paved the way for the two successful albums that followed —  2014's Blacc Hollywood and 2018's Rolling Papers 2. 
Take a Look at Wiz Khalifa's Different Looks Over the Years