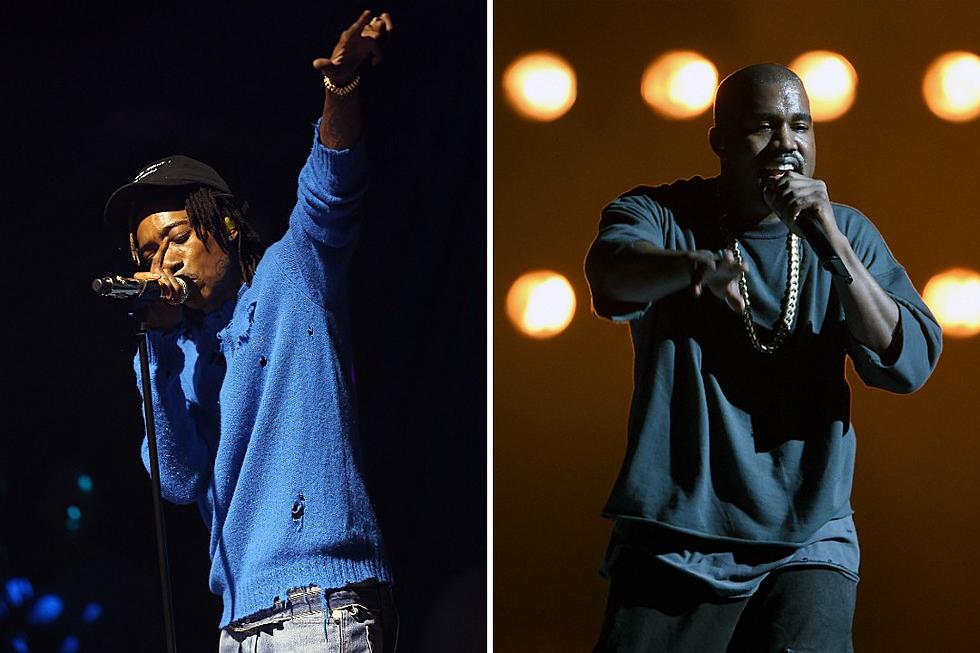 Wiz Khalifa Tells Kanye West He's Coming for Him During Chile Show
Neilson Barnard / Ethan Miller, Getty Images (2)
Just one day after dissing Kanye from a stage in Argentina, Wiz is back at it again, this time from his show in Chile. In footage obtained by TMZ (which can be watched here), the rapper can be seen taunting his famous peer at several points during his set. "We coming for you, Kanye," he can be heard shouting at one point. "You better run, n---a!" When the camera pans to the crowd, one fan can be seen waving a paper sign insulting Kanye.
There's no doubt that the news story to dominate headlines this week -- and likely the next -- is the beef that erupted on Twitter between Kanye and Wiz. What began as a spat over West changing his album title to Waves (Wiz felt the decision was disrespectful to Max B) devolved into a feud that centered on the "Bake Sale" rhymer's creative lineage and on Amber Rose, both of the rappers' mutual ex and the mother of Wiz's son. And now, it seems as if the dispute has bled over from the digital world into concert venues across the world.
The two MCs had not had any public problems up until this point in their respective careers. In fact, in West's 2012 song "Cold," he raps, "When the whole industry wanna fuck your old chick/Only n---a I got respect for is Wiz."
In his tweets from earlier this week, Kanye criticizes the Pittsburgh native for being derivative of Kid Cudi, the artist from Cleveland who Kanye recruited to help him craft his 2008 album, 808s & Heartbreak.
See 20 Hilarious Memes From Kanye West and Wiz Khalifa's Beef