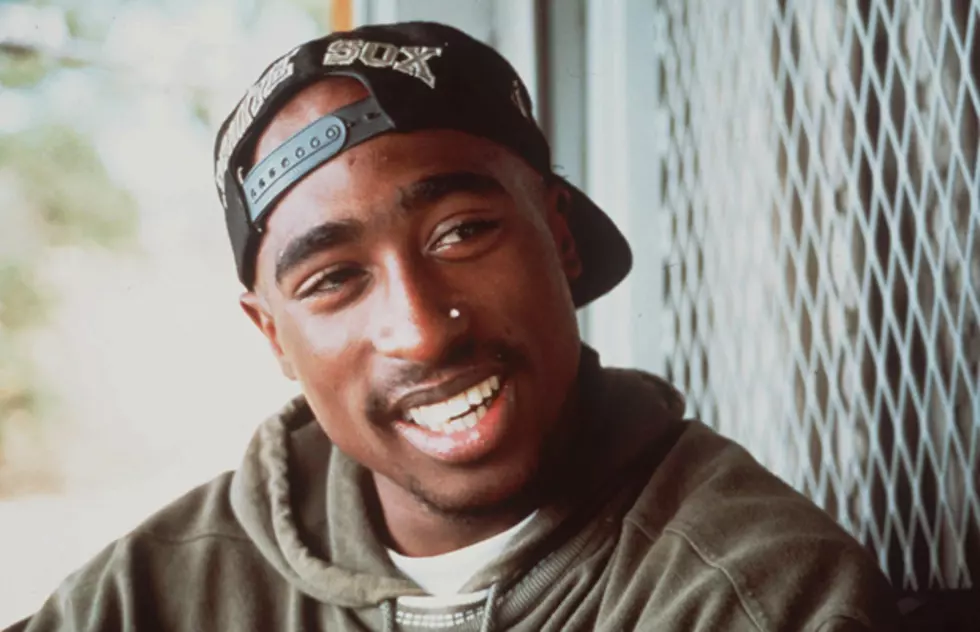 With Several Biopics In The Works, The Time For A Tupac Film May Be Now
Over the past few years, there's been plenty of chatter surrounding potential films about the life of the late Tupac Shakur, so much so that it seems that several directors are working on their own rendition of the West Coast MC's saga. To date, there's only been one portrayal of Shakur caught on film, with the MC being played by Anthony Mackie in The Notorious B.I.G. biopic, Notorious. However, there have since been three rumored flicks set to portray the life and death of the "Keep Ya Head Up" rapper.
Back in 2010, it was announced that director Antoine Fuqua (Training Day), would helm the first-ever Tupac biopic with help from Morgan Creek Productions, but in 2011 it was rumored that Fuqua had left the project to work on a since-scrapped boxing flick called Southpaw, which was set to star Eminem.
However, as of earlier this year, Fuqua mentioned in an interview with The Playlist that the Afeni Shakur-produced project was still in the works and was having its script reworked. As of then, no one had been cast to portray the iconic rapper. Morgan Creek did, however, hint at casting an unknown actor to assume the role. So far, the production company has not set a release date for the project, and calls made by XXL to Morgan Creek's office were not returned. Meanwhile, Fuqua is currently working on a Suge Knight documentary that is set to air on Showtime, with Philly rapper Gillie Da Kid set to portray Shakur in a supporting role.
With all of the hype surrounding a potential Tupac flick, fans are truly itching to see the rapper come back to life on the big screen. This became even more evident last year, when a mystery trailer for another Tupac biopic surfaced on the 'net. In the trailer, an actor is seen portraying Shakur in a recording studio, rapping along to 'Pac's seminal hit "Hail Mary." The video, which was originally posted on YouTube, claimed to be an "official" trailer, but was later changed to "fan made." The trailer's director, Noah Mortel, tells XXL that he made the clip as an unofficial teaser to both build hype for an official Tupac film, and partially in hopes of it getting noticed by a production company.
Mortel admits that as a struggling independent filmmaker, he was hoping his viral trailer would land him a job as a hired director on an official Tupac biopic. Though he admits he didn't expect people to believe the trailer was legit, Mortel, who's based in Texas, says he wanted it to be as realistic as possible. With no budget, Mortel says he spent 80 dollars on fake jewelry and other props, grabbed a friend to play Tupac and began filming. "The trailer is based on real clips. I compiled them as a preliminary idea of how the trailer would be," Mortel says. "I tried to make it as professional as possible. The thing I'm happy about is that it got the conversation going."
As a diehard fan of 'Pac, Mortel says he was tired of waiting around for someone to finally put out a proper flick honoring the rapper. But even though the trailer started the conversation, some weren't too happy with Mortel's depiction of 2Pac. "The biggest backlash was that people said he didn't look close enough to Tupac. They were calling him a crackhead," Mortel admits. "They could tell it was low budget." Still, Mortel doesn't regret going on a whim. "It's necessary to have a Tupac film right now. He was so intelligent, not just in his music but you could tell in his interviews, too," he says. The young filmmaker says that he thinks the reason a Tupac biopic has yet to be completed is because of the intricacies necessary in pulling it off. "There's a lot of prep work for that kind of film. He was a complex individual. You need the right script, director and producer," he says. "It comes down to the vision the screenwriter has. It's necessary to interview the people around him and understand him as a person."
Like Morgan Creek, Mortel thinks that giving an undiscovered actor a chance to play Tupac is the best route to go. He also references Ashton Kutcher's latest portrayal of Steve Jobs in the movie JOBS, which was slammed by Apple cofounder Steve Wozniak, as proof that a big-name actor isn't always the right pick for important biopics.
Whenever a Tupac biopic does get the green light, and no matter who's behind it, what's clear is that it's long overdue. Here's to hoping fans don't have to wait too much longer for it.—Gerren Keith Gaynor (@MRGERRENALIST)