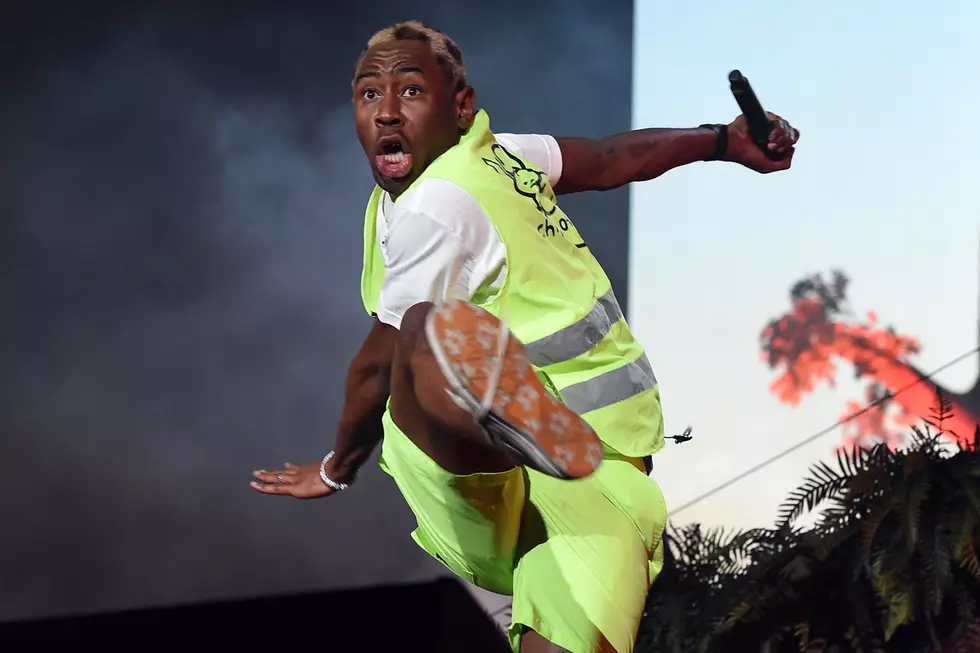 Tyler, The Creator Thinks Smoking Weed in the Studio Is a Distraction
Kevin Winter, Getty Images
"I went in the room and took the blunt out of somebody's hand, threw it on the ground and stepped on it and said, 'This is a distraction. This needs to stop. We are here to fucking work. Not to hang out,'" Tyler told the publication.
"Fuck that. Clear mind. At least once, goddamn. We're drug-free at night," he continued. He went on to discuss his sober mentality not just in the studio, but in his every day life. He reveals that being intoxicated simply isn't something he's ever seen as, well, intoxicating.
"I've never seen anyone drunk, like, 'Damn, I want to be that.' So, I guess I just naturally got it pushed into my head that I have no reason to go over there and get fucking drunk," he said.
The interview goes on to briefly touch on the subject of the rapper's sexuality, which he says is a "grey area with people." Evidently, he doesn't mind the gossip surrounding his rumored bisexuality, but refers to stay private about it. The topic was a hot-button issue earlier this month, when Eminem caught backlash for referring to Tyler as a homophobic slur on his Kamikaze song "Fall." Em later said he regretted the line. Tyler never addressed it publicly.
Check out Tyler's interview in full over at Fantastic Man.
See Photos of Tyler, The Creator's Different Looks Over the Years