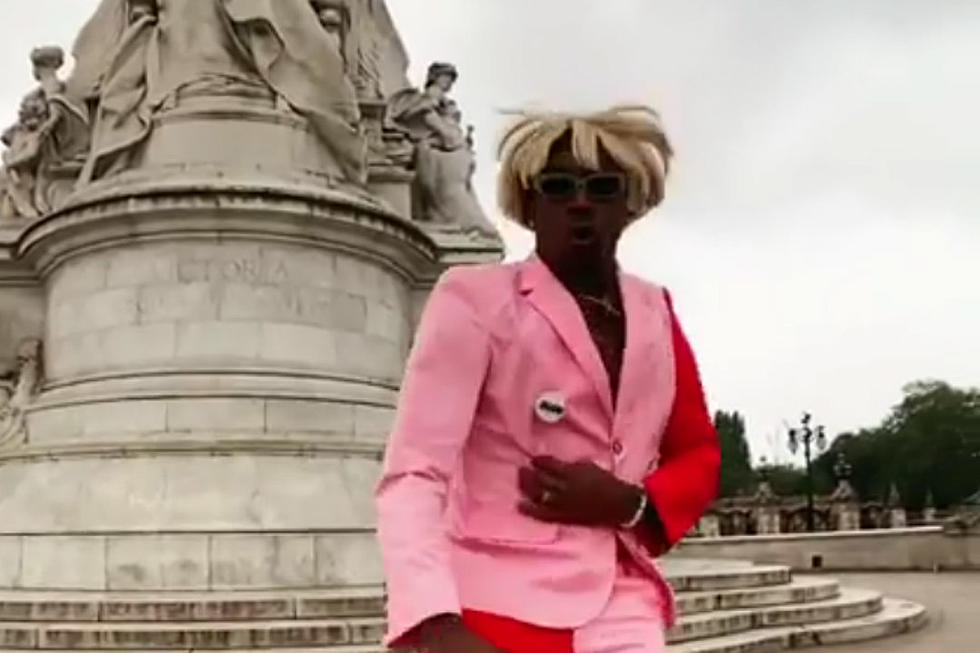 Tyler, The Creator Returns to U.K. After Ban Expires
FeliciaTheGoat via Instagram
Wolf posted photos outside of Buckingham Palace, in London, on Twitter on Saturday (May 18). In the pic, the rapper is wearing a pink and red suit, and blond wig. In another video, he has a fake fight with the camera and frolics around a large statue. According to The Guardian, Tyler's ban, which was implemented by then home secretary Theresa May, was only a three to five year deal, and it has since expired, giving Tyler the ability to return to the country freely.
The initial ban was over Tyler's lyrics that were deemed by those in power to "encourage violence and intolerance of homosexuality" and "foster hatred with views that seek to provoke others to terrorist acts." He was forced to cancel parts of his 2015 world tour because of the ban and was also petitioned be feminine groups. Time heals all wounds. Tyler's fans may have had something to do with the ban expiring sooner too. Last month, they started a petition to get the ban lifted.
Tyler is fresh off the release of his latest album Igor, which dropped on Friday (May 17) and features the Playboi Carti collab "Earfquake."
Check out video of Tyler, The Creator back in the U.K. for the first time in years below.
Read 10 Wild Stories That Took Place During Hip-Hop Tours