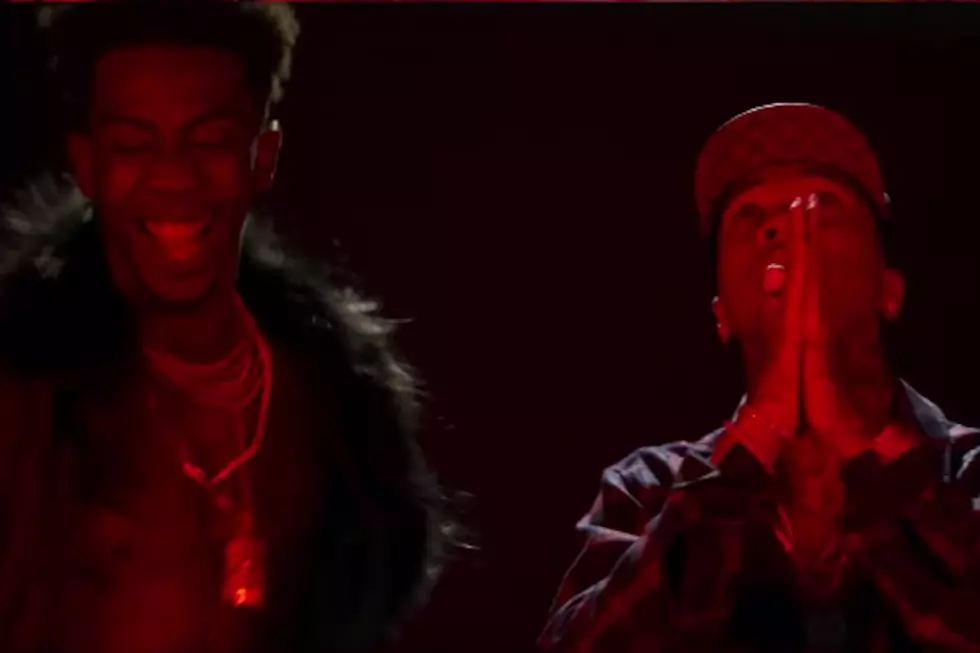 Tyga and Desiigner Are Color Poppin in "Gucci Snakes" Video
TygaVevo via YouTube
Tyga dropped his Desiigner collab "Gucci Snakes" shortly after announcing that he, like the Brooklyn rapper, has signed to G.O.O.D. Music, and this week the two drop the video for the track, which is a frenetic, technicolor affair that shows both rappers rocking chains, furs and more.
Directed by Hype Williams, the video has a throwback feel in the quickness of the cuts, the color palette changing just as suddenly. Though the track references the embroidered snakes featured on a number of Gucci garments, real snakes show up here, likewise cast in an ever-changing light. The song is just one of many to serve as a send-up to the luxury brand.
On his own, Desiigner has been getting busy this year, dropping his new single "Outlet" and celebrating the success of "Timmy Turner," which was certified platinum late January. Desiigner will embark on his 25-city Outlet tour starting this April.
Check below for a full list of dates with the "Gucci Snakes" video up above.
Desiigner's Outlet Tour Dates
April 2 – Seattle, Wash. – The Showbox
April 4 – Vancouver, B.C. – Vogue Theatre
April 5 – Portland, Ore. – Crystal Ballroom
April 7 – San Francisco, Calif. – The Regency Ballroom
April 9 – San Diego, Calif. – The Observatory
April 10 – Los Angeles, Calif. – The Fonda Theatre
April 11 – Santa Ana, Calif. – The Observatory
April 13 – Englewood, Colo. – Gothic Theatre
April 16 – Dallas, Texas – South Side Music Hall
April 17 – Tulsa, Okla. – Cain's Ballroom
April 18 – Austin, Texas – Mohawk
April 19 – Houston, Texas – Warehouse Live
April 21 – New Orleans, La. – Republic NOLA
April 24 – Orlando, Fla. – Venue 578
April 25 – Atlanta, Ga. – Center Stage Theatre
April 27 – Fort Lauderdale, Fla. – Culture Room
May 1 – Detroit, Mich. – The Majestic
May 2 – Chicago, Ill. – The Vic Theatre
May 3 – Milwaukee, Wisc. – The Rave
May 9 – Cambridge, Mass. – The Sinclair
May 10 – Norfolk, Va. – The NorVa
May 11 – Washington, D.C. – 9:30 Club
May 12 – Philadelphia, Pa. – Trocadero Theatre
May 15 – New York, N.Y. – PlayStation Theater
May 16 – Toronto, Ontario – The Phoenix Concert Theatre
16 Rappers Who Were on the Run From the Police