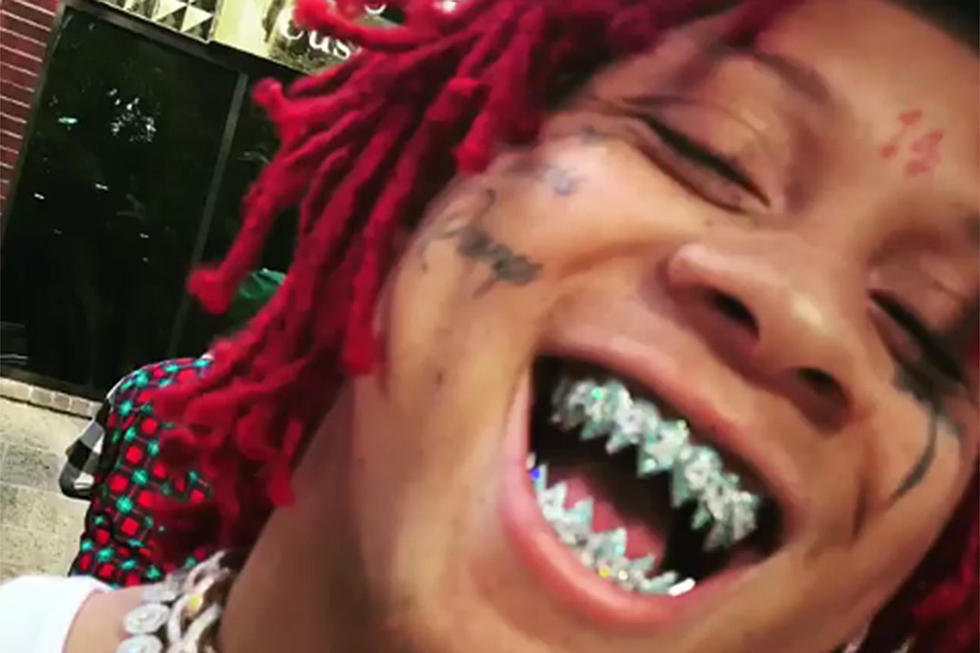 Trippie Redd Shows Off $50,000 Blue Diamond Fangs Grill
@trippieredd via Instagram
Trippie Redd is clearly competing for the craziest grill in hip-hop. On Sunday (Aug. 26), the Life's a Trip rapper hopped on Instagram to show off his new Johnny Dang-designed grill.
The $50,000 piece is made up of all fangs and features VVS blue diamonds, 10 carat white gold diamonds and the No. 14 made up of white diamonds. "Got my boy @trippieredd right.. We like to do things different around here, definitely one of the sickest grills in the game," Dang wrote on Instagram.
The Canton, Ohio rapper also showed love to Dang on Instagram, writing, "@johnnydangandco got my face glitching."
After dropping his debut album Life's a Trip on Aug. 10, the project debuted at No. 4 on the Billboard 200 chart, behind Travis Scott's Astroworld, Nicki Minaj's Queen and Drake's Scorpion. Trippie's record moved 72,000 equivalent album units in its first week with 15,000 coming from traditional album sales.
A follow-up to 2017's A Love Letter to You 2, Trippie has called Life's a Trip "the greatest body of work" he's created so far. "I'm really proud of my self I feel so good cause I worked really hard to get to this point," he said on Instagram.
The 14-track project features guest appearances from Young Thug, Reese Laflare and Travis Scott and also includes production from Diplo, OZ, Scott Storch, Honorable C.N.O.T.E., Wheezy, Murda Beatz and more.
Check out a few photos and videos of Trippie's new grill below.
See Behind-the-Scenes Photos of Trippie Redd at the 2018 XXL Freshman Cover Shoot