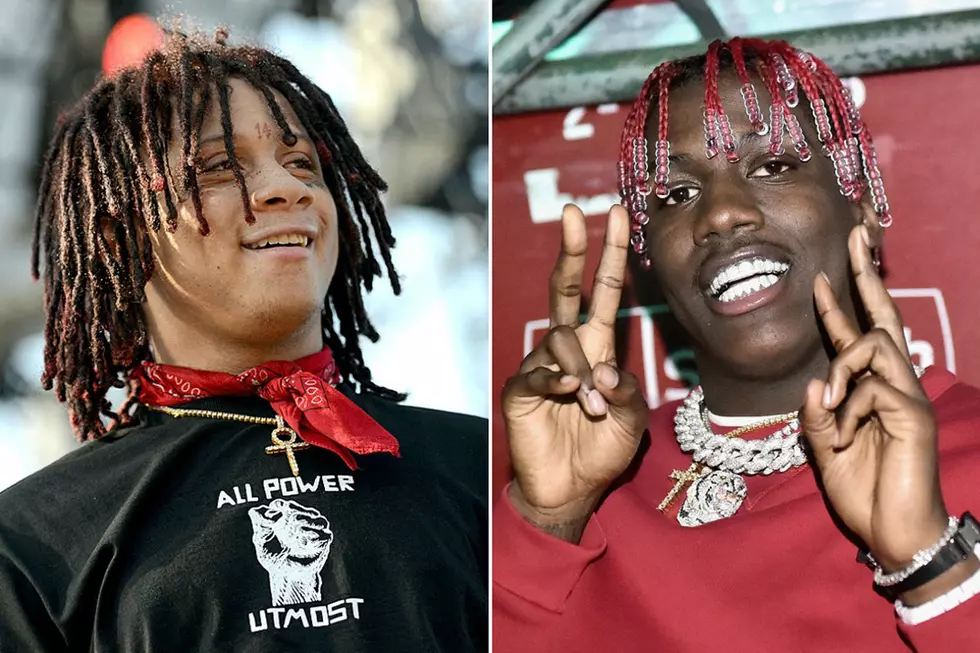 Trippie Redd and Lil Yachty Tackle Three 6 Mafia's "Who Run It" With Their Own Remix
Scott Dudelson / Steven Ferdman, Getty Images (2)
The track kicks off with a verse from Trippie Redd, who showcases a rapid-fire flow. "I'm a real nigga, in the field witcha, doin' trill witcha/All my lil' niggas keep it trill, pop a couple pills witcha/Big Trippie keep it real witcha," the Ohio rapper spits. "Lil' nigga let them lullas fly, leave a young nigga so traumatized/Totin' gats jit, all my niggas ride/Don't make me make another mama cry," he continues.
Lil Yachty also holds his own on the track, matching Trippie's energy during his verse. "Stay ganged up, I ain't clickin' with them/You can get shot, Terry Richardson and them/Nigga, I ball like the Pistons and them," he raps.
Following the release of their remix, the rappers got some love from DJ Paul who tweeted, "🌋🌋🌋 Bro y'all kilt dat Who Run It remix!!! @lilyachty @trippieredd."
The new song arrives as Trippie finds himself in a feud with fellow Ohio rapper, Bow Wow. In March, the "Dark Knight Dummo" artist posted a number of clips to his Instagram story and in one video he can be heard saying, "I don't know who the fuck Bow Wow is, don't bring him up to me anymore."
Shortly after Trippie's videos were posted, Bow Wow shot down any idea of a full-on beef with Trippie, tweeting, "He's a fucking Kid. What i look like going to war with a kid. Real shit. No respect giving to me for that. Ill let it slide."
Listen to Trippie Redd and Lil Yachty's "Who Run It (Freestyle)" below.
See New Music Releases for April 2018