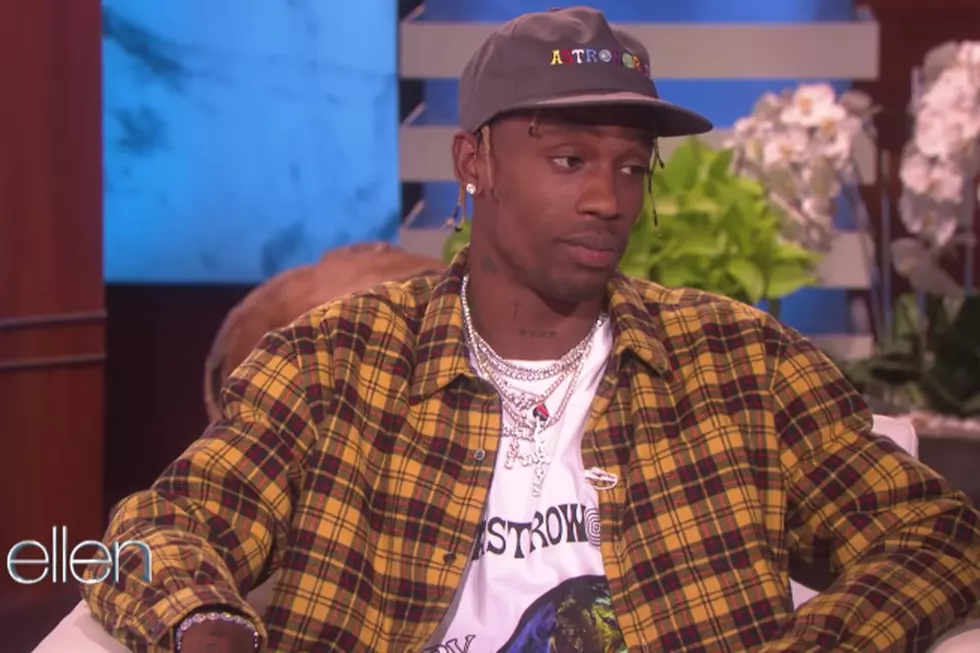 Travis Scott Admits Kylie Jenner's Placenta Freaked Him Out During Daughter's Birth
The Ellen Show via YouTube
Being a first-time dad can be pretty scary, and being a rap superstar doesn't change that. That's a point Travis Scott made while making an appearance on The Ellen DeGeneres Show earlier today (Nov. 12). In the episode, the Houston superstar reveals that he was nervous while in the delivery room with his girlfriend Kylie Jenner as she was preparing to give birth to their daughter Stormi.
With a smile on his face, Travis recalls his daughter Stormi's birth on Feb. 1. Due to his nerves, Travis required assistance from Kylie's mom, Kris Jenner, who visited DeGeneres previously and dished details about helping with the birth of her granddaughter. Travis confirmed her story and expressed his gratitude.
"That is a fact, yeah," Travis said when asked about Kris' story. "She held it down because it was so scary. She walked me through the whole process."
Going into a bit more detail, the "Sicko Mode" rapper explains that, aside from the immediate nervousness he experienced while Kylie was giving birth, he was also anxious about himself and Kylie being young parents. Despite being scared, Travis was able to cut the umbilical cord and experience of holding his daughter for the first time.
"Going into it, I was nervous and scared, because we're both young," he says. "But, you know, when you first hold a baby in your arms, it's uncontrollable. I never thought I could just love something so hard, ya know? It's crazy."
In other Travis-related news, yesterday (Nov. 11) he brought out Drake to perform "Sicko Mode" during the Miami stop of his Astroworld: Wish You Were Here Tour. The tour continues tonight in Tampa, Fla. where he will be joined by Gunna, Trippie Redd and Sheck Wes.
Check out Travis Scott admit to his nerves during the birth of his daughter Stormi below.
See Photos of Travis Scott's Different Looks Over the Years