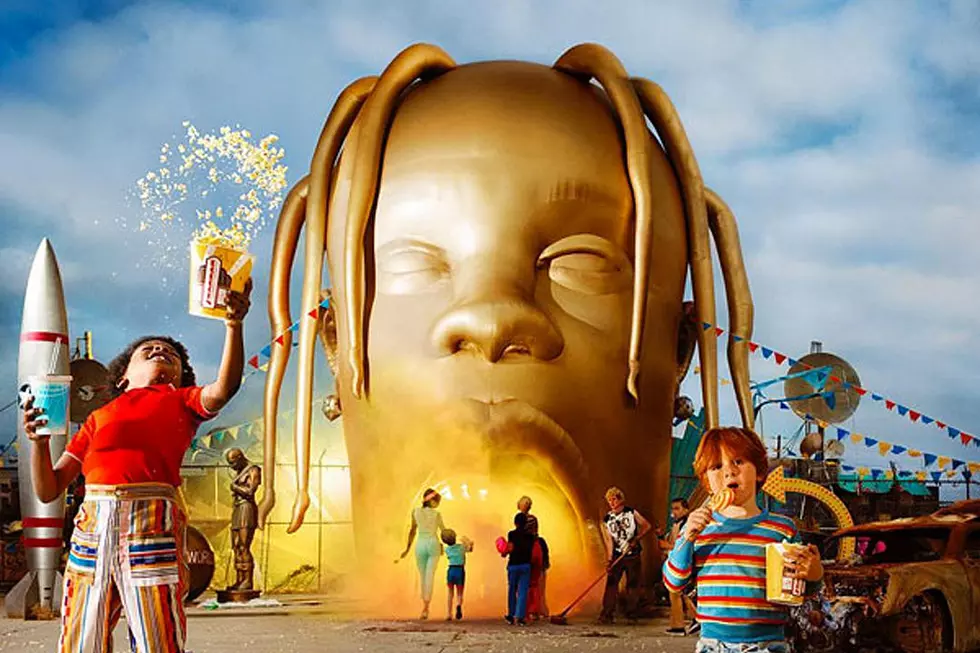 Travis Scott "Sicko Mode": Drake and Tay Keith Link Up Once Again
Epic Records
Travis Scott and Drake are continuing their chemistry on wax with their latest joint effort "Sicko Mode" off of La Flame's highly anticipated Astroworld album.
The record, produced by Tay Keith, Oz, Rogét Chahayed, Cubeatz and Hit-Boy, finds the pair rhyming about being a cut above the competition. The OVO frontman kicks off the bass-heavy track with a short verse. "Sun is down, freezin' cold/That's how we already know winter's here/My dawg would prolly do it for a Louis belt/That's just all he know, he don't know nothin' else."
The track then switches gears a bit as Travis adds his own dose of bravado. "Woo, made this here with all the ice on in the booth/At the gate outside, when they pull up, they get me loose/Yeah, Jump Out boys, that's Nike boys, hoppin' out coupes/ This shit way too big, when we pull up give me the loot."
Shortly after, the beat then switches up pace again following an bridge by Juicy J and Swae Lee, with Drake adding a handful of bars. "She's in love with who I am/Back in high school, I used to bus it to the dance/Now I hit the FBO with duffles in my hands/I did half a Xan, thirteen hours 'til I land," he spits.
This is the latest collaboration from Travis and Drake, following "Company" and "Portland." It's worth noting this is the first time Drake has appeared on a Travis Scott album. Astroworld also features collaborations with The Weeknd, Frank Ocean, Pharrell, Migos, Tame Impala, Nav, 21 Savage, and Stevie Wonder.
Press play on Travis Scott's "Sicko Mode" featuring Drake below.
See Photos of Travis Scott's Different Looks Over the Years