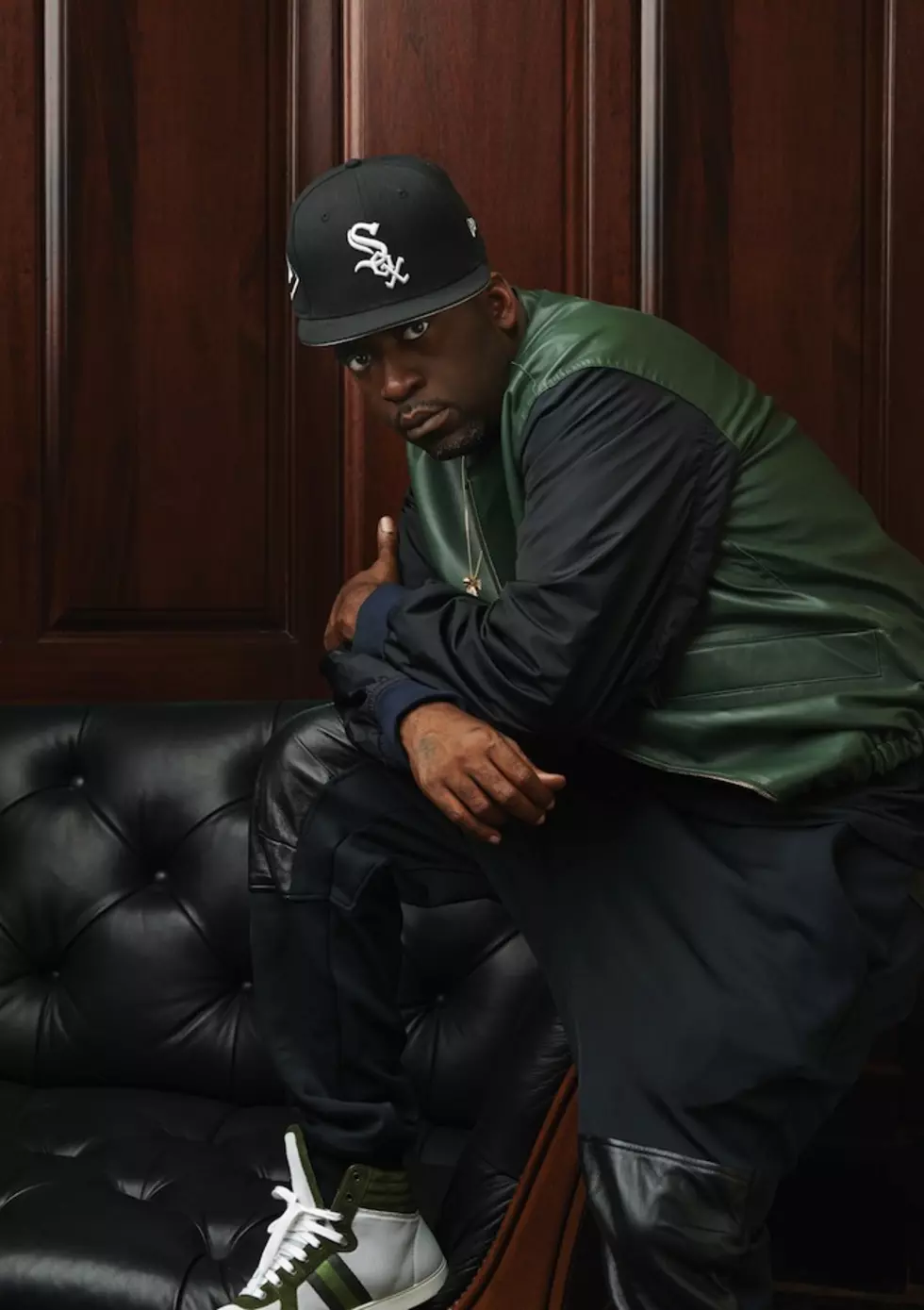 Tony Yayo Looks Back At The Glory Days Of G-Unit
Photo Credit: Tom Medvedich
Tony Yayo
The Easy Going Guy
Interview by Eric Diep
The emotional side of Tony Yayo might've been the real catalyst for the G-Unit reunion. On Feb. 19, 2014, Yayo, the last to fall out with 50, made several comments to fans on Instagram about the state of G-Unit including: "to much stress I flew the world already dropped an album time to try new things and the unit not together fuck it." Plus: "I'm done with music and the industry this is too much for me." And also: "50 ain't rocking with me and Banks the same I layed my life down for the unit but you live and learn."
Yayo and Fif never went through a specific incident that prompted them to stop talking, but over time the two lost the closeness they first built back in Queens, before the fame. During the break up, Yayo stayed loyal to 50, rarely offering a negative word about G-Unit until that Instagram comment. That's actually what got Banks and 50 talking again, which is a part of what prompted the reunion to begin with. This afternoon Yayo sits in a chair in the backyard of 50's mansion and looks back on what went down with the crew.
XXL: What is your motivation now that G-Unit is back together?
Tony Yayo: I think the motivation is that we are still here. It's been 10 years. There's rappers' careers that last a year and a half, maybe two years. Just to be around here 10 years, it's like, "Damn, we are still in here? We are still rapping? We still an organization?" I do this for the fans. I do this for friends, family. Some shows, there are fans that will literally die for 50 Cent, Lloyd Banks, Tony Yayo and Young Buck. They will die for you.
What's the reason now for everyone to come back together?
I think the reason [for the reunion] now is we grown-ass men. It's a good thing for us to be together. It's good energy. When I'm in the studio with 50, Banks, Kidd Kidd [our] new artist, and Buck, it just brings that energy back.
First you made the Instagram comment about 50. Then 50 called you "expired milk" in an interview. You responded on Twitter with, "As much bullets I took for G-Unit. My moms crib got shot up almost killed my sis and my niece. Now I'm compared to milk. I made that brand." Then you took the tweet down...
That was me being emotional that day. That was me being upset and shit and being wrong. But at the same time, when it comes to this reunion, I always felt like I'd die for this shit. When you are at a point and your back is against the wall, nobody is talking and you are frustrated, you are having a bad day, your kids yelling, screaming; when I say I made the brand, I just felt like sometimes, in my mind, I've been around Fif for so long. Sometimes, I get arrogant. I was living the life, but when I say I made the brand, I can't say that. It's a team effort.
It was all simple emotions. A bad day, and that's the bad thing about social networks sometimes. "What the fuck? Fuck that. I made the shit! Fuck you talking about?" It's just emotions. You might be mad at your man, and you might throw a subliminal out there. Everybody do it and that's the bad thing I learned about social networks. You'll feed into what people are saying and you'll listen to some of them comments. You gotta learn to have thick skin. I learned to not let that shit bother me.
We're regular fuckin' people. But people go out there and talk about your family. Friends. All you just put up is, "Yo, what's up everybody?" So I just had a bad day. I ain't copping no plea. 50 is my man. Is 50 a real nigga? Yes. Am I a real nigga? Yes. Is Banks real? You know what I'm saying? We all real. I just had a bad day. I shouldn't have said that because that's the first time I ever stepped out of bounds 'cause I felt I wasn't loyal.
Loyalty, I'm the biggest on loyalty with Fif. You could have a bag full of money, your money is going to be there. You can have your girlfriend here. Your girlfriend is gonna be here. That's what really had me more upset with Fif was my loyalty to G-Unit.
I listened to Fat Joe back in the day. I listened to Jay Z. I listened to these dudes, but at the end of the day, I know I am not getting a business meeting with anybody. DJ Khaled. I'm not getting a meeting with Khaled. We are not gonna sit down and talk about records 'cause of shit in the past. It is what it is. You make the bed you lay in. Why? Ask me why I had all this beef. 'Cause of who? But am I loyal? You can't take that from me.
What's the difference now that G-Unit is back together?
You know what they say? Time flies when you're having fun, right? It's so weird that the time flew. I remember fucking coming out of jail. The Free Yayo thing. Eminem wearing the shirt. 50 selling 1.5 million in his first week. I remember somebody in the jail brings me—they weren't supposed to show me—but they showed me a Wal-Mart picture. At that time, it was all about CDs and now it's all about digital drops and sales and stuff like that. It was big to see my face on Beg For Mercy and be in jail. I was still being promoted. It was crazy for me and now it's 10 years later.
You know, I've been around the world like three times. I think that's the best thing about it. Everything in life has its ups and downs, right? So when your record is spinning, you hot. You got four cars now. I got the Mercedes Benz. I got the Bentley. I got the bulletproof truck. I got all this in my yard. I got all these so-called friends. 40-man entourage. They all want filet mignon or lobster.
You've known 50 for a long time. Since 1997?
Yeah. I remember he took me to his first video with Onyx. What was it? "React." "Kill 'em in the club, baby show some love / Real thugs in the back, niggas react." I remember that. I remember [Sonny] Seeza from Onyx bust his head and he didn't want to ice skate after that. I just remember him in Jam Master Jay's studio. We used to always rock with my friend's basement.
Good friends go through things sometimes. Do you feel like it's hard to forgive and forget?
I don't think so. I always think the media always pumps stuff up. I said something on Twitter like, "50 don't rock with us like that no more." I said it to a fan. You know, 50 don't rock with us sometimes. That's how he is. It went to different websites like VladTV. 50 Cent doesn't rock with us no more because he wasn't talking to Banks at that time. But you know, they both my brothers. We sitting around. 50 is not talking to Banks. Banks not talking to 50. It's a frustrating time in my life. Federal agents knocking on my door. It was a rough year for me. I was going through a lot of things behind the scenes.
What year was it?
This was like last year. A matter of fact, I think this year. I said that one thing and it spiraled into something else. 'Cause sometimes, the media wants the bad things. They don't want the good story. The bad story is juicier. The good story is like, "Oh, he did something nice. Yeah, okay. Whatever."
What made you draw the line with 50? What did he say to you or what did you say to him that made you guys not talk to each other anymore?
I think it was more of the things I was going through. Like, 50 is a good person. 50 never had no mom or dad. He had his grandmother's house. Grandmother, grandfather raised him. I've been around good people. Stern people. It's different when you're raised by your grandparents in the street early. He had to do stuff on his own, so he's used to doing stuff on his own.
Fif is the type of dude... When he first got the money, yeah I could get $100,000 or something from him or whatever. It's nothing. But when a person has money, you have to come at them correct if you want anything from him. Like, a business plan. How you are gonna work your next album. Whatever you are gonna structure it. Sometimes, Fif showed tough love. Sometimes, his love can be too tough. I'm not like that. To me, it's like night and day. Sometimes, he gets frustrated with things that he do and you learn how to love his frustrations for what they are. And that's just what it is. Some days, he can be cool. Like I said, we was in the club with Chris Brown and Trey Songz. The next day, he be getting on my nerves. He's back to business 'cause he takes stuff different. He don't smoke. He don't really drink. He's a real kind of militant kind of guy. I'm not advocating drinking and smoking, but he just a different kind of guy. He'll be in the club, he's not drinking. He's not smoking. There are really not too many people that are like that. It's just different.
What is the best part now about seeing G-Unit back together?
I think the best part is going to be flying the world. I think money comes and goes. Jewelry comes and goes. Friends come and go. I think traveling the world is the best thing and seeing other people relate that energy. When we are in Brazil. When we are in Africa. Angola. When we are in Germany. Russia. Any part of the world. They can never take that away from me. I flew the world.
I look at my passport all the time and see all the stamps. Be amazed by it. Brazil. Been to Mumbai, India. Moscow. Been to the Canary Islands, black sand. Been to Armenia, Albania. Africa was a crazy experience for me. Angola was crazy, seeing how people was. How it is rough. When you go to Johannesburg and they got a McDonalds. I think traveling is the best thing. Being back on the road with Buck and Banks. Traveling the world and feeding our kids and helping people out.
At some point, you are going to want to put out another album...
It is what it is. There's no pressure for me. I am at the point now... I can't let this business drive me crazy. I just gotta take one step at a time. I learn how to control my emotions. How I feel. Never let this industry bring you down. That's the point that I felt I was at. You know what? Fuck it. I'll do something else. I didn't know what I wanted to do because music is my passion. I loved hip-hop since a pup. Since Slick Rick, Whodini. Run-DMC. In Queens, getting your first boom box. I'm hip-hop, hip-hop.
50 took responsibility for a lot of people's careers in G-Unit.
It's hard when your boss is your friend, meaning like I knew 50 when he didn't have anything. I knew when this was all a dream to him like it was to me. Then he turned to a boss and you gotta make boss decisions. You know what I mean? It's hard. He's a smart dude. Give it up. He's a smart businessman you need. He's a smart dude but you know sometimes, your brother can get on your nerves. It's just life. 50 is 50. Banks is Banks. Some days, I might not talk to Banks for two weeks, but I know that's my brother. Just because I don't talk to you for 30 days, we aren't friends? Some people just get emotional sometimes and take shit the wrong way or whatever.
What do you think of Kidd Kidd joining the group?
I think 50 got a good one this time. I think the timing is great. He got shot. His first name is Curtis. 50's first name is Curtis. They got a lot in common there. Sometimes, y'all make things come off from unforeseen things. Faces and people you meet happen for a reason. You meet them for a reason.