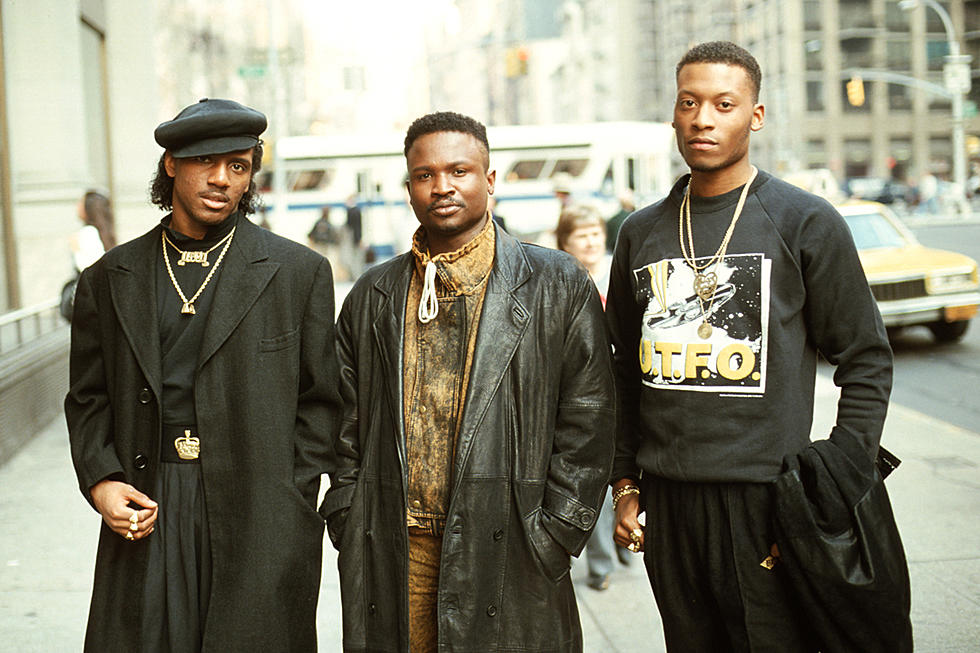 Today in Hip-Hop: Educated Rapper of UTFO Passes Away
Michael Ochs Archives, Getty Images
On this day, June 3, in hip-hop history...
Educated Rapper  had been fighting cancer for some time before his death, but on Fri., June 2, 2017, things took a turn for the worse. It was on that day that the rapper, who acted performed alongside his fellow UTFO groupmates Kangol Kid, Doctor Ice, Mix Master Ice in the 1980s, that Mix Master Ice announced the rhymer's grave physical condition on Facebook.
"This is a All Out Cry For Prayer!" he wrote in an urgent Facebook post. "I just got the ok from family to go viral.. As I hold his hand, I need everyone's power in prayer to pray for one of my best friends since 1979 & hip hop partner, Jeffrey Campbell.. Known to our World Wide fans as:  The Educated Rapper MD or EMD 1/4 of the U.T.F.O. crew, which stands for: "Untouchable Force Organization" * He is extremely ill and not doing well..Please help us pray for a Miracle Blessing.."
Unfortunately, Educated Rapper, born name Jeffrey Campbell, died just about one day later, on June 3. At the time of his death, UTFO reps offered XXL an official statement.
"With heavy hearts, the members of legendary rap group UTFO announce the passing of member and co-founder, Jeffery Campbell more commonly known as The Educated Rapper (EMD)," read the statement. "Campbell fought a long battle with cancer, and in his final days, the group, in its entirety, were gathered together to say goodbye. EMD, known for his "Larry, Barry, Harry" rap in the 80s hit 'Roxanne, Roxanne' was also the 2009 Valedictorian of the College of New Rochelle, graduating Magna Cum Laude with a Baccalaureate in Communications."
As a UTFO co-founder, Educated Rapper helped guide a group in the first wave of viable rap stars. In 1984, he and the crew made some serious noise when they dropped off "Roxanne, Roxanne," a cut that peaked at No. 10 on Billboard's R&B and Hip-Hop chart. The song, which found each rapper spitting about the song's avoidant eponymous subject, was famous for playing a role in cultivating one of hip-hop's first beefs. It was around the time of the song's release that a teenage Roxanne Shante offered to record a response song to UTFO's record after they canceled a performance promoted by Tyrone Williams, DJ Mr. Magic, and famed record producer, Marley Marl. Being a part of this incident, EMD also made himself a part of rap history.
Known for valuing education, EMD, born name Jeffrey Campbell, impressed with his willingness to flaunt a strong vocabulary before it was popular to do so in hip-hop.
In the hours and days following EMD's passing, folks from across the spectrum of 1980s rap paid their respects to the hip-hop pioneer. One such rapper was outspoken Public Enemy MC, Chuck D, who gave props to the late B-K stalwart for propping up the importance of education.
"Rest In Beats .. The Educated Rapper from UTFO DocIcE Kangol and MixMasterIce were bedside," wrote Chuck. "Yes there was a time MCs bragged on education."
See other rappers react to the passing of the late, great Educated Rapper in the gallery below.
Salute to a certified rap innovator.
Hip-Hop Reacts to the Death of UTFO's Educated Rapper