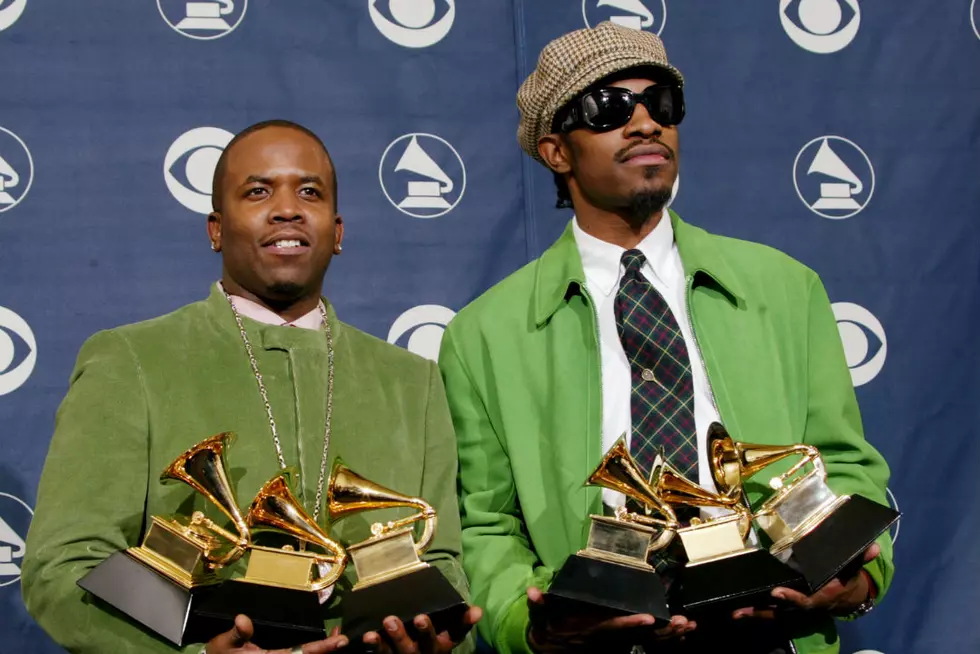 OutKast Win Album of the Year at the 2004 Grammy Awards – Today in Hip-Hop
Frederick M. Brown, Getty Images
On this day, Feb. 8, in hip-hop history...
2004: OutKast won three Grammys at the 46th Annual Grammy Awards for their work on the iconic dual album, Speakerboxxx/The Love Below. Two of the golden gramophones they went home with that night were for Best Rap Album and the coveted Album of the Year, which is the first time that specific award had ever gone to a rap group. The southern rap icons took the award over Under Construction by Missy Elliott, Fallen by Evanescence, Justified by Justin Timberlake and Elephant by The White Stripes.
The double feature album, which for the most part, serves as separate solo albums for both 3-Stacks and Daddy Fat Saxxx, was released Sept. 8, 2003, debuting at No.1 on the Billboard charts. For this classic, the group took a different approach, offering fans two solo albums that gave a look at their unique musical prospective.
The album released two singles simultaneously, "The Way You Move," from Big Boi's Speakerboxx and "Hey Ya!" from Andre 3000's The Love Below, both of which reached No. 1 on the Billboard Hot 100. The album that served as 'Kast's most commercially succesful project would also go on to have another hit single, "Roses," which featured the duo doing what they do best — performing together. Over the course of the 15 years since Speakerboxxx/The Love Below hit the streets, the groundbreaking project has been certified diamond and 11 times platinum.
Outkast would follow up the success of Speakerboxx/The Love Below with the feature film, Idlewild, in 2006. The musical featured many songs from their dual album and was accompanied by a soundtrack that debuted at number two on the Billboard 200 and has since been certified platinum. Though the duo has worked here and there on random tracks and remixes since taking a hiatus, that soundtrack would be Big Boi and Andre 3000 last group album to date. Back in 2014, the famed ATLiens joined forces for an international festival tour, much to the surprise of their fans.
See 65 Hip-Hop Albums Turning 20 in 2019