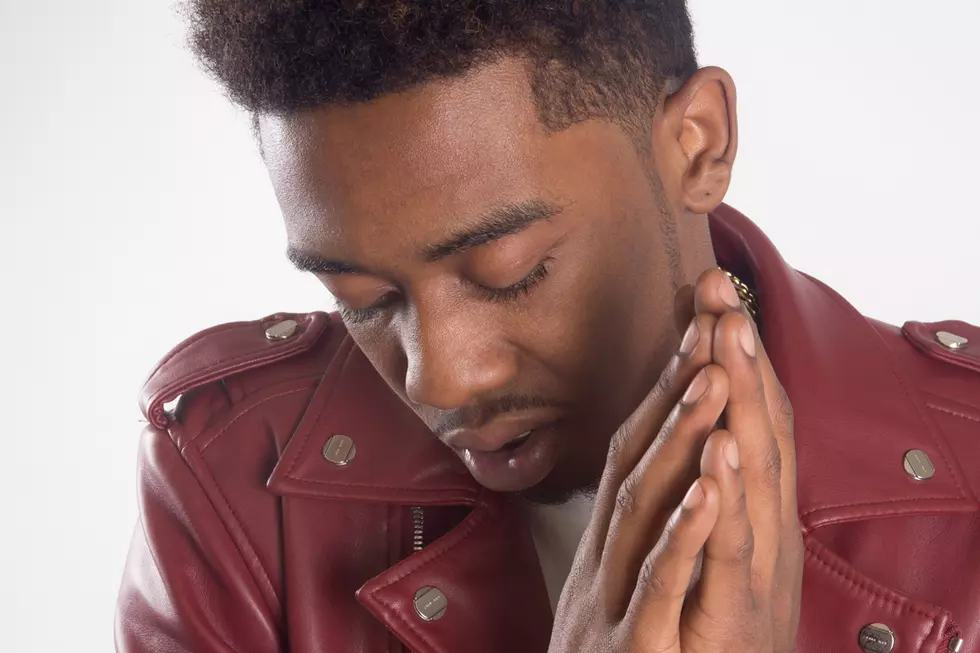 The Break Presents: Desiigner
Desiigner
Within two months, Desiigner has become one of the hottest young MCs in hip-hop. After releasing "Panda" in December 2015, life hasn't been the same for the 18-year-old Brooklyn native.
"Meeting Kanye West was a blessing," the spitta told XXL while visiting the office in New York City on Thursday (Feb. 18). Even though the 6-foot, 5-inch rapper has seen his star power rise since teaming up with Yeezy, it hasn't been without scrutiny. Listeners and critics have commented, very loudly, that Desiigner sounds much like Future. But the energetic youngsta is out to prove he's an artist in his own lane.
Desiigner chops it up with XXL to discuss his current hit "Panda," signing to G.O.O.D. Music/Def Jam Recordings, the Future comparisons and being shot.
Hometown: Bedstuy, Brooklyn, N.Y.
What did you grow up listening to?

I grew up listening to everybody, I'm a fan of everybody music. I grew up listening to everybody. I'm not a big fan of just one specific person.
You're a young guy. When did you start rapping? 
It was just in my genes since I was a baby; I used to sing around, I used to be in the choir at school, I used to just do it all, church. Music was just in me; it was in my soul. It's what got me out; I knew my destiny from the start.
First song I recorded was 14. It was a song called "Jackie Chan," It start like [raps] "I'm choppin' the bricks like I'm Jackie Chan, Jackie Chan/I'm choppin' the bricks like I'm Jackie Chan, Jackie Chan/Jack Jack Jack Jackie Chan," and that was the first song I had.
What is something most people don't know about you?

Most people don't know I'm a nice guy. This is me, this is my fun. If you don't fuck with it, then fuck it.
Break down the creation process behind "Panda." Did you know it was going to be a hit? I read you got the beat for $200 from Menace, the producer.
The process of "Panda," we were all in house, me and my guys, we was just chillin', vibin', getting our smoke on and all that. Everybody got beats going on, got a beat here on this section, got a beat here on that section and everybody was playing beats. Everybody in my hood was rappin'. We in the room, I know how to make the hooks, everybody know I know how to make the hooks. I know how to rap, I got the flow, lets do it.
So everybody come up to me. So he comes up to me with like this Lloyd Banks beat. He like, "Yo, put something on there," and I was like, "Aight give me a minute." I started to vibe to it. [Raps] "I got broads in Atlanta/Twisting dope, lean and the Fanta/ Credit cards and the scammers/Hitting off licks in the bando," I just had it and building up on it. I said give me two days and I just kept working on it.
In a week I had the hook. Now we massaging it for like a month. I go lay it down in a month, he post to have his part, my man Ron Ron. He ain't never had his part, he was playing around. So in the meantime, I'm like cool, I'm playing my song around, the song starts going around, I start doing videos; I'm just enjoying myself, doing videos and it just took off.
I finished it a year-and-a-half later. My manager encouraged me, Zana Ray, she encouraged me to get that on the road. At first, I wasn't going to do that, I was just going to do the hook and hopefully I give it to one of these dudes in the industry. That's how I was looking. I had that mentality that I was on already before I was even there. My swag and my fun put that impression on my mind. So I just moved exactly like that. But when I moved like that, she was like, "Naw you got to get that done. Get that done then you are going to get there. Fuck acting, you're going to be there one day." I just did that and it just went. God bless, since then it was a blessing from there on.
How would you describe your sound?
I don't know, Designer, two "i's." It's the only one.
So to address the elephant in the room, everyone thinks you sound like Future. Does that bother you?
I smile at that, I blush at that, but I have no hard feelings for the dude Future. He does his thing. Actually, I like some of his songs. I think he's a great artist and I ain't going to ever turn him down. Just know I have plenty of more music. That's all I got to say for the people who say I sound like him. Keep tuning in.
Talk to me about the day you met Kanye West and signed to G.O.O.D. Music/Def Jam Recordings?
The day I signed to G.O.O.D. Music, it was a great opportunity. I had my mom with me, my little sister out there in L.A., we was having fun and it was it. It was a great opportunity. My mom seen me sign that paper and it gave her the biggest smile of her life. I never forget that face. That opportunity for anybody that listening to this is great, definitely work hard and try to get there.
Why? Because it got the title of what I'm doing [laughs]. But naw, I respect his movement. Sitting around Kanye actually is an inspiration. He tells you… It might seem like he go crazy but he really be speaking knowledge. Sitting around him I really feel I learned a lot. I'm proud that I made that move.
So what's the best advice Kanye has given to you so far?
"You keep making this music. We're all artists." When he said that, we're not rappers we're artists that was the best inspiration in the world because that's exactly how I look at it. I'm not just a rapper; I'm here to deliver everything that I got.
How did "Father Stretch My Hands Pt. 2" come about?
He actually came to me with that idea, Kanye. [It] came to his mind, he put his genius power and my genius power together and we just did our thing. He brought what he had to the table. I brought what I had to the table and bang.
So what do you have planned for 2016?
I got mixtapes, I got albums, I got shows, I got all of that and the video real soon. That's the next step really.
What's your goal in hip-hop?
To change it a lot, to give it that movie for y'all; I want to have y'all enjoy it and show you what I'm thinking 'cause I'm thinking a lot. I just got to put it out on a record and let y'all here what I'm thinkin'.
So if someone asked you, you're going to be the next blank, what would you fill that blank with? 
I want to be the next person to change. I want to be the next nobody honestly. I rather have my own category. If you're going to put me next to somebody you can say I'm similar but don't put me next to them 'cause I really want my own lane. I respect everybody but everybody wants his or her own lane. They can set their own stamp.
These last few weeks have been a whirlwind for you.
I remember this one day, I was at a party; it was my niece's party, we all in the backyard. I was sick that day; I just came off of sickness. It's the summer time, I'm in the backyard; I always remember this day. I was saying in the backyard, this my last days over here and I'm going to enjoy every day. Every time I sit down and I get a bigger moment, I remember that day when I said this was my last days sitting on the block.
So I always remember the days in the past when I was on the corner and all that because that shit was crazy. That was the life I really was living. Some rappers say they doing that shit in their music, I really lived that life at a young age. Fourteen, I was gunned down, I was shot; I was out here. When I put down my music to release it. So for the future I'm not going to be one of those kids that have videos like that in the hallways because I don't really embrace that.
That was something I was glad to get away from because nobody that was really from there, want to stay there, feel me? If you really were part of that, you ain't want to stay there. Everybody wants to get out. That's how I look at it.
See 40 Hip-Hop Albums Turning 20 in 2016