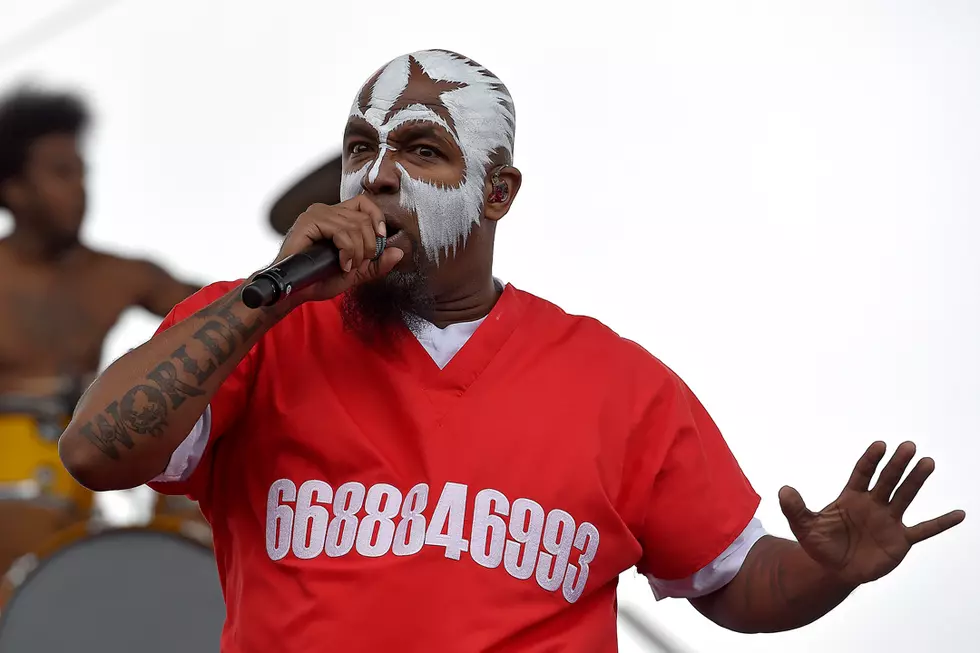 Tech N9ne Shares Dates for Strictly Strange Tour 2017
Kansas City Star, Getty Images
Tech N9ne is getting ready to continue his non-stop tour schedule. The Strange Music co-founder unveils the dates for his Strictly Strange Tour 2017, which is set to begin in March. Tech will take Brotha Lynch Hung, Krizz Kaliko, Stevie Stone and Ces Cru along with him on the four-month tour.
While some artists may slow down with such an established legacy, Tech continues to go full throttle. In a recent interview with XXL, Tech explained that he wants to solidify his spot for the next decade to come.
"Me and my partner, Travis [O'Guin], we've been looking for things to help us elevate," Tech said. "Deals with other people, linking with other people to try and boost this Strange Music thing that we've built so beautifully and keep it around for the next generation. We've been 16-plus years together and I'm looking forward to working this record so well with videos, with press, with everything working it so well that it's solidifies us — here for 10 more years if be."
Check out all of the dates for Tech's Strictly Strange Tour 2017 below.
Tech N9ne's Strictly Strange Tour 2017 Dates
March 22 – Omaha, Neb. – Slowdown
March 23 – Davenport, Iowa – Danceland Ballroom
March 24 – St. Paul, Minn. – Myth
March 25 – Green Bay, Wis. – Sandlot Entertainment Complex
March 26 – Sioux Falls, S.D. – The District
March 28 – Rapid City, S.D. – Rushmore Plaza Civic Center
March 29 – Billings, Mont. – The Pub Station
March 30 – Missoula, Mont. – The Wilma
March 31 – Spokane, Wash. – Knitting Factory
April 1 – Seattle, Wash. – Showbox SoDo
April 2 – Portland, Ore. – Roseland Theater
April 3 – Eugene, Ore. – McDonald Theatre
April 4 – TBA
April 5 – Boise, Idaho – Knitting Factory
April 6 – Salt Lake City, Utah – The Complex
April 7 – Fort Collins, Colo. – Aggie Theatre
April 8 – Denver, Colo. – The Fillmore
April 9 – Grand Junction, Colo. – Mesa Theater and Club
April 11 – Berkeley, Calif. – The UC Theatre
April 12 – Fresno, Calif. – Selland Arena
April 13 – Sacramento, Calif. – Ace of Spades
April 14 – Santa Cruz, Calif. – The Catalyst Club
April 15 – Los Angeles, Calif. – The Belasco
April 16 – Anaheim, Calif. – House of Blues
April 17 – San Diego, Calif. – House of Blues
April 19 – Las Vegas, Nev. – House of blues
April 20 – Flagstaff, Ariz. – The Orpheum
April 21 – Tucson, Ariz. – The Rialo Theatre
April 22 – Tempe, Ariz. – Marquee Theatre
April 23 – Albuquerque, N.M. – El Rey Theatre
April 25 – Oklahoma City, Okla. – Diamond Ballroom
April 26 – Austin, Texas – Emo's
April 27 – San Antonio, Texas – Aztec Theatre
April 28 – Dallas, Texas – Gas Monkey Live!
April 29 – Houston, Texas – House of Blues
May 1 – Pensacola, Fla. – Vinyl Music Hall
May 3 – Orlando, Fla. – Club 578
May 4 – St. Petersburg, Fla. – Jannus Live
May 5 – Fort Lauderdale, Fla. – Culture Room
May 6 – Jacksonville, Fla. – Mavericks Live
May 7 – Charlotte, N.C. – The Fillmore
May 8 – Raleigh, N.C. – Ritz
May 9 – Norfolk, Va. – The Norva
May 10 – Baltimore, Md. - Soundstage
May 11 – TBA
May 12 – TBA
May 13 – Worcester, Mass. – The Palladium
May 14 – Philadelphia, Pa. – The Trocadero
May 15 – Pittsburgh, Pa. – Stage AE
May 16 – Buffalo, N.Y. – Town Hall
May 17 – Cleveland, Ohio – House of Blues
May 18 – Columbus, Ohio – Newport Music Hall
May 19 – Detroit, Mich. – The Fillmore Detroit
May 20 – Indianapolis, Ind. – The Egyptian Room
May 21 – TBA
May 23 – Louisville, Ky. – Mercury
May 24 – Nashville, Tenn. – Marathon Music Works
May 25 – Chicago, Ill. – House of Blues
May 26 – St. Louis, Mo. – The Pageant
May 27 – Milwaukee, Wisc. – The Rave/Eagles Club
May 28 – West Des Moines, Iowa – Val Air Ballroom
May 30 – Columbia, Mo. – The Blue Note
May 31 – TBA
June 1 – Tulsa, Okla. – Cains Ballroom
June 2 – Wichita, Kansas – The Cotillion
June 4 – Kansas City, Mo. – TBA
15 of Hip-Hop's Weirdest Album Titles